Home
›
Tropics
Panama Fishing Report-Hannibal Bank Blue Marlin and Spearo Trip-December 17-21, 2012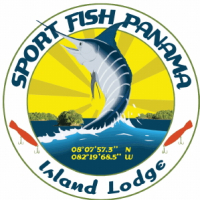 Pesca Pimp Panama
Posts: 184
Deckhand
We hosted the first group of the 2012-2013 season here on Isla Paridas, Panama last week. A great bunch of good friends and family from Brasil joined us for some spearfishing and offshore sport fishing at Hannibal Bank and Isla Montuosa. The group consisted of Virgilio Jr. "Poka", Virgilio Sr. "Papai", Juan "Joao", Dr. Victor "Picao", and Vinicius "The Killer" Chaves all experienced fisherman/spear fisherman from their hometown Rio de Janeiro. They wanted to get in some good spearfishing, relax in style here on the island, and also get a shot at catching a Black Marlin.
The seas and weather were super nice as is common this time of year here in the Gulf of Chiriqui. Water temperature averaged 83 degrees and was a bit cooler out offshore. South of Hannibal Bank on the last day of the trip I noticed 81 degrees.
The first few days we concentrated on spearfishing and the guys did real well. Isla Secas, Isla Ladrones, and Isla Montuosa all were teeming with a large variety of fish. Eventhough I restricted them to only one Cubera Snapper per day, no Roosterfish, and no Billfirsh they still did well. They saw and had a few opportunities for Wahoo and Amberjack but couldn't boat any. Horse Eye Jack, Bocipenda, Sierra Mackerel, Cubera Snapper, Jack Crevalle, Rock Snapper, Spotted Grouper, Mullet Snapper, Dorado, Yellow Snapper, and Red Snapper the guys all boated during the trip.
On the last day we ran out to Hannibal Bank to see if we could raise a Marlin for "Papai" who had never caught one. I was hoping, with the cooler water I noticed on the SST, that we'd run into some Yellowfin Tuna. Also, I'd heard reports of a few YFT caught down between Hannibal Bank and Isla Jicaron which is pretty common this time of year.
When we arrived at the "high spot" we were all alone with no other boats. Right on top of the "parte seca" was a huge ball of Bonito that was breaking the surface. We put out the Bonito rigs and quickly caught three nice sized Bonitos. As Johhny my mate and I are preparing to bridle the baits and start fishing we notice the infamous pack of Porpoises that have been robbing our baits here for the past few years. The ring leader is a big Porpoise with a bent and scarred dorsal fin that has a very distinct notch in it. Whenever we see this guy we know it's going to be a long day if we want to live bait on Hannibal Bank. Sure enough, even after running a mile or so away from the high spot, adding small hooks to the body of the bait to deter them, and keeping watch to get the baits out of the water before they show up....we still get robbed! I try again further away and the Dolphins still are able to sneak up on me and ruin another bridled Bonito! I was tempted ask one of the guys to jump in and spear one of them!
Frustrated I decided to pick up with the Bonitos we still had in the tubes and head south to see if we could find some Tuna activity. After searching all the way toward Isla Jicaron for an hour or so we found nothing. I decided to run back to Hannibal and give it another try. When we showed up there was another boat fishing and I thought that maybe I could use the other boat as a blocker from the bad Dolphins or "Bufao Malo"as they are called here by the local captains. No such luck and the smart bastards ruin another bait. I had no choice, if we wanted to fish the prime spot where all the activity was, so I decided to go to the plastics. We pick up 4 nice size Dorados and finally.... the the right rigger snaps down down hard. A huge Blue Marlin explodes out of the water thrashing it's head wildly trying to get the hook of the Williamson Pink Door Knob out of it's mouth! I jam the throttles forward for a few seconds to get the line tight, get the hook set, and steer away from him as he's coming up the starboard side of the TOP Cat. The Avet EX 5/0 is screaming as 80# mono is peeling off the reel. I get a little concerned as I can see the white of the reel's Dacron backing and he's still taking line! Virgilio and company are all screaming wildly in unintelligible Portuguese and the Marlin starts to relax. Virgilio "Papai" Gibbons gets into the harness and fights the fish for just under 40 minutes before Johnny gets a few wraps on the wind on and he's next to the boat. Victor jumps in the water with the GoPro and get some cool underwater footage. We get a few nice photos, remove the hook, revive, and she swims away nicely. Just after Papai gets the traditional dunking for catching his Marlin!
I'd like to mention that this group of guys were one of the best groups I've had yet. Even though they sometimes wore Speedos......they are great people and perfect gentlemen. Good things happen to good people and I understand why "Papai" got his first Blue marlin here in Panama!
Visit our other pages.....
Facebook
www.Facebook.com/panamafishing
YouTube Channel
www.YouTube.com/fishpanama
Trip Advisor Page
http://www.tripadvisor.com/Hotel_Review-g612410-d1574533-Reviews-Propiedad_de_Paradise-Chiriqui_Province.html