Home
›
Ten Thousand Islands General Fishing & The Outdoors
Crazy ugly fish on the trip yesterday 12/21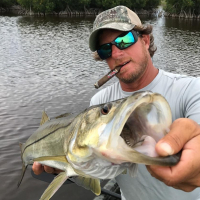 Joe Snook
Posts: 463
Deckhand
Had a family of 5 anxious anglers on fri. I had a solid plan but could not execute, why? Well they froze everywhere we went. The wind seemed impossible to get away from. When im booking I tell everyone to dress according to the weather forecast.
uploadfromtaptalk1356207931987.jpg
I had my coveralls and jacket along with my matlacha reeboks. I found the warmest place I could. they did catch alot of fish, some decent jacks and snaps and went through 8 dozen skrimp no problem. They were very happy and couldnt care less what they caught it just woulda been nice to stick to the plan and catch some quality fish but after all its all about the guests and they just wanted to have a good comfortable time. Sarah caught this nasty Batfish that everyone enjoyed but not as much as playing with the 2 puffer fish they got and played with. It turned out a fun trip wich was a nice change of pace.
uploadfromtaptalk1356208730024.jpg
tear em' up
Sent from my SPH-M820-BST using Tapatalk 2
southwest florida fishing guide in the beautiful 10k islands, everglades and more
www.Joesnook.com