Home
›
General Freshwater Fishing
Bass club "classic" 2012 Big Toho
capt louie
citrus county
Posts: 10,056
Moderator
The club stayed at Richardson's fish camp for this years end of year tournament. Nice place , VERY quaint , but OK . My father-in-law and I arrived Thurs. and got to pre-fish that afternoon and Friday prior to the Saturday/Sunday event. I found some schooling bass and located an area in Goblits cove that had some current flow that looked promising Thursday but the next day was a bust. I checked the schoolers and got a decent fish quick so called it a day at noon Friday.
Day one of the tournament and my one spot has a guide with clients shiner fishing on it. Dang it , I was counting on that spot. Had to move on.
The schoolers didn't fire up 'till noon so I started plan "B". Chunk and wind and hope. Hit a area with Kissimmee grass and got a 4.11 (Sat. Big bass pot winner) so turned around and got another solid fish on the same grass line. Moved out to my number in the middle of the lake and caught a throwback on the first cast. Next cast and I hook up again. This one keeps and also runs one of the trebles slam through my left thumb and continues to flop on the other end of the rattle trap. :banghead Oww , Oww ... After lots of choice words and FINALLY getting the bass in the well it was surgery time . My pliers were too crappy to cut the hook so I mashed the barb down and pulled it back through. Oww , Oww ..
Of course now I have drifted off the school and it takes 30 minutes to relocate them and I finally cull through a bunch of dinks to fill my limit.
At the ramp I take the day pot , big fish pot , and am in first place overall ! Cool , but I'm only in the lead by 5oz. ahead of my F.I.L. who never cranked his big motor due to carb trouble.
Day two and I have no plan .. Morning started slow with only dinks and I stsrt talking to a guy fishing near by. He says he won 4 straight tournaments June/July and recently lost a Wed. night deal by one pound. He had 31lbs and someone came in with 32 ! OK , I'm all ears.
He tells me about an area and how he fishes it and I thank him. I get a decent 2 lb before I head to his area.
He was dead on. I didn't fish how he suggested but flipped it. Got big fish of the tournament (check) won the day (mo Money) and caught a gar to take the trashfish pot.! Mo Money. Basically swept the whole thing except missed one trashfish pot. I won Angler of the Year for the 3rd straight year before fishing this. Not easy to do with the guys in this club. They are pretty tough to beat.
Part of my stringer. Never mind the Default date on the pic.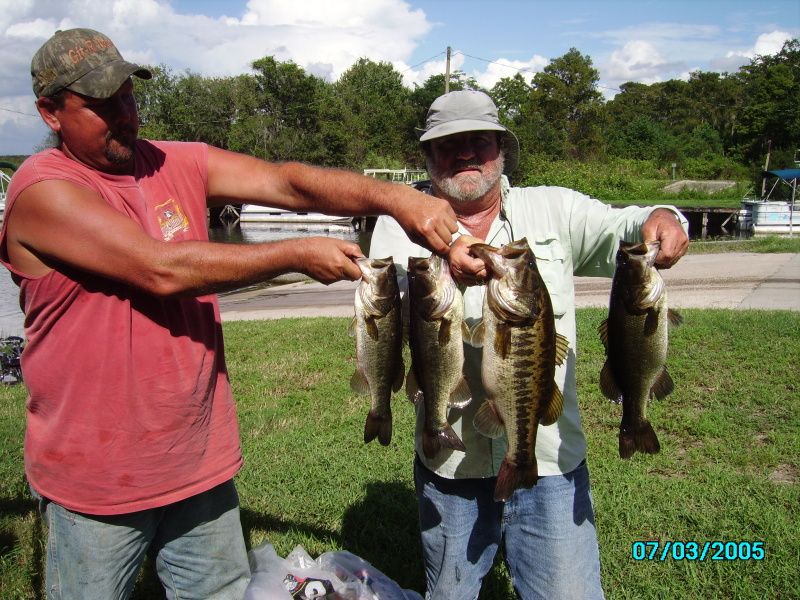 HAve a good one.
"You'll get your weather"