Home
›
Southwest General Fishing & The Outdoors
Shark Hookers - 9/22 & 9/29
J_WaRd_29
Posts: 51
Greenhorn
Our trip resulting in a lemon shark taking place before the following report was posted on this site in the "Shark Hookers: 2012 Season Thus Far" post if anyone wants to check that out, as well.
Last weekend, it was one original Shark Hooker and two Hookers in training. We went out to our spot and got there shortly after sunset. The water was like glass, which for this particular spot is very rare. Low tide was roughly 4 PM and the next high tide was around 6 AM, so the tide was slack and water still the entire time. Not only that, but there was a ton of bioluminescent plankton in the water causing everything to glow. It's pretty cool until you're in the kayak and you see glowing silhouettes of fish shooting away from the kayak due to a slow moving glowing mass headed your way, ha! Most importantly, the action was CONSTANT. Baits would not sit for any longer than five to ten minutes before a run would occur. You know it's a ton of action when a run occurs and I have my hands on my knees looking for a break! By the end of the night, we landed one baby lemon shark and two good size spinner sharks. Here are the photos. GREAT job to my two blond workhorses!
Trying to convince Lacey to accept initiation into Shark Hookers by taking the bait out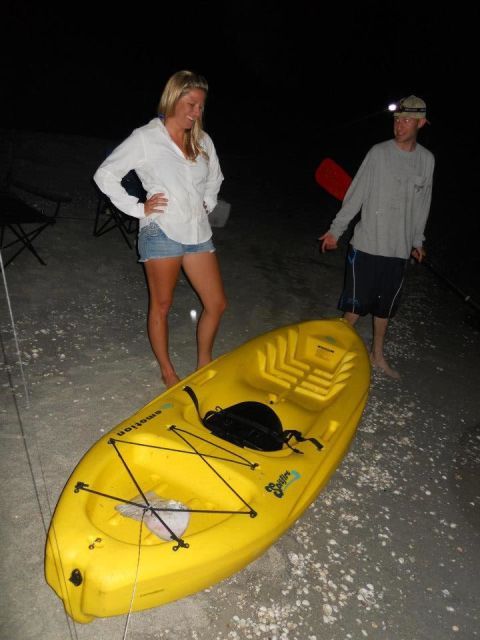 Reaping the benefits of her work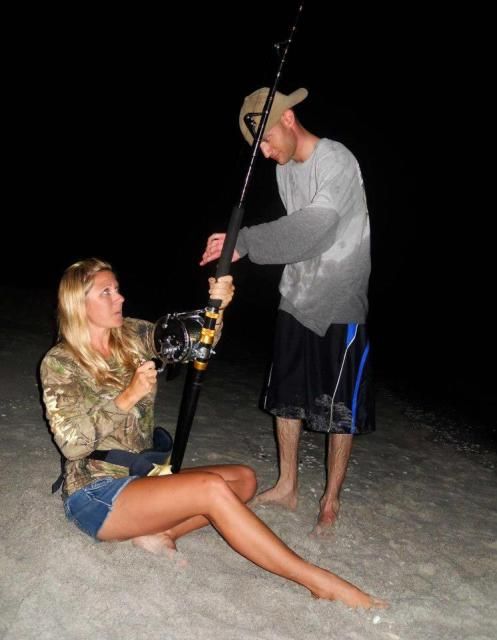 Little guy to start, baby lemon
Next it was Dana's turn to fight a shark
Nice spinner shark
Lacey fighting one more time
Second good size spinner shark of the night
This weekend the water was a bit rougher in the same spot, and with the full moon and incoming tide the current swung our baits pretty hard. Unfortunately, our larger group that was out did not get a chance to fight any sharks because the little guys that we caught didn't put up much of a fight for our gear. A couple we had a hard time deciding if there was anything on at all. It was great to catch anything at all, as always, though. By the end of the night, we had one baby shark (looks like a baby bull) and two bonnet head sharks that were close to full-grown. With that being said, around 1:30 AM Dana and I were the only ones left and had two hard runs. The run on the 12/0 resulted in our line being cut. Presumably by something on the bottom. The second run resulted in something much more interesting. The 210 lbs cable leader was bit directly through just above the hook. In my experience, I've only ever had one kind of shark give me that issue with these leaders. The tiger shark we caught last year shredded our leader pretty good, so it is very possible a large tiger could have bit through the brand new leader. Nevertheless, here are the photos from this weekend.
Not sure if something is on or not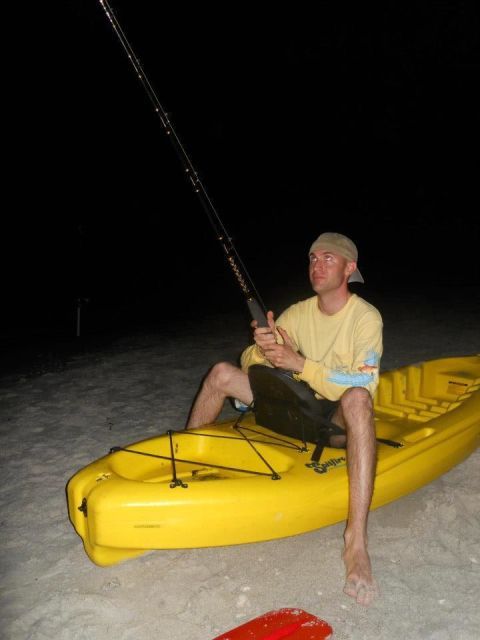 Baby shark, possibly a bull
First bonnet head shark for Shark Hookers in our 4 years of existence
Showing her appreciation
Second bonnet head shark