Home
›
Southeast General Fishing & The Outdoors
9-29-2012 - Port Saint Lucie Offshore Fishing Report:
Alwaysforward
Posts: 1,512
Captain
Taking Paul & Travis out today. First time for the both of them on the AF so the pressure is on again to locate the bite. Exiting at low tide will not bode well for the bait hunt near the inlets with Lake O spilling into the sea. I came early in hopes to locate some mullets around the pocket.
After putting my mad skills of tossing a net to work I hooked the dock, the boat, the light pole and the cleaning station but no baits :grin. Oh, and I forget the Pelican. May he rest in peace :grin
The crew showed up right on time and I quickly asked Travis if he knew how to toss a net. Minutes later we had both livewell's filled to the brim with finger mullets… You are awesome Travis... Can you show up for my crew next Saturday and catch us some baits :grin... Just kiddin...
We exited the pocket at 5:30am. Broke the inlet to flat calm seas and headed directly to Push Button Hill. We did not even look for other baits with the wells full and the water dirty. It is too bad that docks, boat, light pole or cleaning stations wouldn't work well as bait as we could of really slayed them today :grin.
Goal is to locate some BFT early then run and gun for fins out deep on debris. We arrive on the Hill in darkness and got lines in the water before 6am. Drifted some Finger Mullet along the ledge with nothing doing. I never tried them for BFT before so I wasn't sure if it was the bait or the lack of light.
We ran back to the start spot and now the light is up enough to switch over to the Daisy Chains and do some trolling.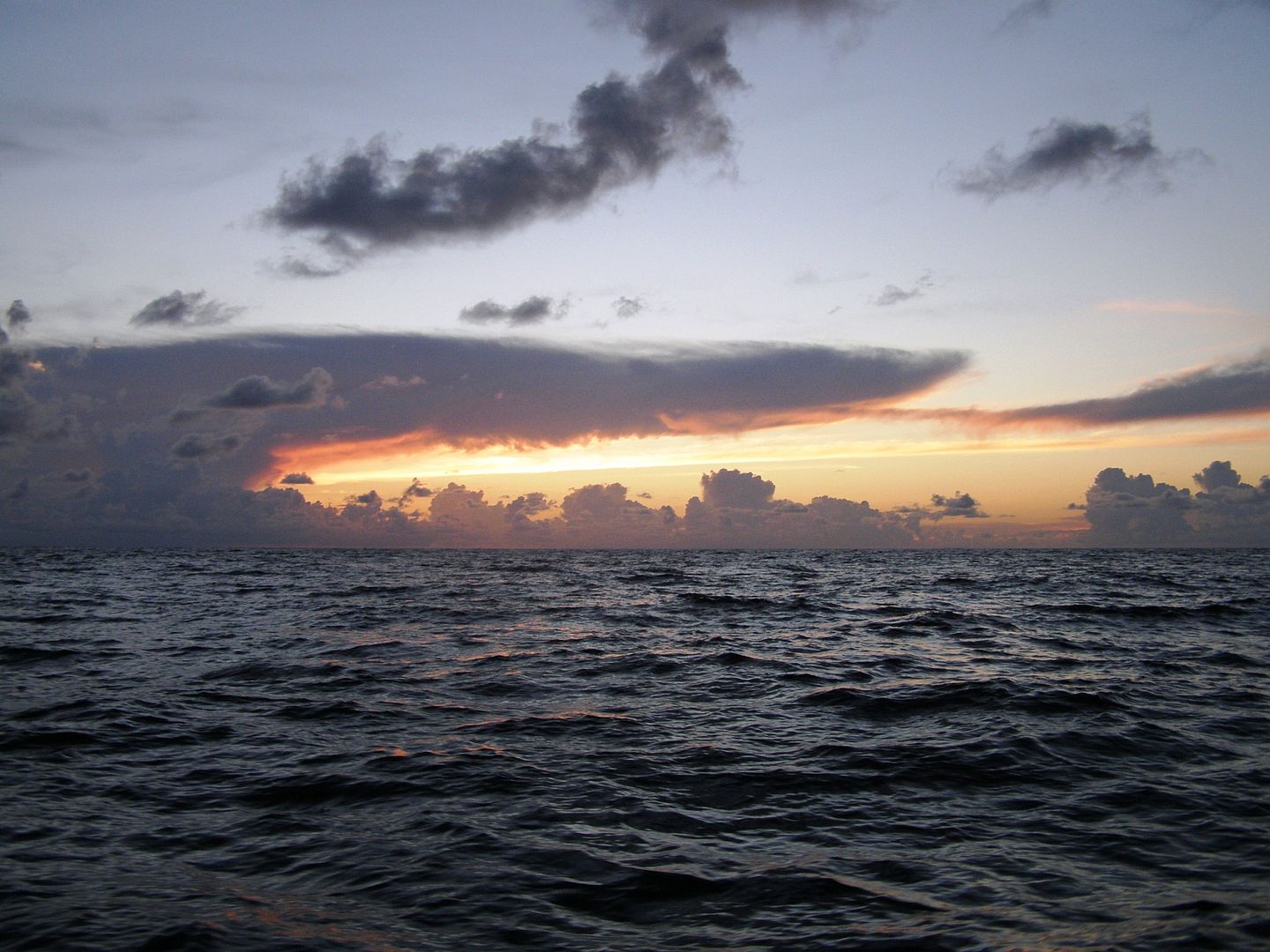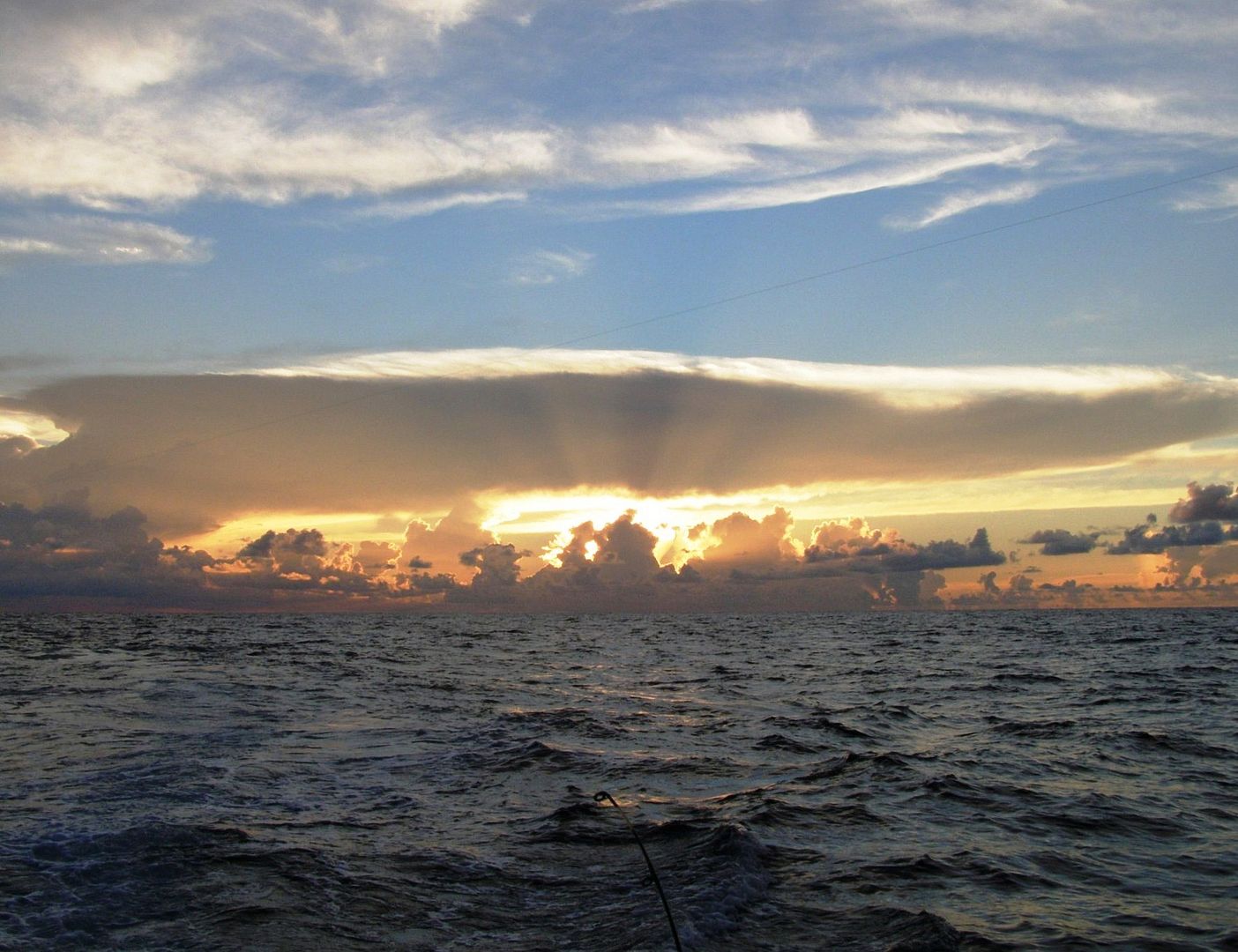 I made up a couple of new lures last night for the chains and within minutes we had a small Skipjack to the boat.
Minutes later we had a small BFT to the boat. Both fish released to grow up…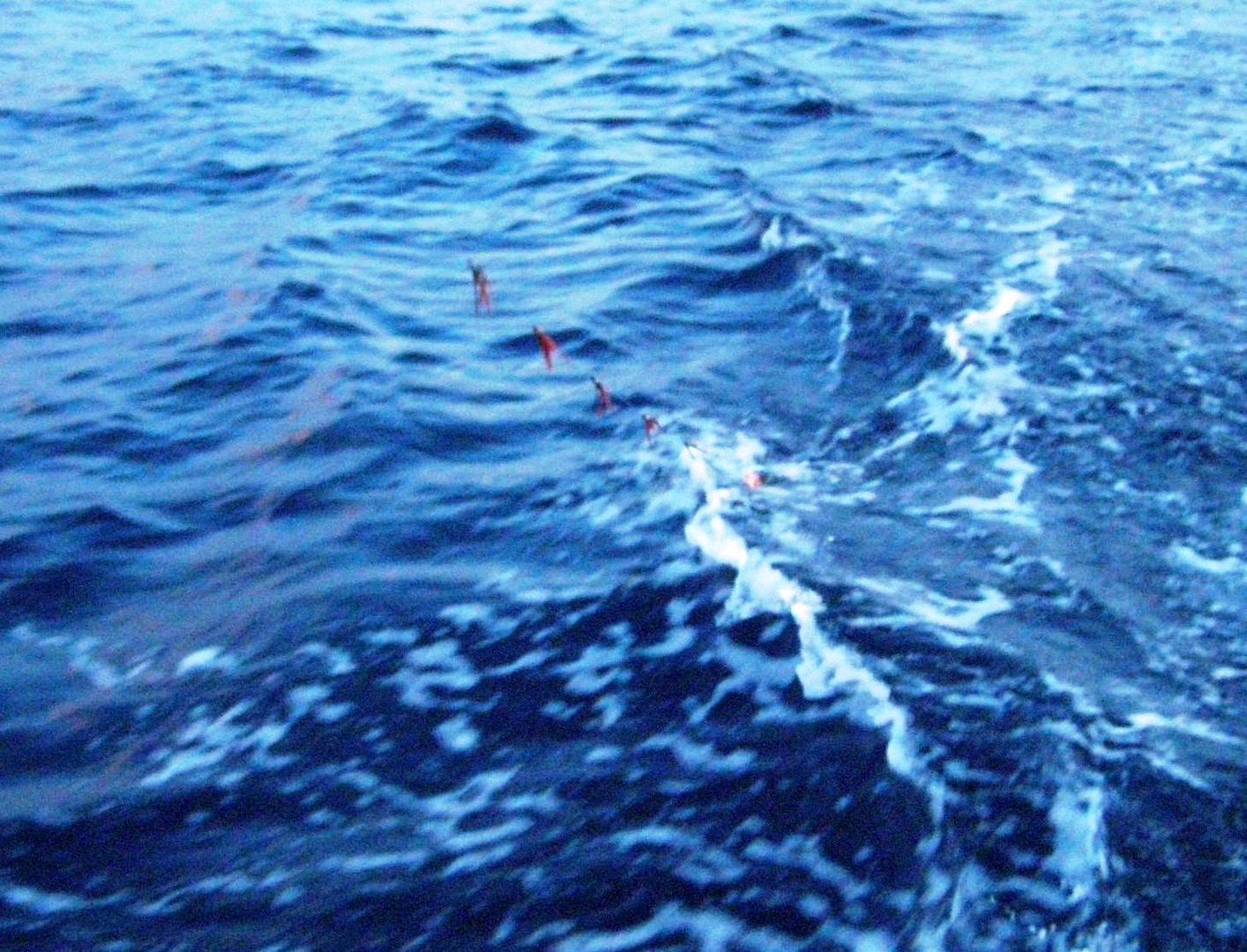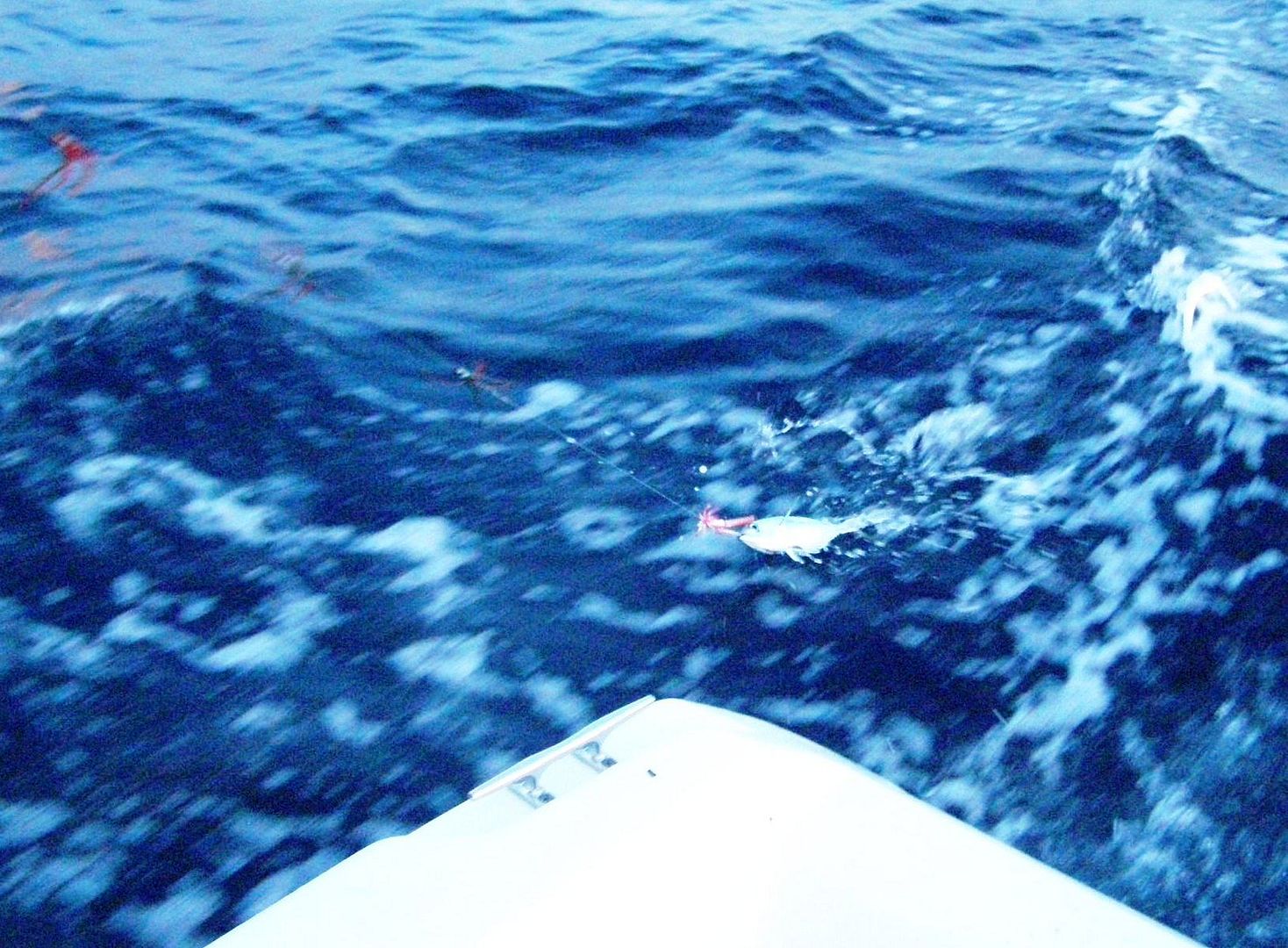 Looped around and picked up another BFT and this one went into the boat. With the ice broken we decided to change up the lures on the chains and Paul hooked up to the biggest BFT on the day… Congrats Paul :USA. I don't like changing something that works but this proved to be a good move.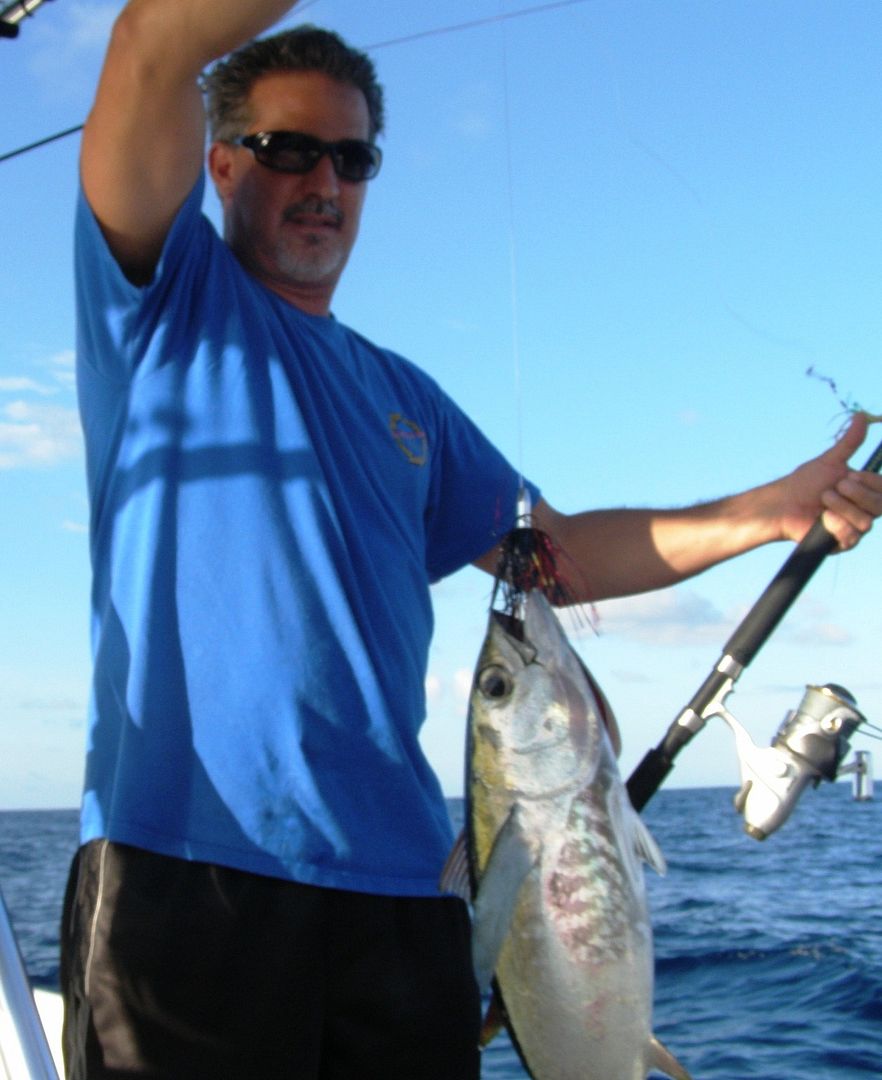 Spotted this rainbow towards shore...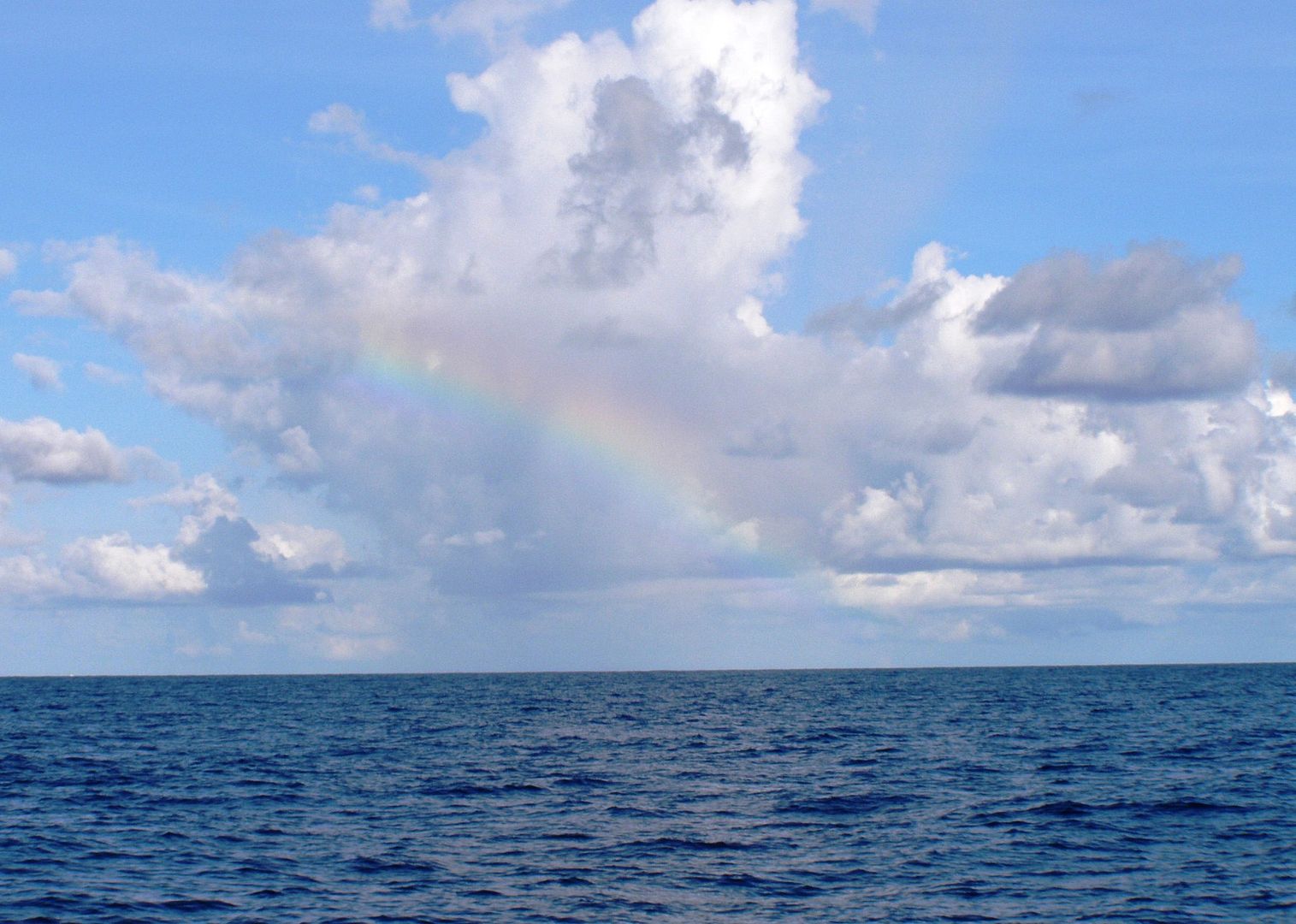 We pulled in the chains and the outriggers and gave a shout out to
B.Wilmot
that were running deep. He is our wingman and we do well when we get about a mile apart and run deep in search of some debris. 4 out of the 5 times that we did this, it produced fins for us so why stop now :grin
Here is
B.Wilmot
an crew on the Hill
We hit 1100ft and Travis spots a gold mine (or so we thought) off the Port side.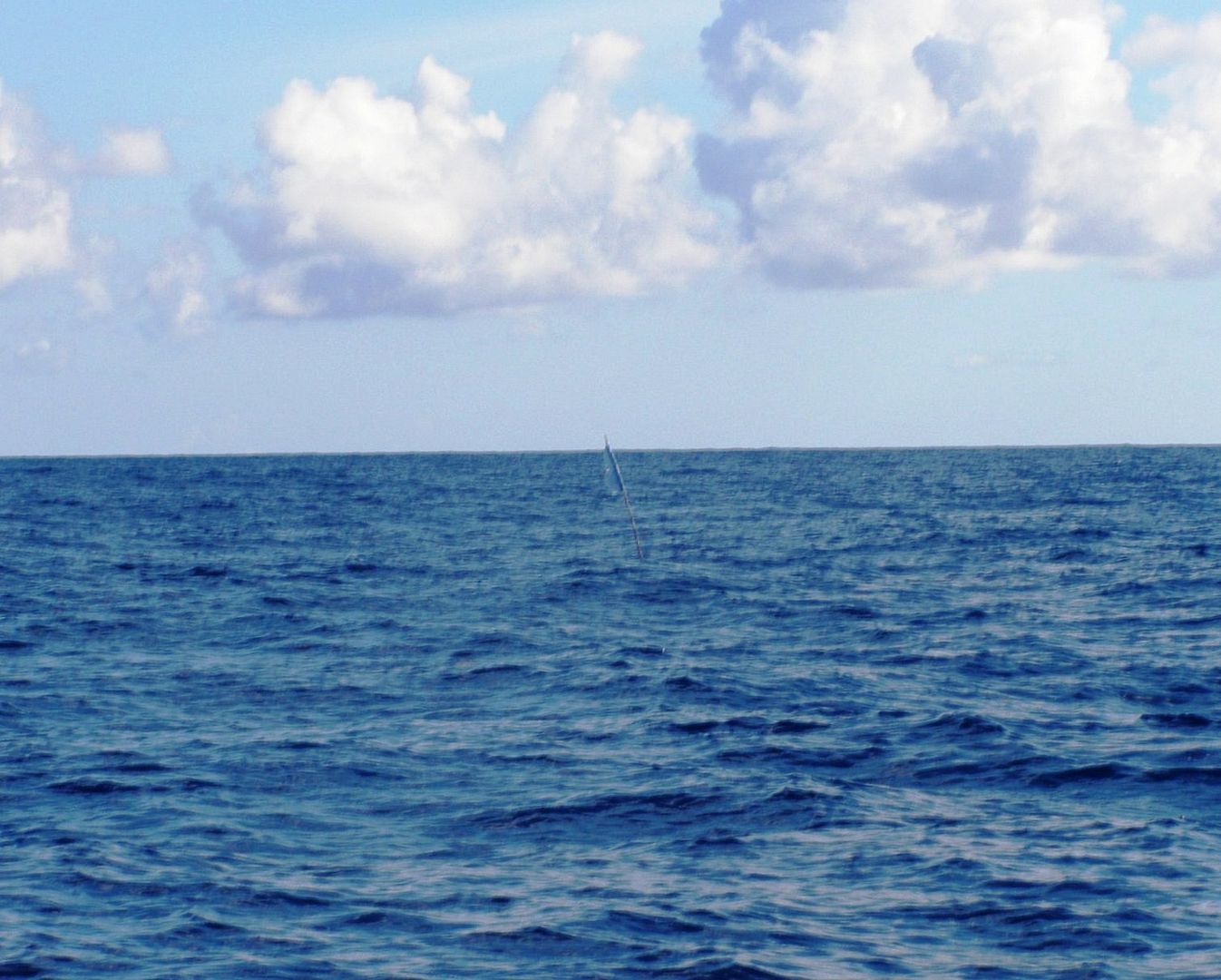 We get the spinners rigged with mullet an pull up to this and start chunking. We give BW a shout out to come on over.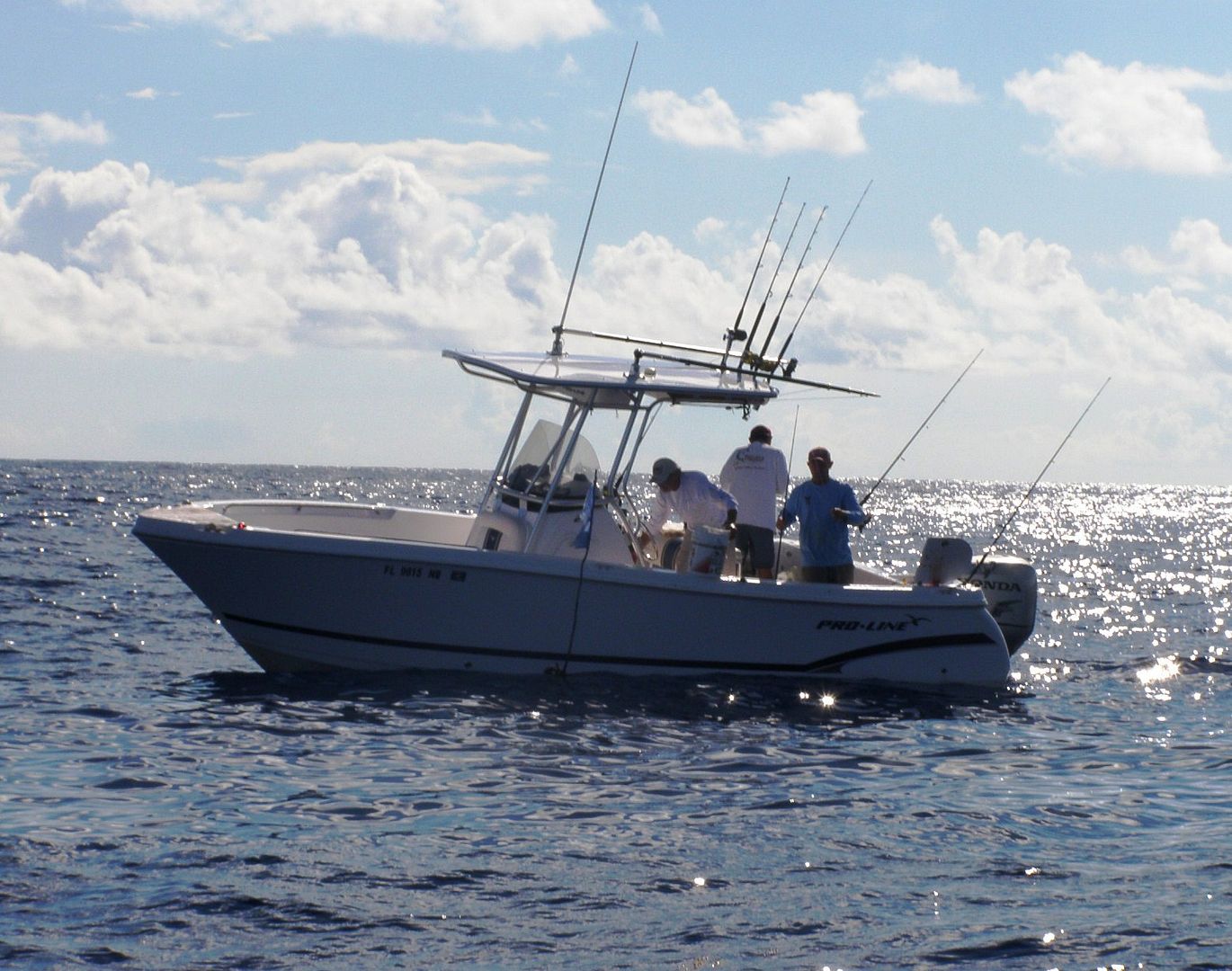 We chunked a lot of bait here with nothing showing. We rigged up the instant downriggers on the rods and Travis hooks up just as we were planning on making a move.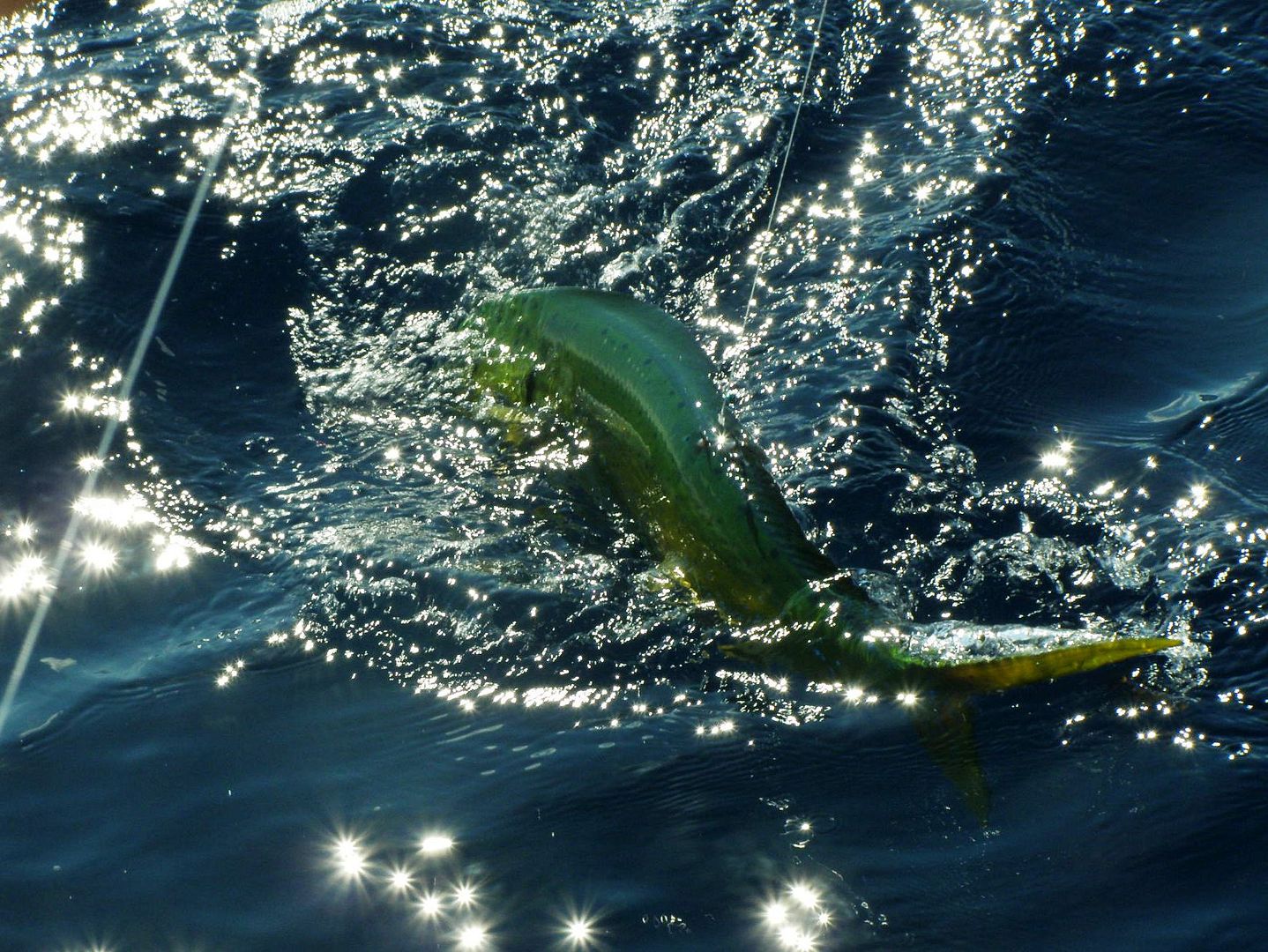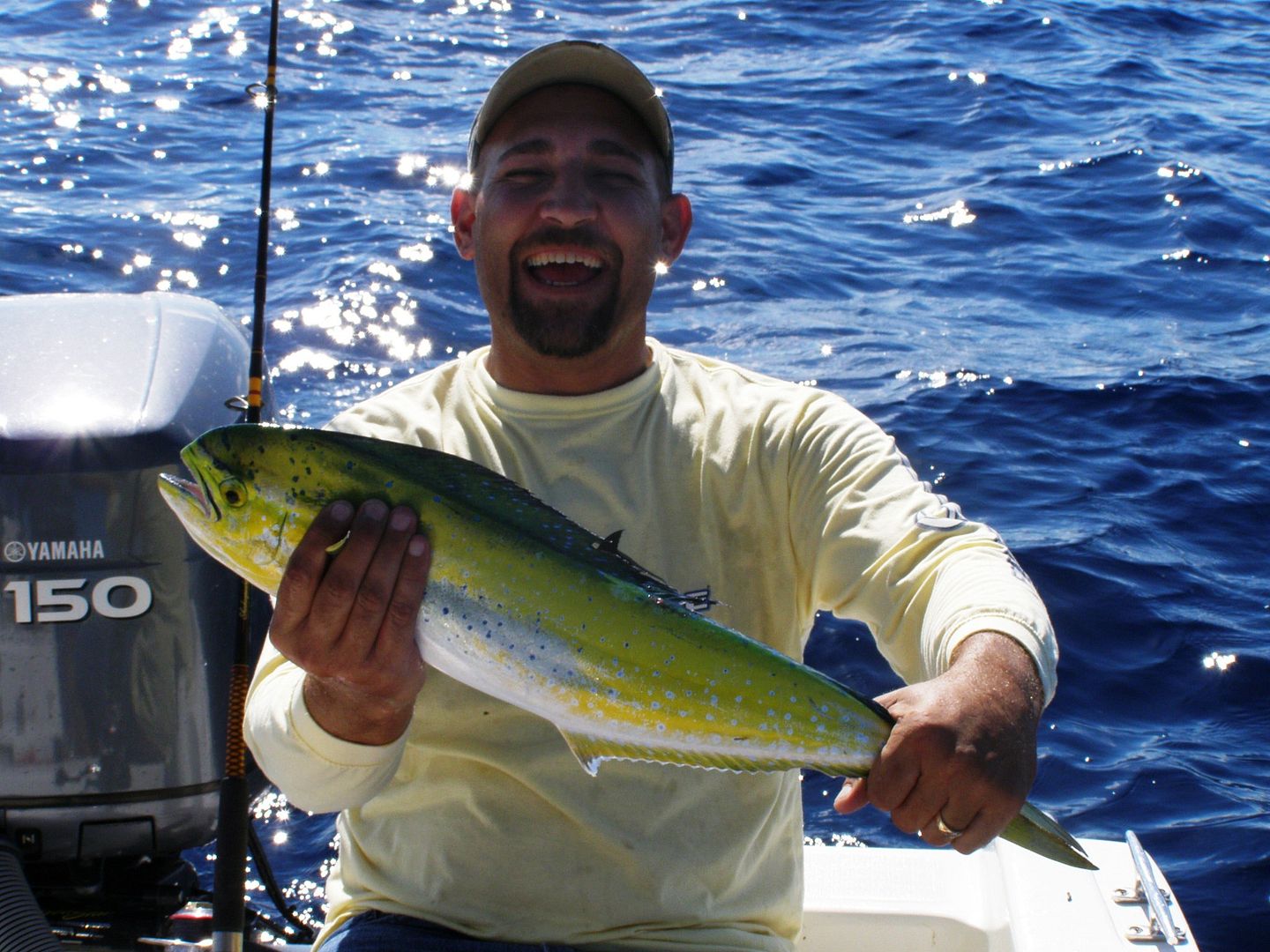 We worked this for a few hours and only picked up 2 fins off it and I think Bryan got two as well. We left Bryan and crew here and continued eastward. Made it out to 1500ft with nothing doing debris wise. We loop back around and got back to the Hill qnd drifted some mullet again along the ledge...
We get a shout out from
Vindawg
that he is hooked up on some triple tail and fins on a bucket north of the Hill. We make the quick run north and unloaded the chunk bucket onto the bucket in hopes to bring up the fins. We spotted just one fin below the school of jacks and triple tails around the bucket but he disappeared into the deep blue.
Vinny also called over
B.Wilmot
who as he drove by said hey Jeff... Theres a flip flop :grin...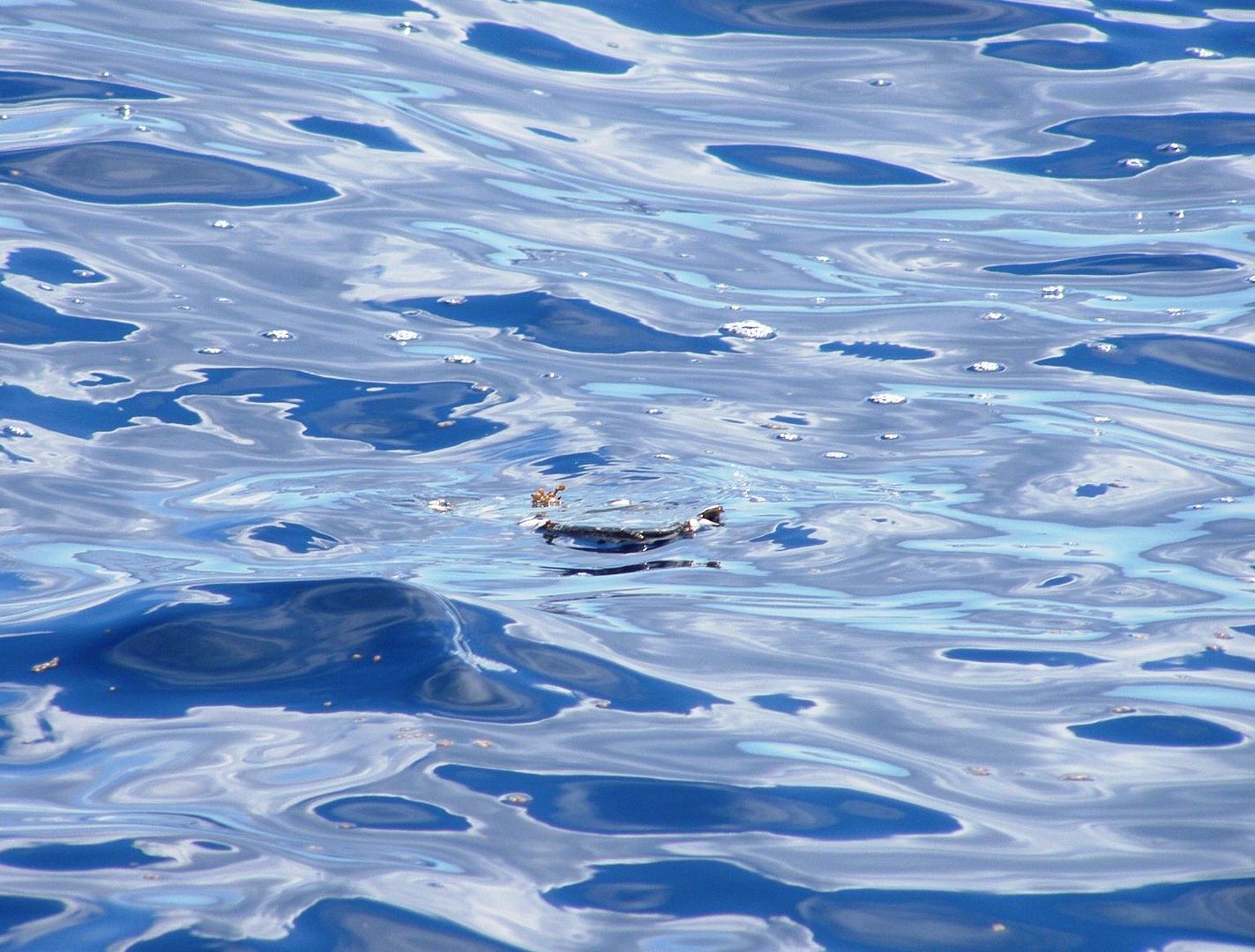 Bryans crew hooks up a fin off the bucket...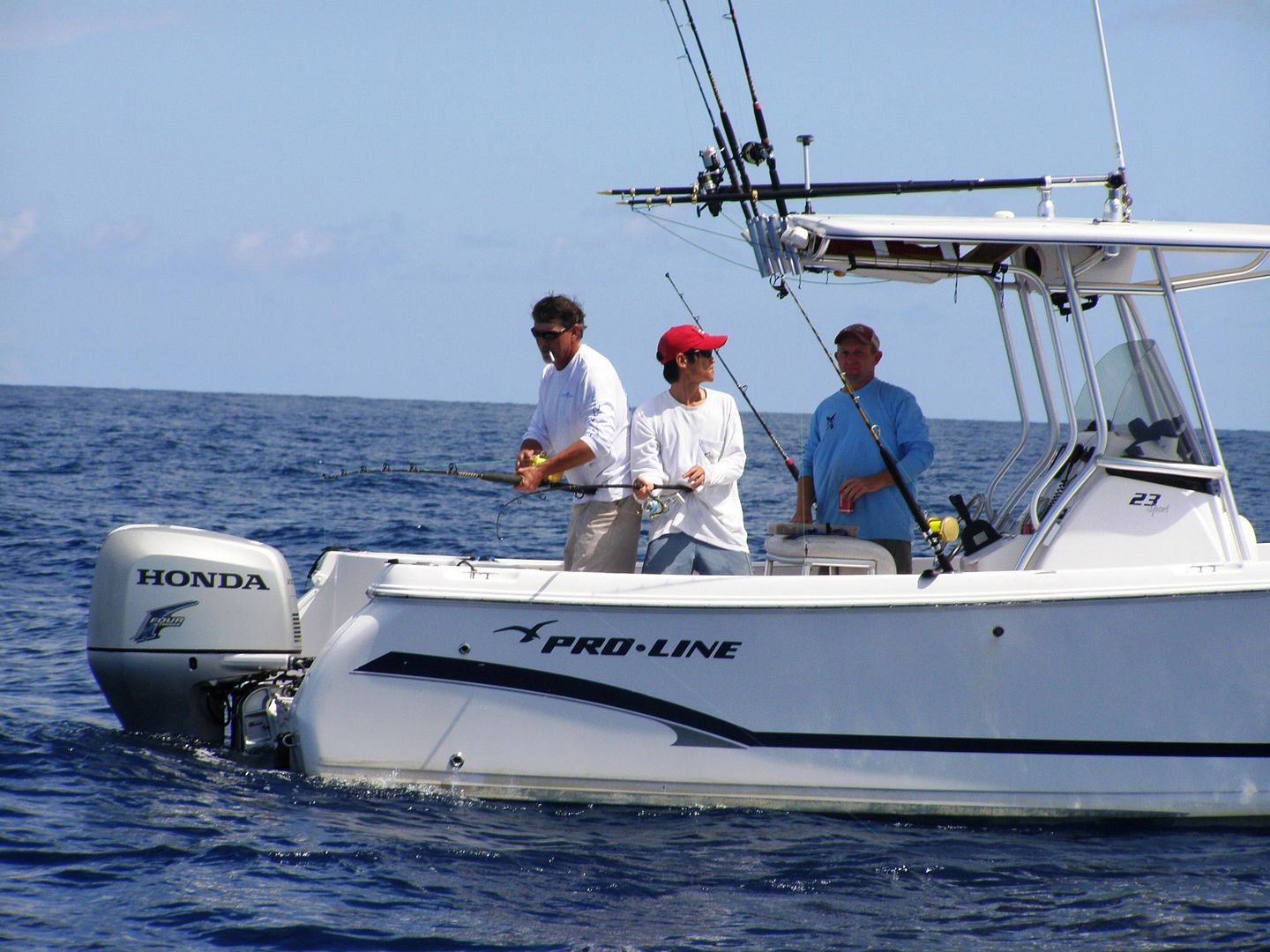 Today's Tally
5 BFT - Release 3 small ones
1 Skipjack- Released to grow up
2 FINS
1 Alamaco Jack
How did everyone else make out today?Tip of the day
I bring 13-14 rods on every trip. I get a lot of jokes at the dock in the morning. Do you think you have enough fishing poles? What are you doing having a yard sale on the water? All in good fun… but I do this for a reason. It is called being prepared. I bring (2) small spinners (Penn Pursuit 5000 reels on 6ft Ugly Stiks) rigged with 20lb braid for catching baits, Each are rigged with a bead between the rod tip and the swivel to keep the swivel from getting caught in the rod tip.
I have (4) conventional reels (Okuma Diezel 30's on Shakespeare Sturdy Stik's) rigged for drifting live baits. Each are spooled with 30lb Yo-zuri Hybrid Fluorocarbon which is Albright knotted to 10-12 ft of Berkleys Vanish 60lb Fluorocarbon leader. At the end of the leader is another Albright knot to 4-5" of #9 wire down to a Matzuo #6 live bait hook which is attached using a Haywire twist.
I have (4) large spinners (Okuma Avenger ABF-90 Baitfeeders on Ugly Stik Tigers) rigged for multiple functions. I have two reel filled with 50lb Gorilla Braid and the other two filled with Yo-Zuri 30lb Fluorocarbon. They are all rigged with snap swivels to allow for quick changing for whatever we are targeting.
I usually have two rigged with Daisy Chains as you never know when you will come into contact with a flock of birds working a school of tuna. The other two are rigged with pre-made spinner rigs. 4-5ft of 60lb Vanish Fluorocarbon leader to 4-5" of #9 wire down to a Matzuo #6 live bait hook. I also have some rigs made without the wire for when those fish get picky.
I have (2) medium size spinners rigged the same as the Fluorocarbon larger Okumas noted above. They both have a bead between the rod tip and the snap swivel so I can use then in the morning to catch bait when I have more people on board. I use Quantum 60 reels and two more Ugly Stiks.
Lastly I have (1) bottom rod rigged with 50lb Gorilla Braid. It is a 50lb class rod with a Okuma Connector Line Counter Reel. It has an 8oz sinker on the mainline with a bead between it and the snap swivel. I have pre-made rigs at the ready from 30, 60lb Fluorocarbon to a #6 Matzuo live bait hook and I also have some rigged on 150lb mono.
o See previous posts for pics off all premade rigs:
http://forums.floridasportsman.com/showthread.php?31515-12-23-2011-Port-Saint-Lucie-Offshore-Fishing-Report
I have a couple of larger rods that I bring for highspeed trolling and/or putting big baits down but will save those tips for when I catch a fish with them :grin
Extra tip:
When I tie the Albright knot at the leader to mainline point, I use 12 to 14 loops before to finish the knot. I learned this from fellow forum member
Kansas Jayhawk
, Jason a few years ago aboard the AF. Those extra loops proved to be the key in making a great knot better. Thank You Jason.
Random pics on the dayCLICK THE PIC BELOW TO SEE A UNDERWATER VIDEO OF THE BUOY MARKER WE LOADED OFFSHORE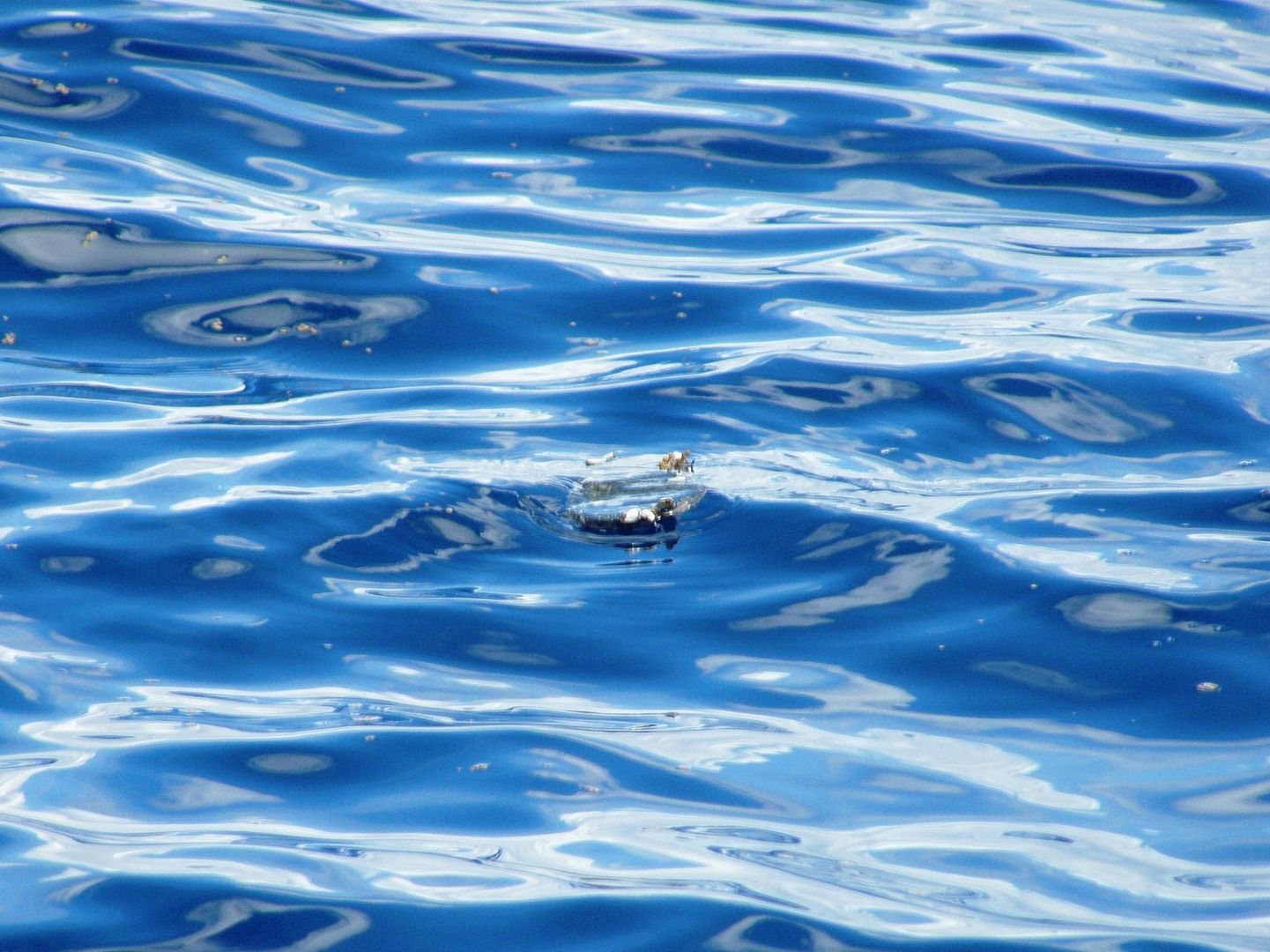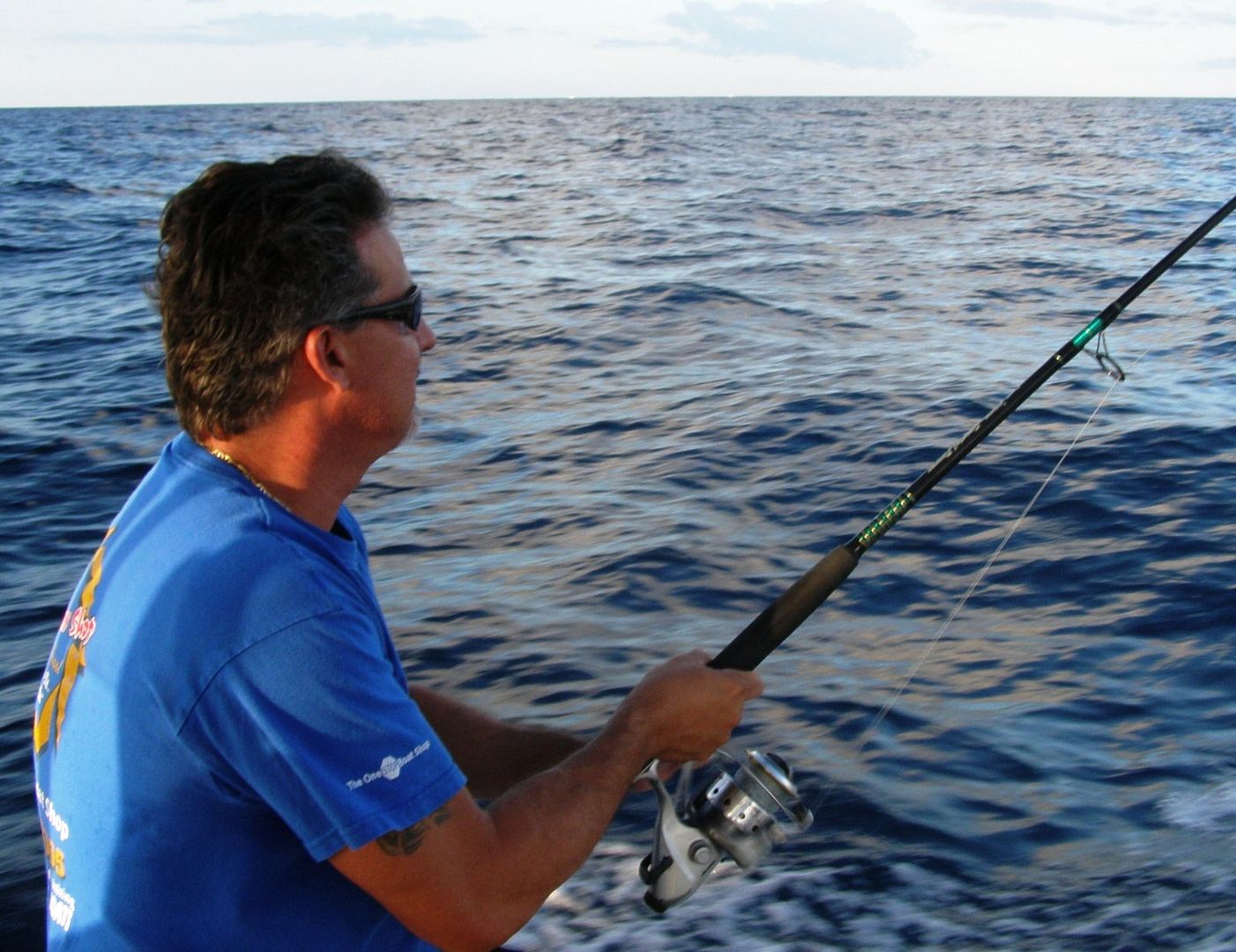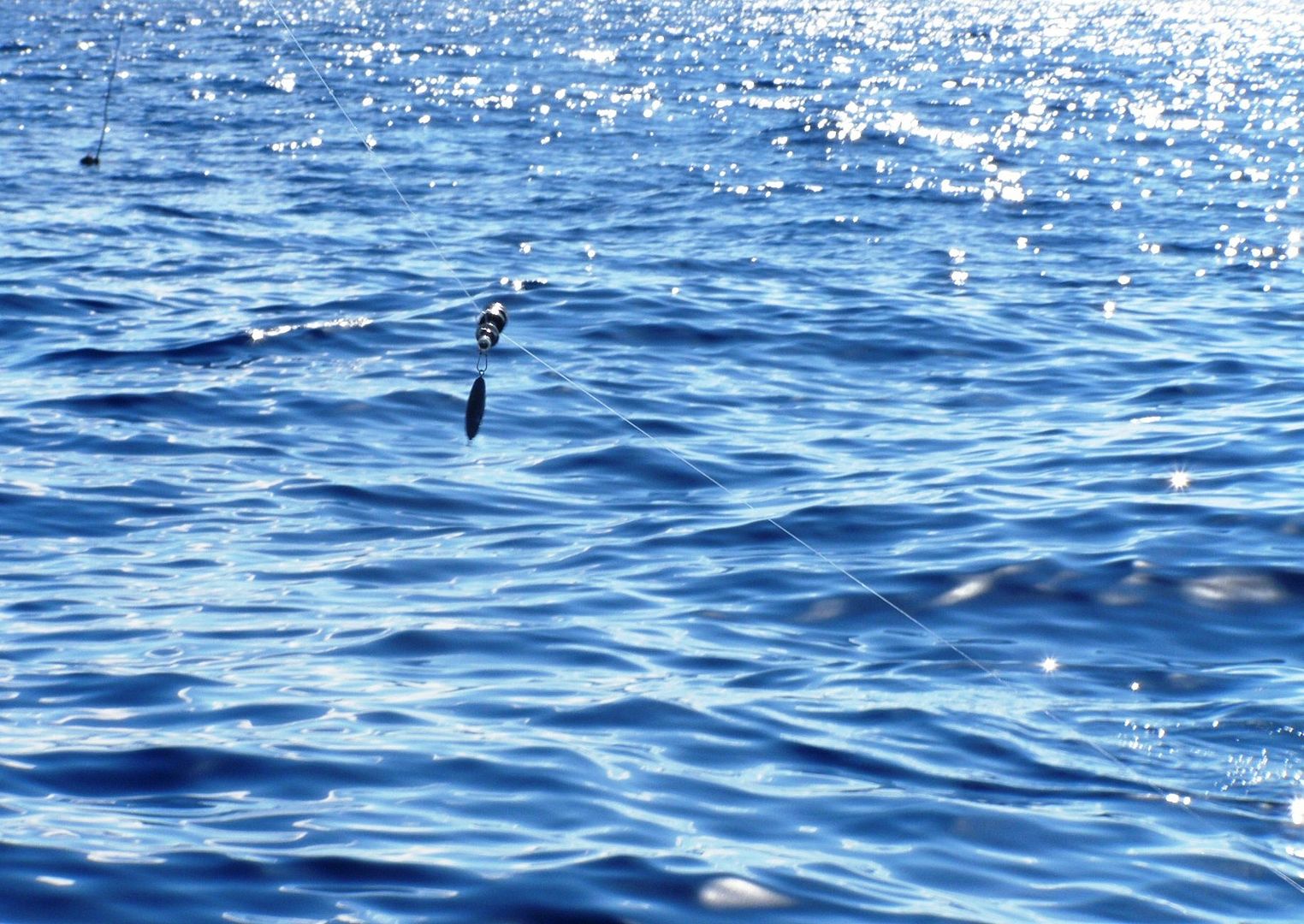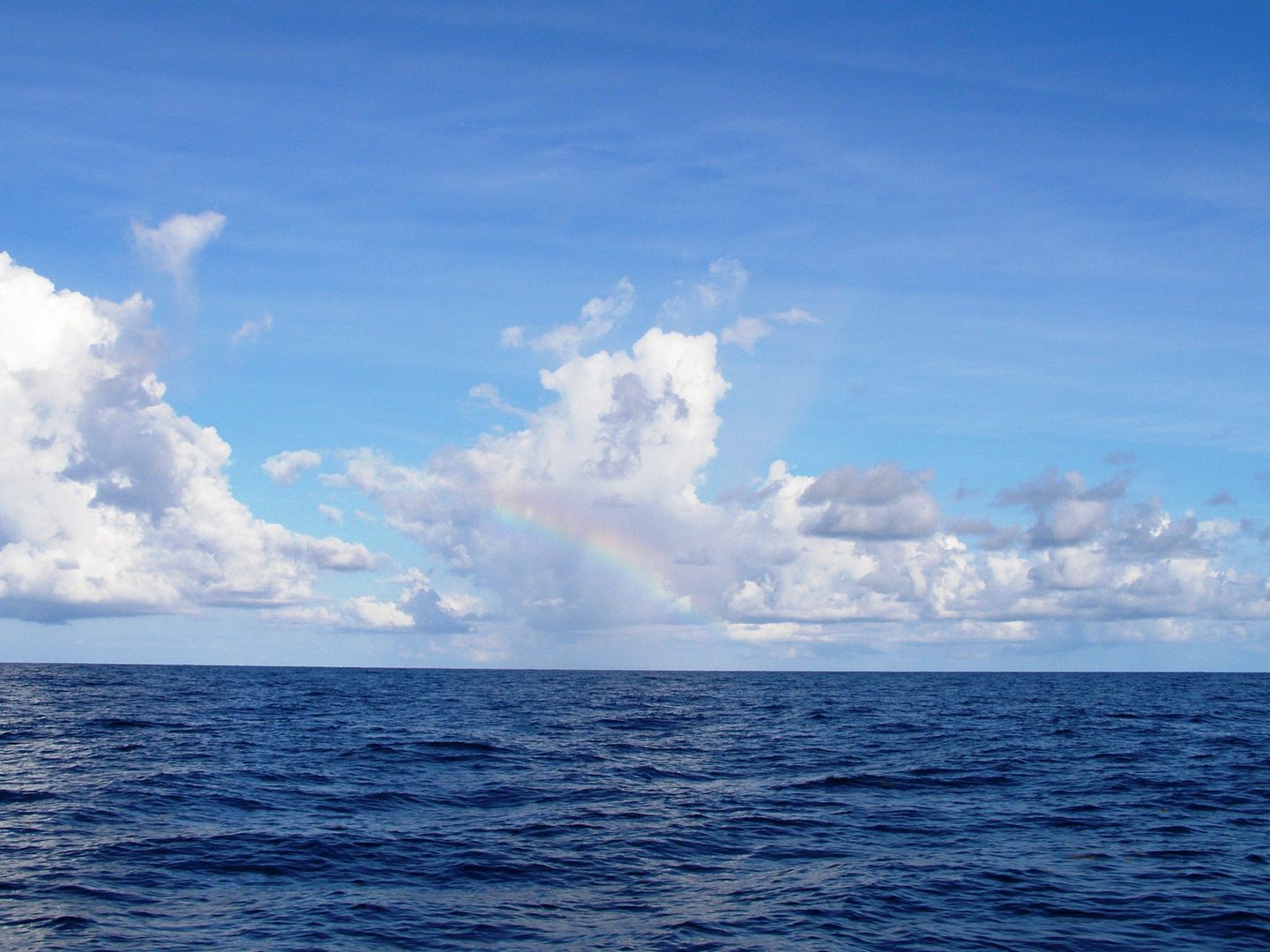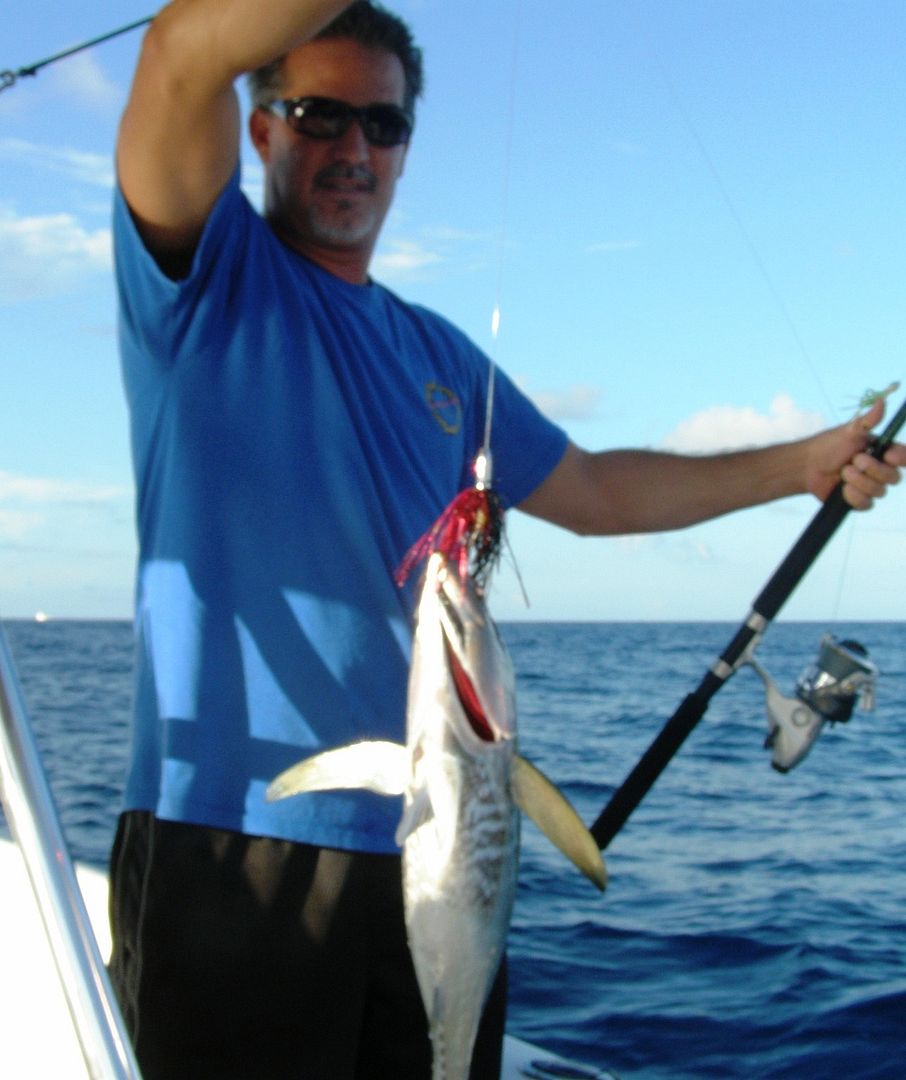 On a side note I want to give TJ at Rays Offshore Tackle in Boca (
emijess on the forum
a shout out for all your help getting us ready for our next fishery. Keep an eye out in October for our maiden voyage. I was also able to finally meet
PaulBoat
there at Rays. Nice to finally meet you...
ALWAYSFORWARD, NEVER STRAIGHT...