Home
›
Southeast General Fishing & The Outdoors
Mixed Bag Wahoo,Dolphin,Snapper Tues 9/25
schmittyfish561
Posts: 118
Deckhand
I don't normally get out during the week but it was my good friends birthday and he invited me to go fishing on his dads 46' bertram which i love fishing on! its a 1979 but still in great shape, i wasn't missing out on this trip so i took the day off work.
plan was to go offshore for some dolphin. we loaded up the night before with bait which we found at the boat ramp blacked out the 30gal
with (pilchards,silver mullet) headed out boca inlet at 6:30 put the lines out in about 80ft and prepared for a long troll 15 miles out. came a cross a nice weed line in 300 nothing! pushed on hooked up to something in about 650 on our small trolling lead with a sea witch ballyhoo combo put up a decent fish and started skipping across the top everyone was calling cuda... great!! and when the fish came 15-20 feet from the boat the driver yells Wahooo from the bridge!! everyone snaps in game mode and leaders the fish to the boat and sticks the fish before it took a dive, birthday wahoo in the boat!! wasn't expecting a half moon hoo on our way offshore.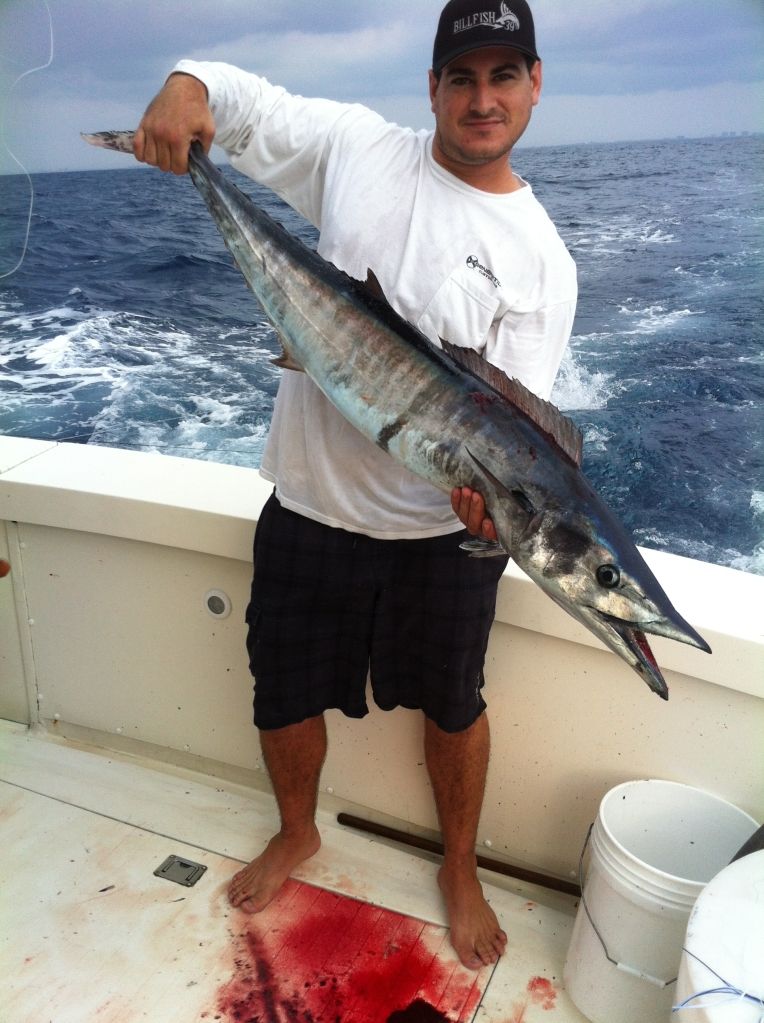 trolled for another hour or so with no bites finally about 10 miles off our down rod goes off again this time we can see a dolphin jumping cleared the lines and dragged her through the door with no followers, seas started to get pretty sporty so we started to head in to do some bottom fishing while we were heading we had a pod of porpoises follow our spread 3 miles no chance of catching anything we pick up and head to the reef set up the drift throw some chummers out and put a mullet on my knocker rig and first drop produces a nice mutton!
then a couple short grouper got cut off on a couple kings landed a nother nice mutton and yellowtail and called it a day.
all the snapper were caught in 150 of boca.