Home
›
Sportsman's Kitchen
New Weber: Bone-in rib roast, stuffed shrooms, cab reduction au jus, wedge salad...
Panhandler80
Moderator
Ytic Amanap
Posts: 8,913
Moderator
Made a pretty sporty fishing trip this weekend... as in left the dock at 2:00 pm Friday and got back around 5:00 pm on Saturday. Sunday morning was 3 hours of cleaning fish and boat.
After that the wife and I weighed our options for the remainder of the day... 1. Take the boat to the island, or 2. Spend that fuel money on nice piece of meat and put it on the new grill.
We opted for Choice 2. Left the boat and dropped off two kings (a 15 and 27 pounder) at a local Asain market. My lady there loves them and in exchange for kings, I get fresh egg rolls... everybody wins! Yes, those are two kings and a blackfin belly on a piece of cardboard laying on the curb outside their shop. Felt like I was at a real Asain Market... in Asia!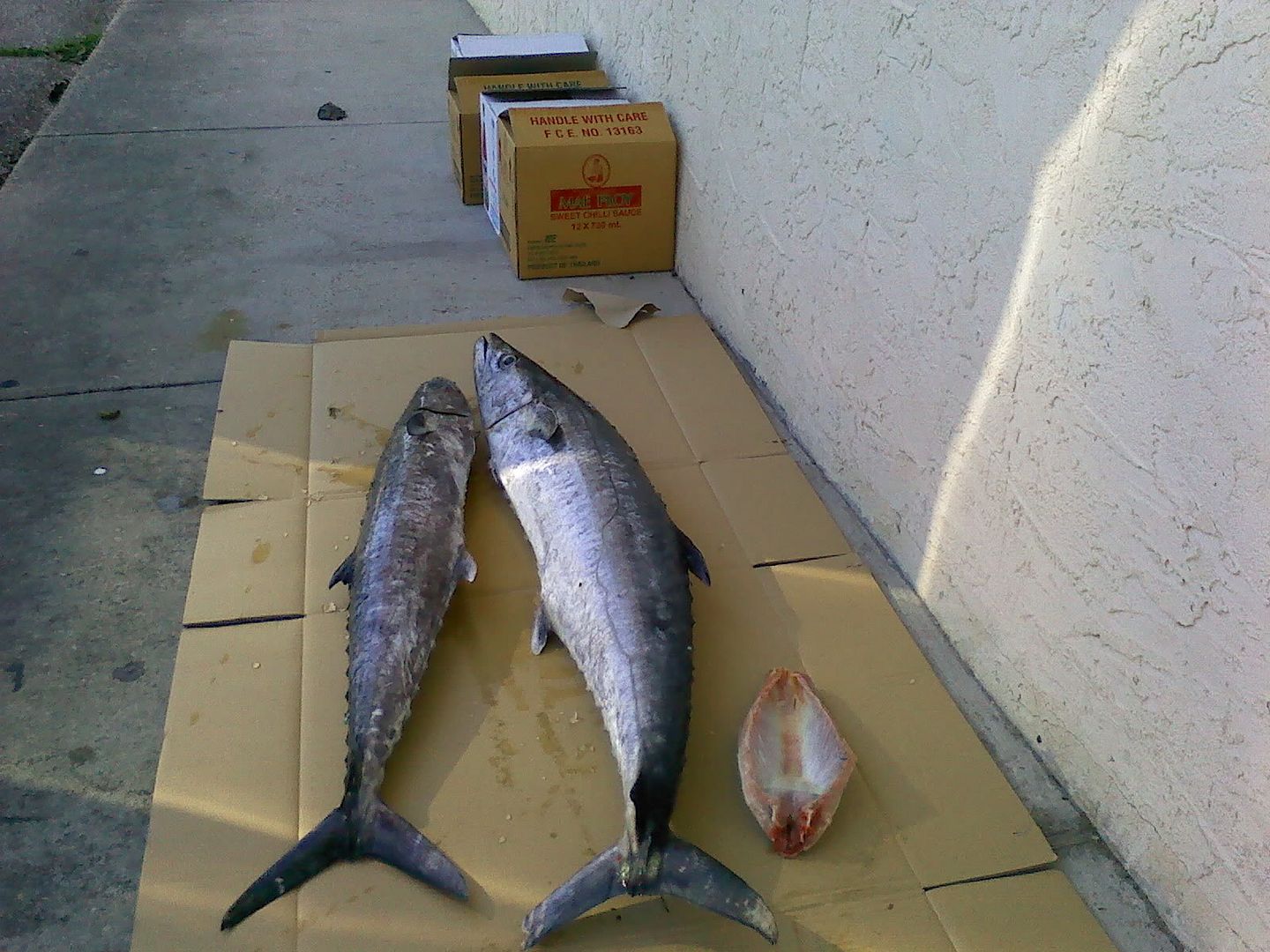 From here it was off to the grocery. Picked up a 5.5 lb bone-in rib roast, bacon, lettuce, blue cheese dressing, blue cheese crumbles, some rum (gotta do something while she spins on the grill), cream chesse, mushrooms, three bottles of wine (two for dinner, one for reduction), some port, thyme, garlic and then headed back to the house.
Shoved some garlic cloves into the roast, then salt and peppered. Next step was to cover it in chopped thyme and garlic. She's ready for the grill.
I got the grill up to 700 degrees and then tossed her on...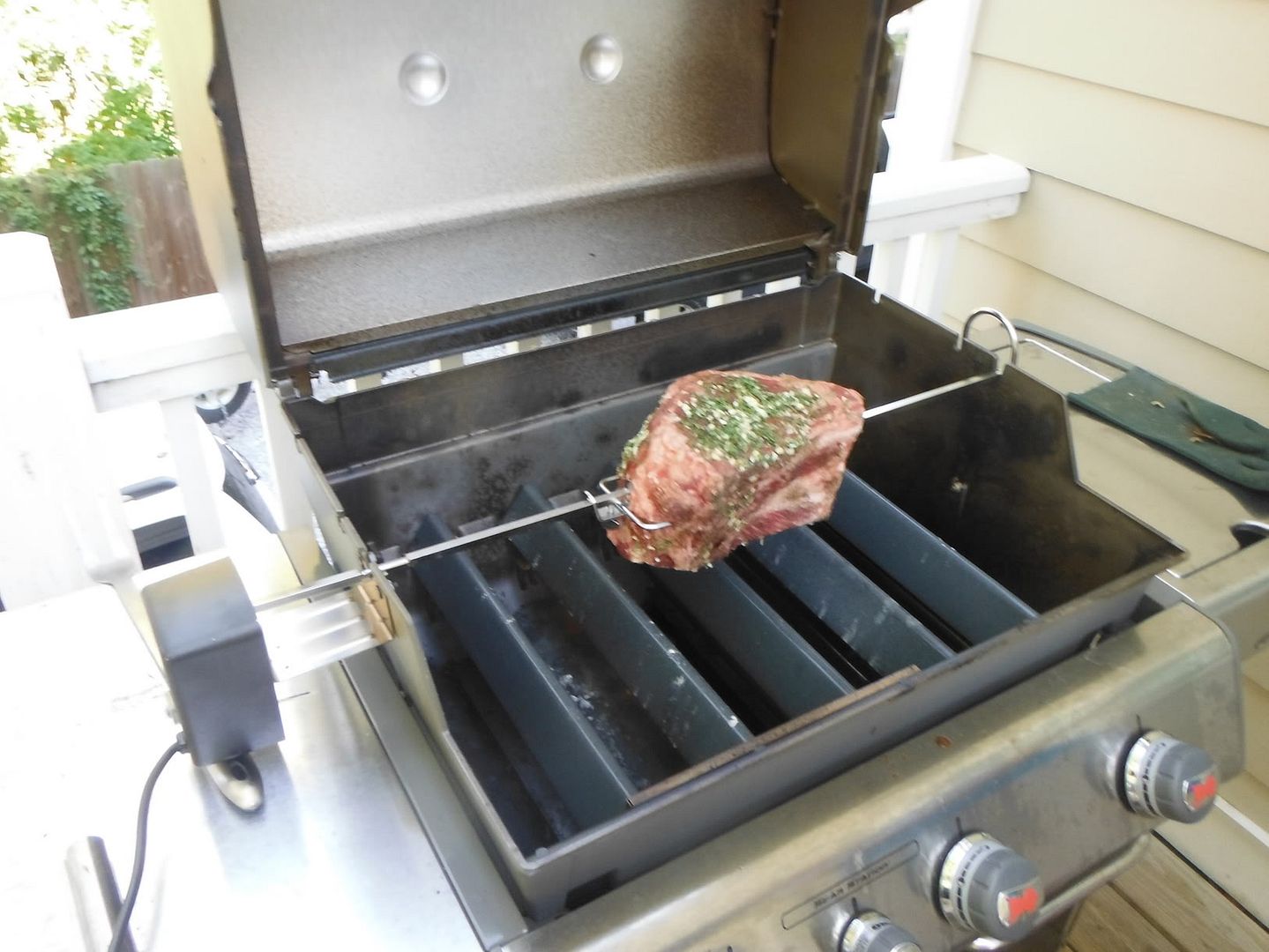 From here on out the picture quality goes downhill... apparently I had a pretty serious smudge on the lense (I suspect beef fat!) that had things pretty messed up, but not quite bad enogh to catch my attention.
Anyway,we tossed her on there at 700 and in probably 2 minutes she had a great crust! Shut the burners off and opened the lid for 3 or 4 minutes, then closed the grill back up and put one burner on low. At that point the grill was at probably 450 and it slowly dropped to about 250 before I brought it back up to 300 where it stayed for the duration of the spin.
In the meantime we got the cabernet reduction going (cab, port, thyme, beef stock, shallot, chicken stock, and drippings from the roast were periodically added). We reduced the wine by about 3/4.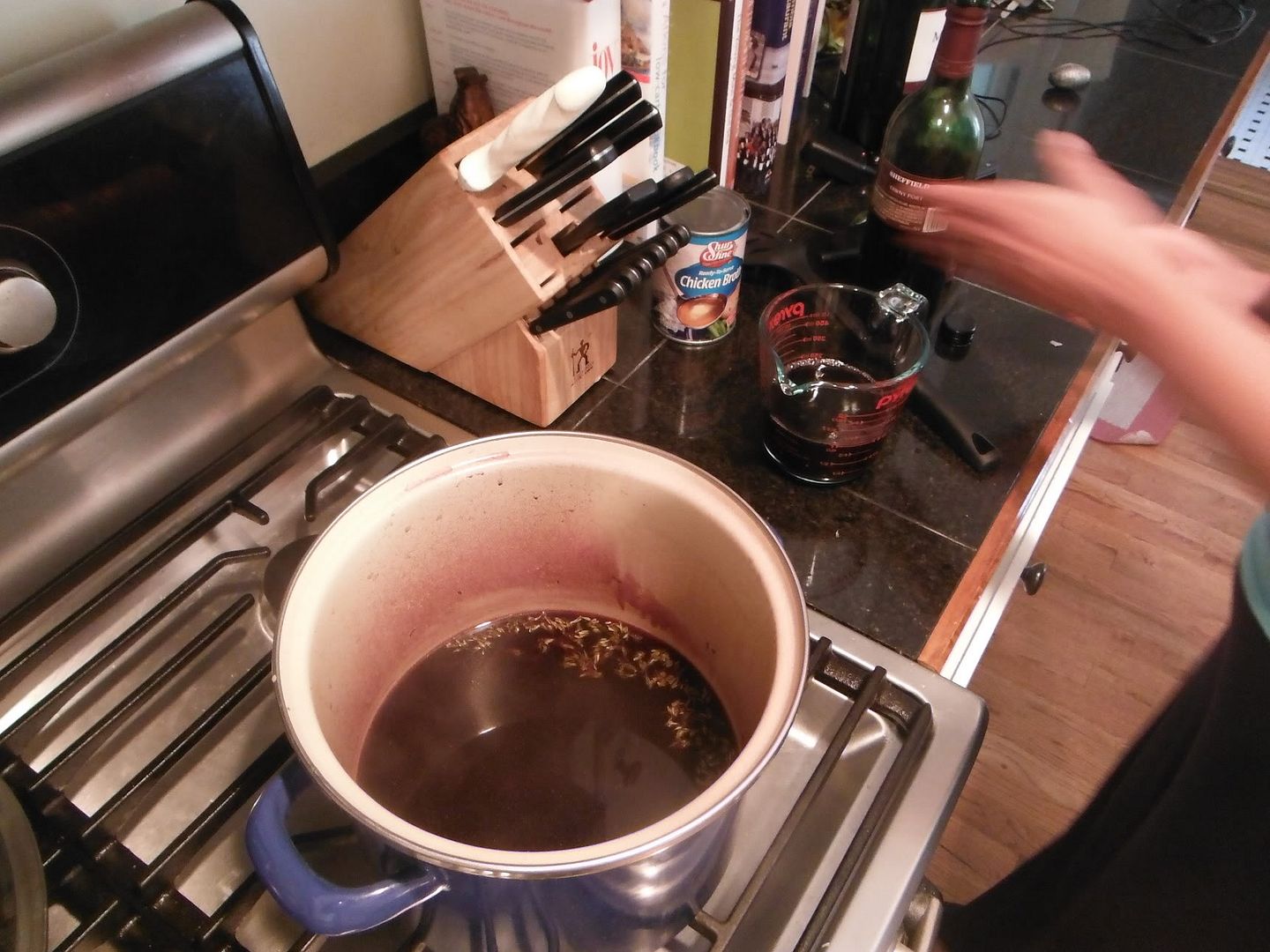 Also on the menu were some stuffed mushrooms. We cut the stocks off and minced them, some garlic and some onion and then sauteed in a health portion of butter.
Still figuring out my new point and shoot camera. The auto setting is quite often not the right mode... but you get the point here..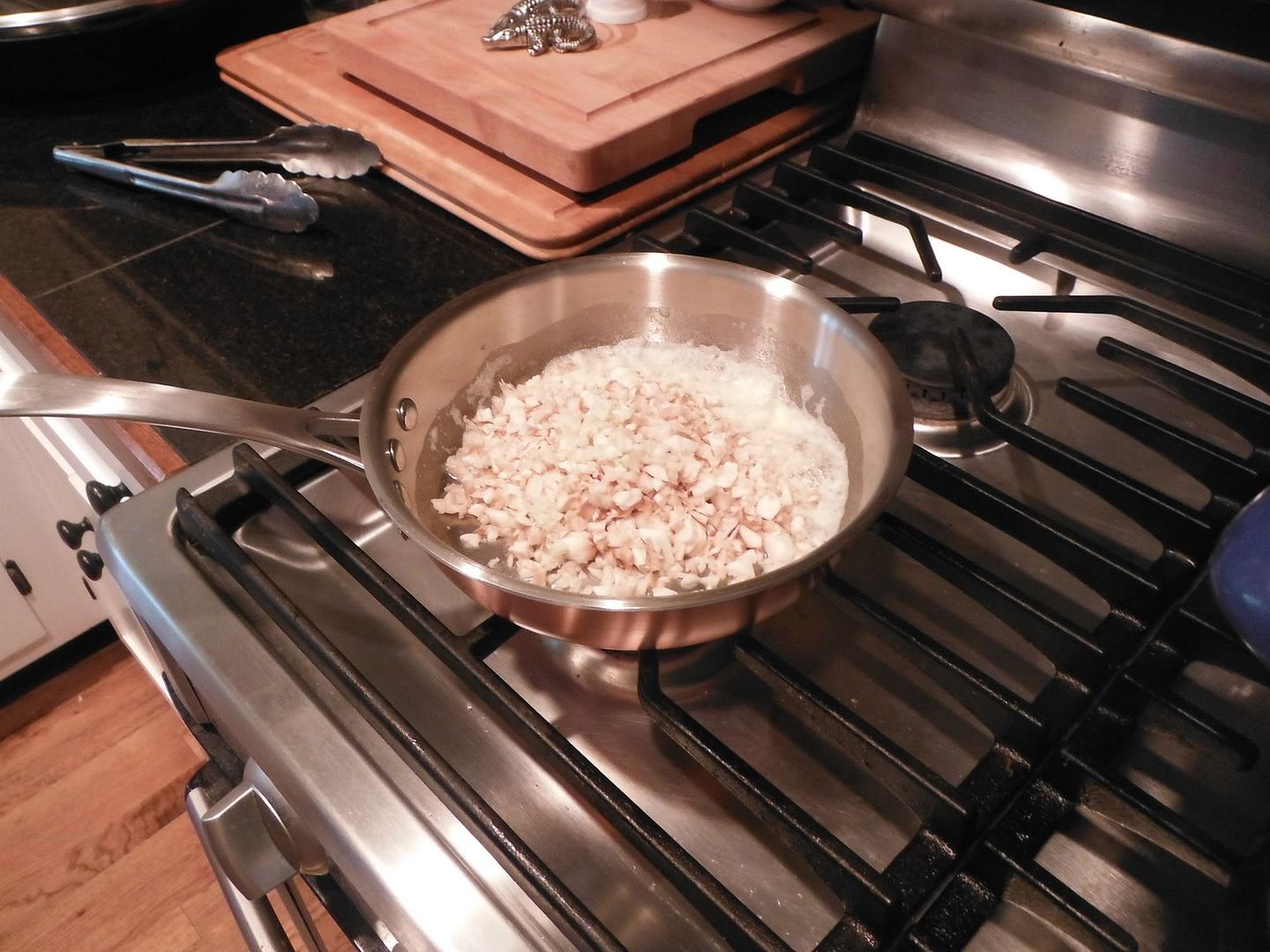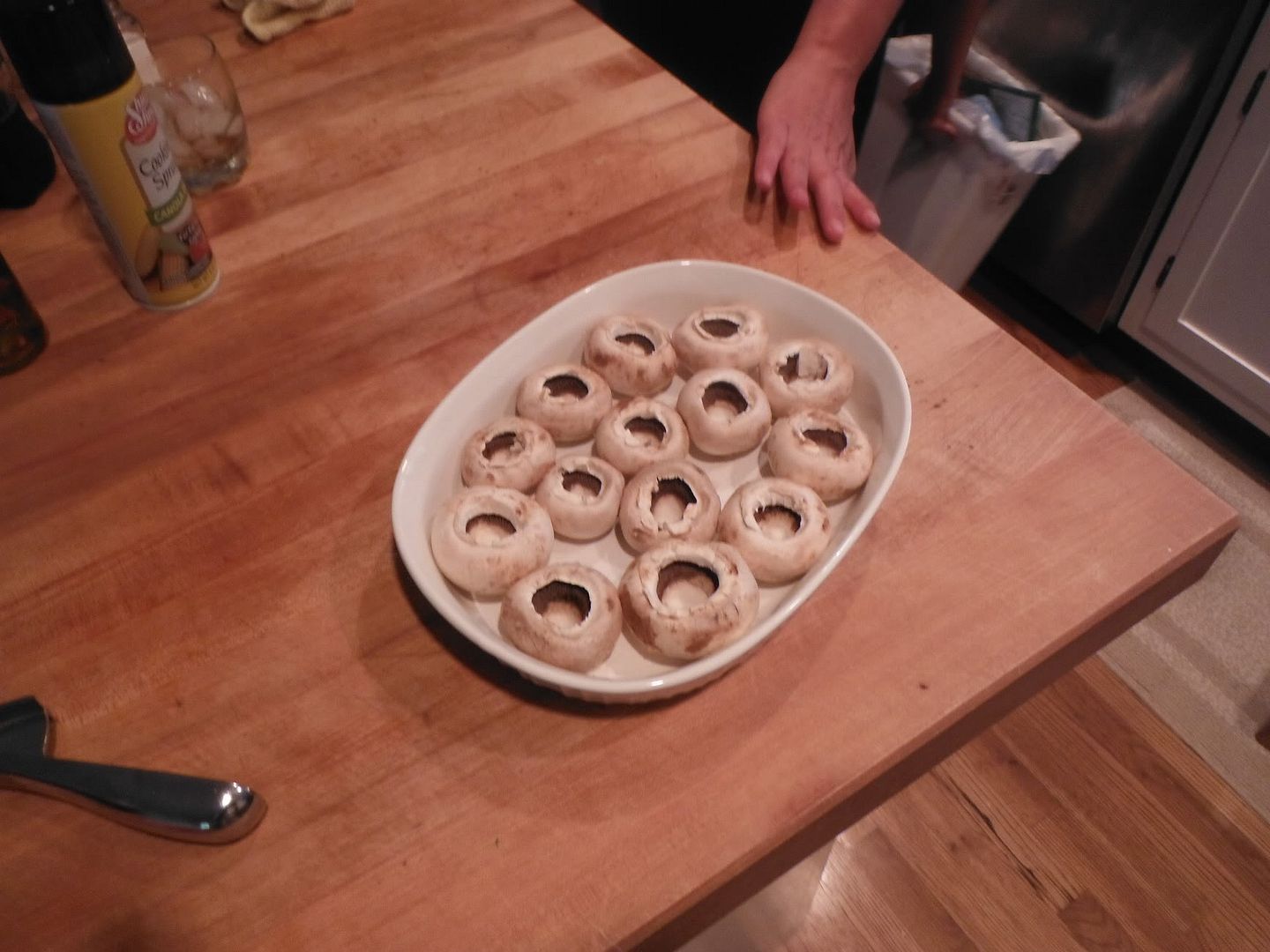 Once the stalks, garlic, onion colled, we folded in cream cheese and then stuffed the little boogers and popped them in the oven.
Next item was to deep fry some bacon. Did that and then plated the wedge salads. They went back into my 35 degree fridge and sat patiently while the last few items were tended to.
By the time the mushrooms were almost done and the reduction had been strained, guess who was spinning at an internal temp of 128 degrees? You guessed it!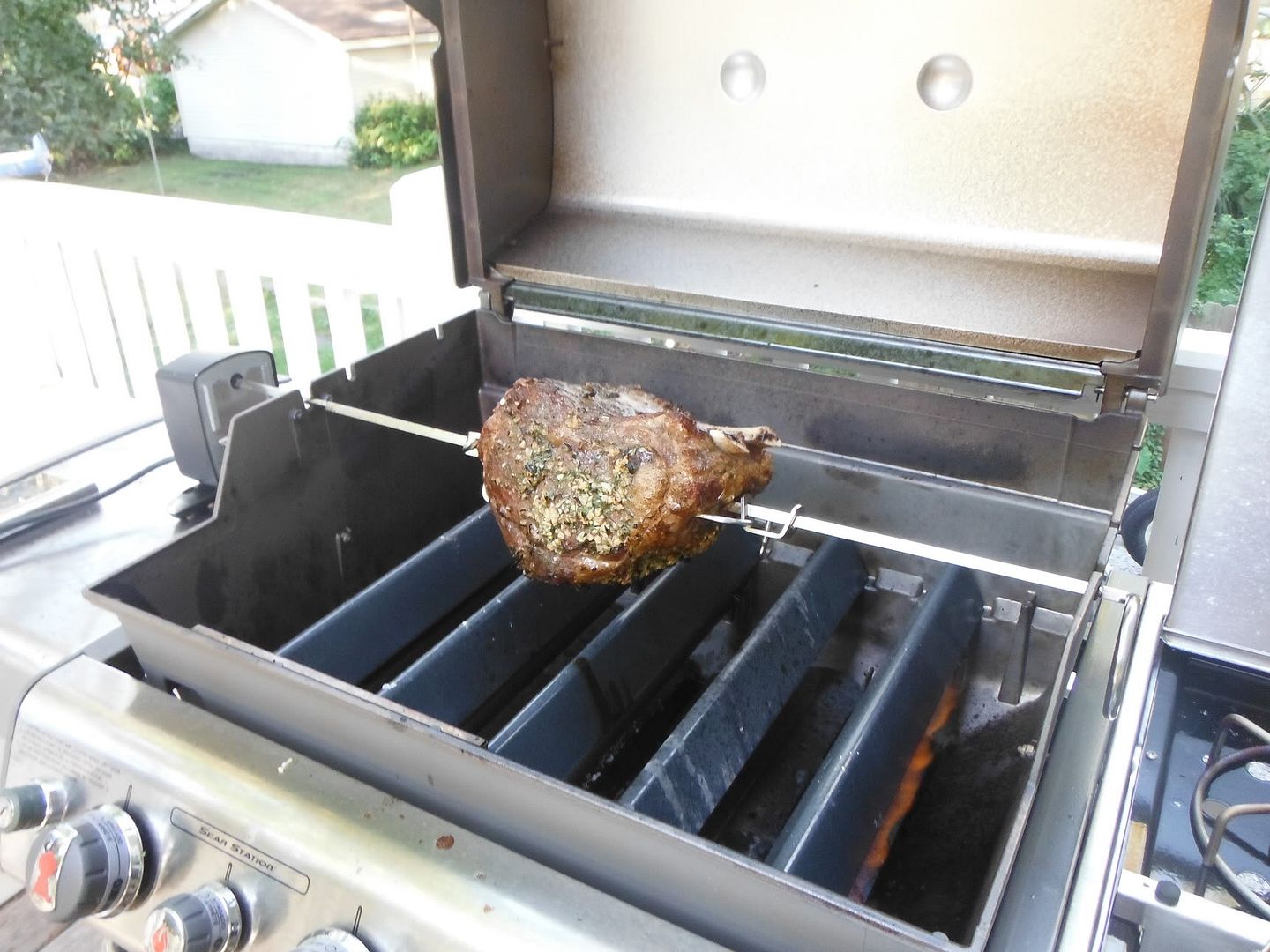 Suffice it to say... you ABSOLUTELY do not need the rear "sear burner" to do a good rotisserie. This thing browned so well during those initial couple of minutes at 700. I mean it worked like an absolute charm.
So, we killed the heat and brought the roast in. After about 10 minutes we got a reading of 135 on the inside and fearing that it would continue to climb and cook I went ahead and cut out the bone. I would like to have let it set up a little bit longer, but we still didn't lose too much juice. Cut the first steak and... ah... perfection!
It looks like this is where the smudged shots occur. Dang it! The most important pics and they sucked. I was too hungry to even notice I guess.
Dinner time!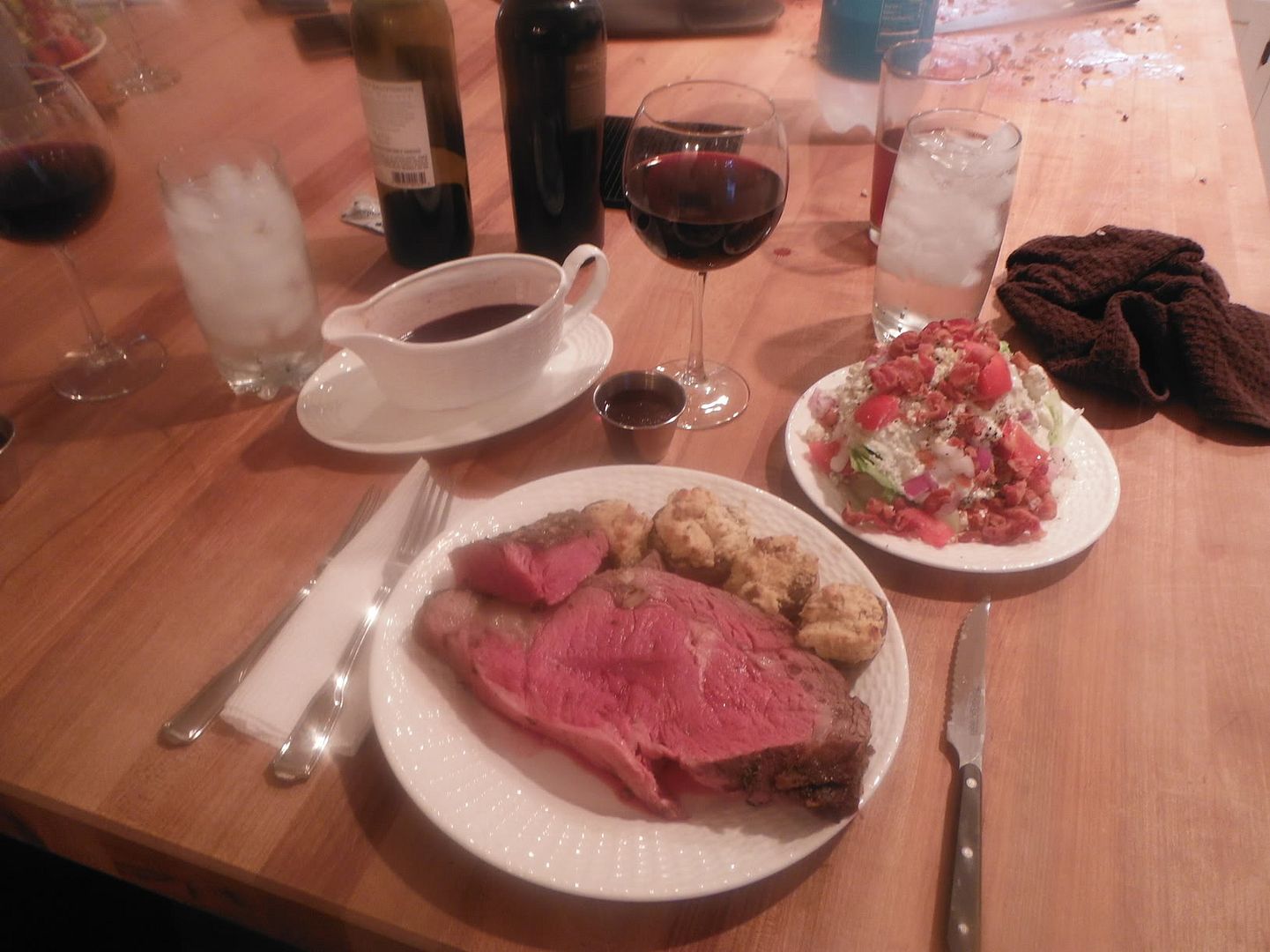 "Whatcha doin' in my waters?"