Home
›
West Central General Fishing & The Outdoors
Johns Pass Slam 8-23
jewfish7
Posts: 517
Officer
The weather looked ok for Thursday so I planned on throwing some artificials under the Johns pass bridge and then hit a near shore reef to look for some snaps.The water was really dirty so the bridge didnt look so promising but I tried anyhow.Second cast using a 5 inch swimbait a tarpon eats it and makes some decent runs then a couple jumps and then he throws the hook next to the boat.Sweet way to start my morning,next drop I hook something that wants to stay down on the bottom,I thought maybee a nice gag,nope a big black drum on artificial.
This picture is from a trip last week with my kids
Then a few casts later I get a redfish on the same swimbait,I didnt have a measuring stick on board so back he goes.After catching these three species on artificial I thought hey I just caught a Johns Pass Slam.
Next I went to the flats and castnetted up some pinners and greenbacks and headed for the Treasure Island reef,I anchored next to a large piece of structure and started fishing with snapper gear.Right away I get broke off with no hope.I switch to 40# tackle and get broke off 5 times in a row from the big fish on the big structure.Ive had enough abuse and call it a day.
[video=youtube_share;z_d0Xqoqp9U]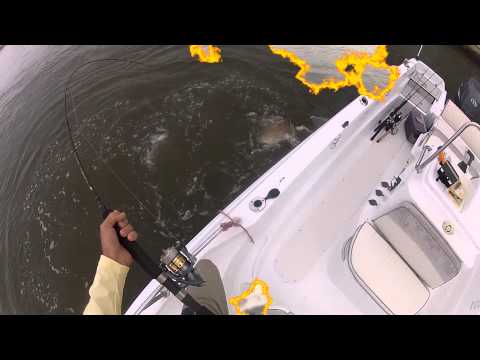 http://youtu.be/z_d0Xqoqp9U[/video]
http:/

www.Showmethesnapper.com