Home
›
Tropics
Aug 4th-14th--> Venice, Italy and cruising the Greek Isles-A-Thon!
In the "spirit" of the Tropical Section, I will make this Trip Report very boat, maritime, fishing, seafood, waterfront, ships, beaches, etc related as I can. I hope that the Mods will understand and allow it to stay in this Section. This will be a very photo-heavy Report and we had gorgeous weather the entire time!
Jenn was in a dilemma over where to go for her recent (and important) birthday as she does not like to stay in the office around her birthday as she doesn't like to be fussed over. We had already done the lengthy, 18-day OBB trip that I reported on in May and August in The Abacos is pretty brutal temps-wise so after an hour search, she said, "How about a 7-day cruise through the Greek Isles and then three full days back in Venice, Italy"? We had always heard that if you ever wanted the best cruises to do, one was the Inside Passage of Alaska and the other was the Greek Isles. We were lucky enough to have enjoyed the Alaska cruise in July of 2005, so she quickly booked us on the Greek Isles trip.
When we were younger, we thought "cruises" were for old fuddy-duddies with velco sneakers, but we had such a
blast
on the Alaska trip and then later on a 14-day cruise with Jenn's family from Sydney, Australia, Tasmania and back over to Jenn's native country of New Zealand, that we knew that we could generate our own kind of fun on this one! And we DID!
She pulled some strings, used some creative booking, traded in some Amex Points and got us booked into a small suite at the stern of the Norwegian Cruise Lines, "Norwegian Jade" ship. We had used NCL on the Alaska trip and we enjoyed their "Freestyle Dining" where you pick any of the about 12 dining rooms to eat at, when
you
want. We enjoyed many styles of great food on the ship..... when
we
wanted to. Most cruise lines have assigned dinning times at the same table every night! Uggghhh...We hit most of the many watering holes on the ship as well! We looked over all the "excursion" trips that were available once on shore, but we joke that we like our own style of "Freestyle Cruising" and we just wing it on our own while in port! :dance
The cruise departed from Venice with stops in Corfu, Santorini Island, Mykonos and Katakalon, Greece before returning to Venice. Our flights were on Air France from Miami-Paris-Venice and return. We had never flown on Air France but the time-line of the itinerary was the best. Hopefully, we'll never have to fly them again!
Day One-- Getting to Venice and getting out of Port!
Blasted off a bit late out of MIA on Friday, Aug 4th. Terrible seats, so-so service, waaaaaay too many male F/As and almost no sleep on the overnight flight into the huge Charles de Gaulle Airport just outside of Paris. We knew that we had to hustle to our connecting flight and we easily walked well over half a mile to finally get aboard right before departure to Venice. That flight was nicer and I got a nice view of the Swiss Alps a few times. Amazingly, our two bags were at Venice so we grabbed them and hustled down the walkway to the Water Taxi Docks adjacent to the Marco Polo Airport on the mainland across from Venice. Jenn had done her research well and we always knew right where to go. I plan all the logistics for all Bahamas and boat trips and she plans all the overseas trips!
We quickly hopped onto our first of many, many boat rides! The "water taxis" are basically the same and are about 28 feet long with about a 7 foot beam. All are single I/Os with open helms and quick drop Bimini tops over the helm as you'll see why! Most are very nice and a few are gorgeous and show real pride of ownership! You'll see many photos of them in this report. The cabin is low and most have an open seating area in the stern where you can stand up. I grabbed the camera and got ready for the 20 miunute boat ride as I knew that it would be "interesting" to say the least!
Here we go, pulling away from the Water Taxi Dock enroute to the Cruise Ship Terminal on Venice. Venice is of course, completely on the water and made up of many small islands connected by small bridges. Venice has no roads, no cars, nada, all transportation is either walking, water taxi or gondola. Only the ship loading docks have trucks, etc. There is a low bridge that connects the Venice loading docks to the mainland.
Yep, we went right around the arrival end of the Marco Polo Airport runway!
Their channel markers are big and mostly only on one side of the channel.
They do slow down a bit when passing each other and we got a very nice ride from our skipper that day! Notice how low the radar is mounted and the quick drop helm Bimini on this boat. I shot all of these standing up in the stern of the taxi.
I quickly noticed that many Italian boaters are very safety conscious as you can see here with the twin life-rings that are quickly available. I was very impressed with what I saw here.
I have no clue what a gallon of gas costs but here's an Italian Fuel Dock on Venice. Most boats are small and single engine.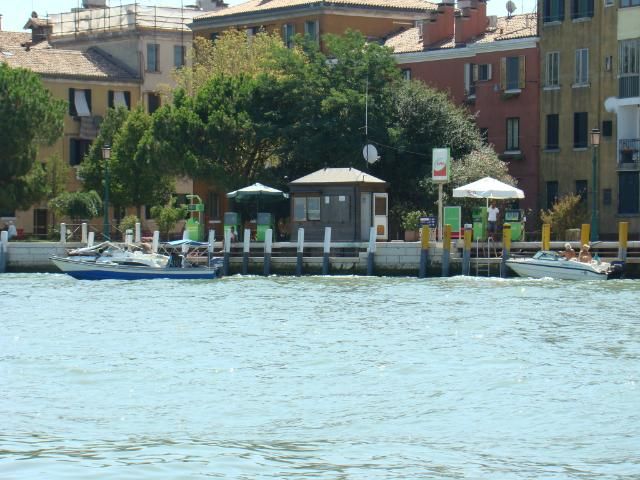 Remember the comment about the quick drop helm Bimini and the low cabin ceiling? Well, the bridges all around Venice are LOW! Here we pass under the one road coming into Venice!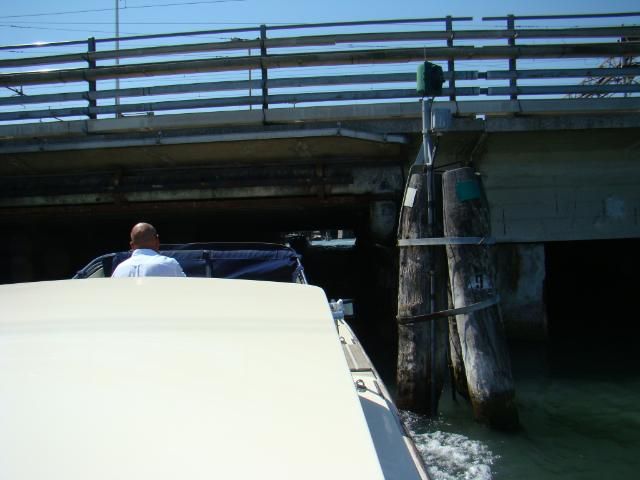 There were 4-5 cruise ships in that day and luckily, the Water Taxi Dock there was right in front of the "Norwegian Jade" and we were happy about the small amount of bag dragging that we'd have to do. She's 965 feet long, 105 on the beam and displaces about 95,000 tons. She has a crew of about 1,000 (and only 5 were Americans!) and carries just over 2,000 passengers. Our cabin was to be the next to the top row of windows and all the way to the left/port.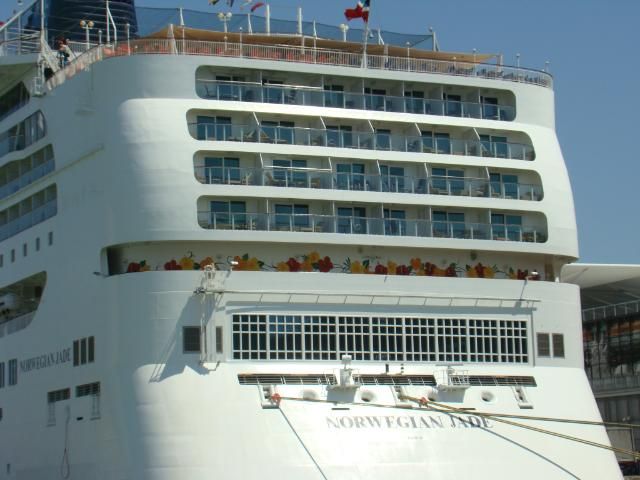 Yeah Mon....... she be BIG!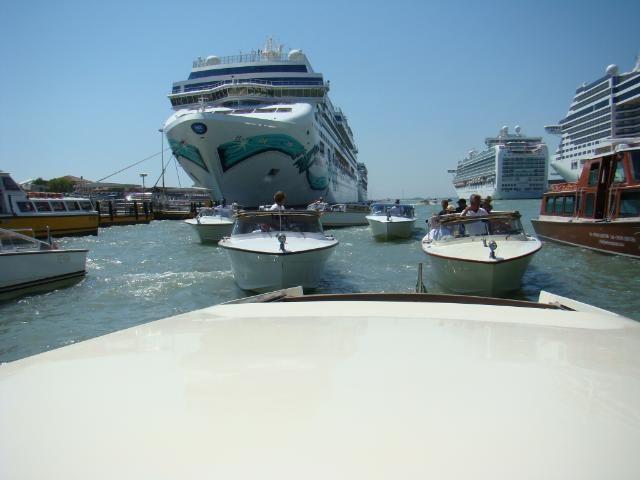 It was controlled chaos at the drop off dock for the taxis..... that's the only way to describe it! We quickly were on our way with our bags and were about half way down the sidewalk to the ship, when I hear a New Zealand lady say "Gary, I left my purse on the water taxi"! I'll skip the dramatics of the next hour but we got well taken care of as an hour later, a different taxi to ours (luckily Jenn had remembered our taxi Number) pulled up and handed her purse over the dock guy and all was saved! They obviously had had a taxi-taxi transfer out on the water someplace! Jenn told me four days later that her "Plan B" was
---
> PANIC! :willynilly
Our cabin balconey was pretty cool and with an obviously great view!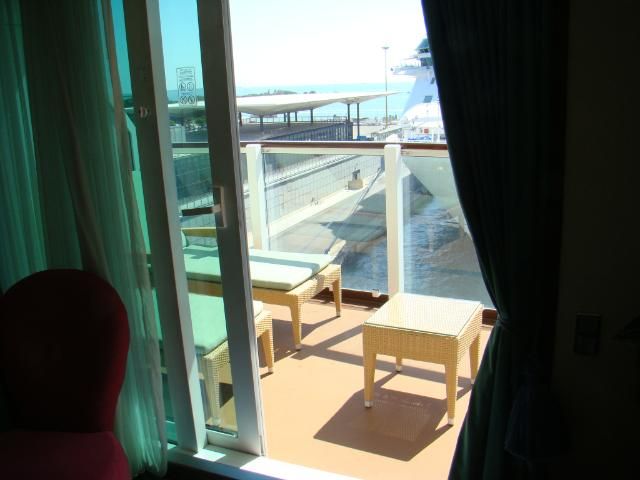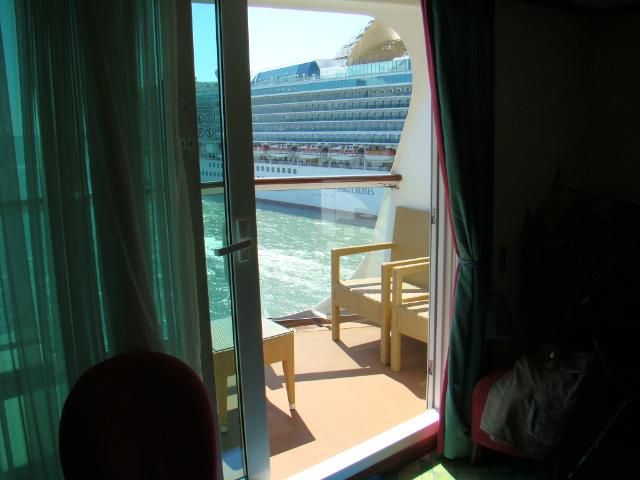 Shove off the dock was 6pm and I like to be topside for that. Here, we are getting an assist from a local tug.......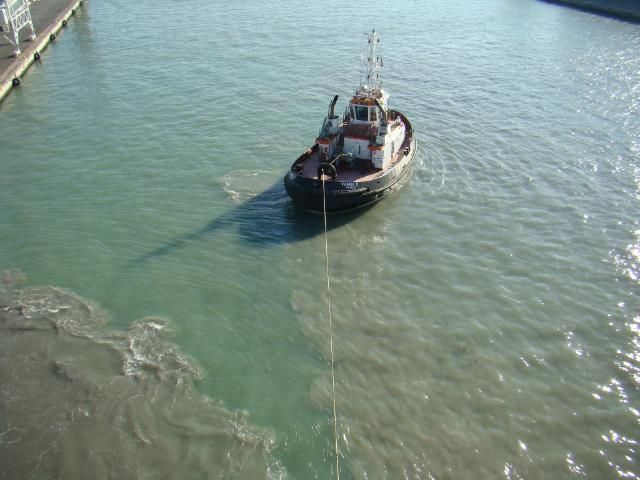 After the chaotic and somewhat stressful previous 24 hours, we both ran through the shower and headed up to the large bar/dining area at the stern where we would become "regulars" there on most evenings! Buy 5 Heinies and get the 6th for free.... all in a bucket! Yep, that sounded great for both of us for Departure Day out of Venice!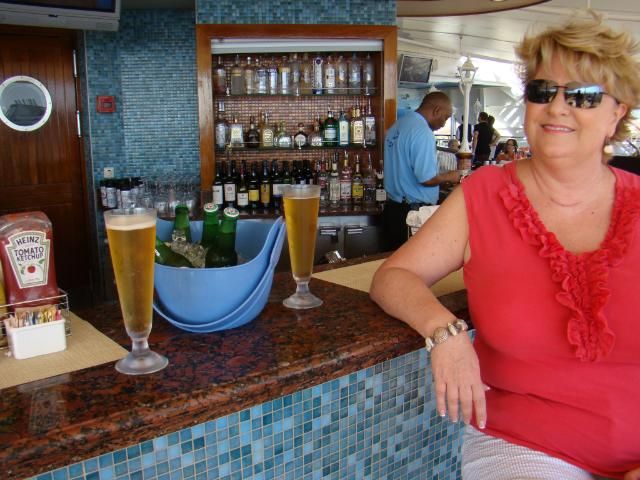 The departure route for the ships out to the Adriatic Sea winds past the southeast end of Venice and from the stern, up that high, we had a great view of what we would be exploring on foot and by gondola in a just a week's time! This was a very cool 30 minutes to begin the trip! Did I mention that we had gorgeous weather the entire time?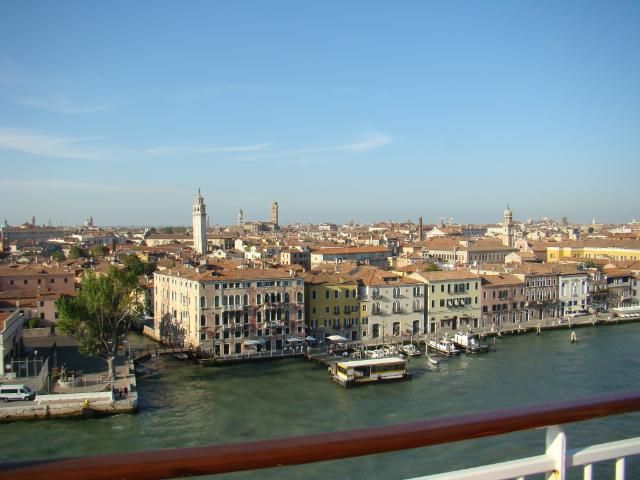 Being an aviation buff (cough, cough), I shot this photo from long range as we departed and was not sure "what" is was on the flat bed truck until I got home and saw it on the big laptop, but it's the fuselage of a British Electric Canberra bomber of 1950s-60s vintage and most likely headed for a museum. The USAF flew them in Viet Nam as the B-57.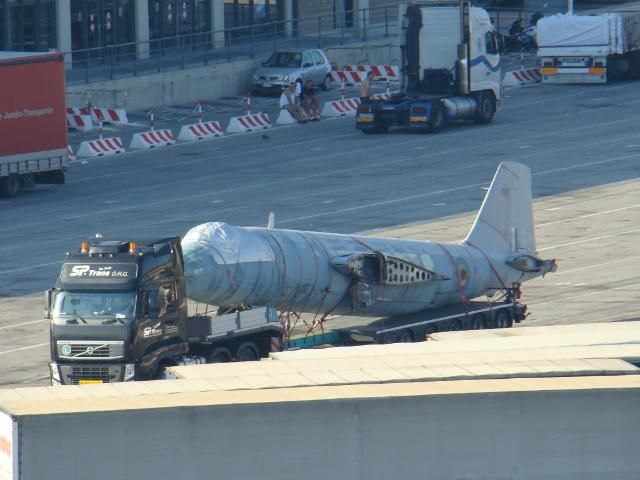 Italy and Greece are both home to some really large Mega-Yachts as we saw on Departure Day out of Venice.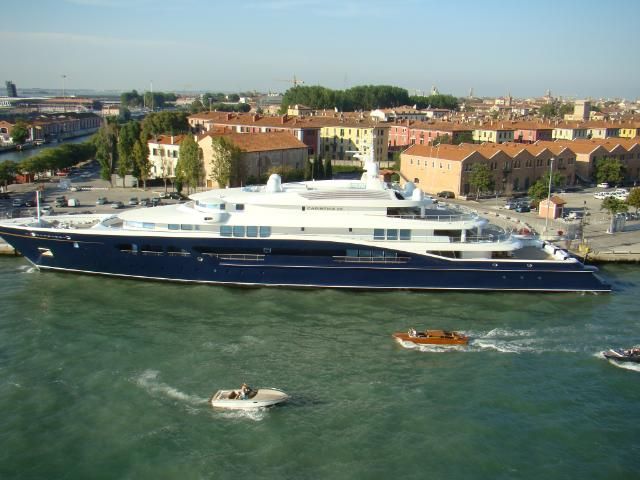 More shots of Venice on the way out.........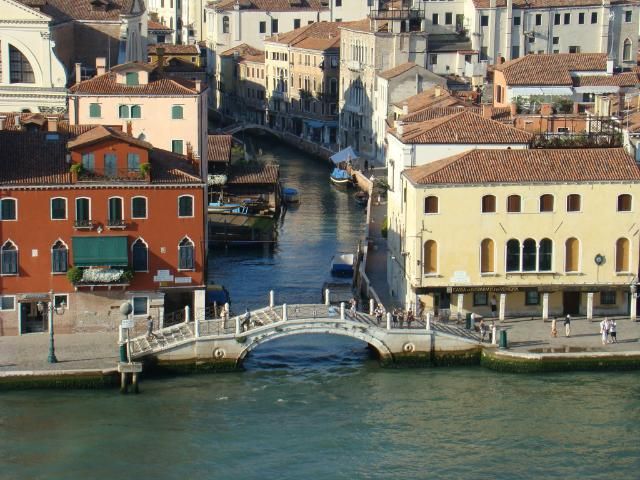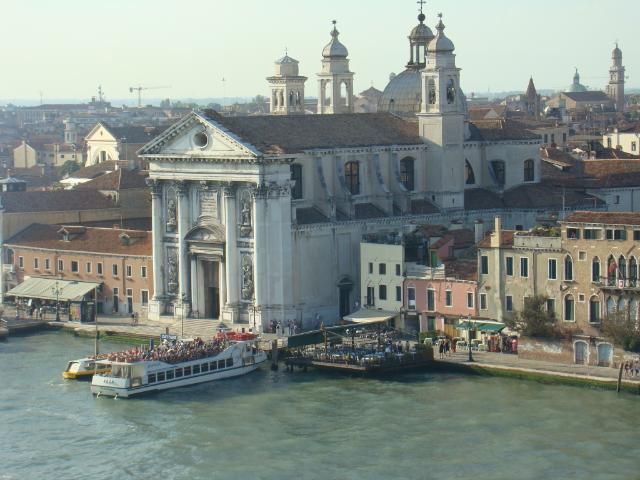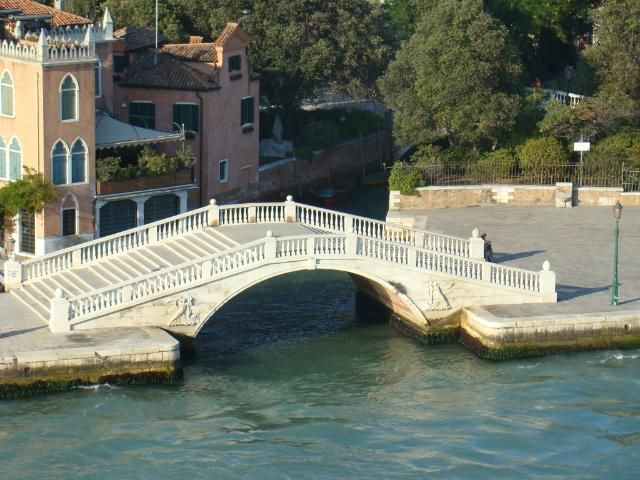 The large St Mark's Square....... Notice the gondolas docked up at the bottom of the photo!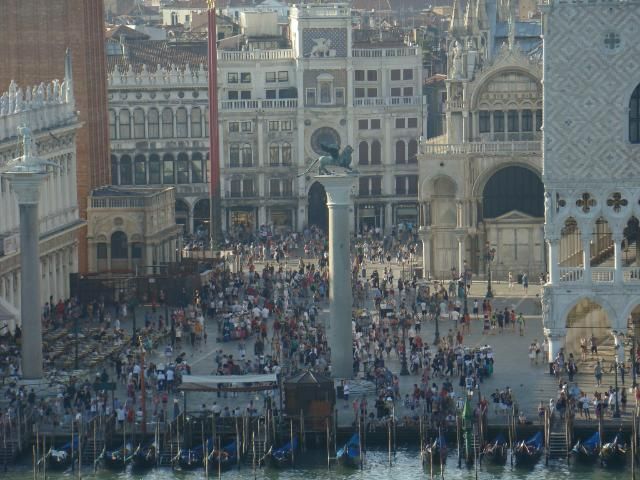 We were happy to see LOTS of waterfront restaurants that we could visit when we returned for our last three days ashore!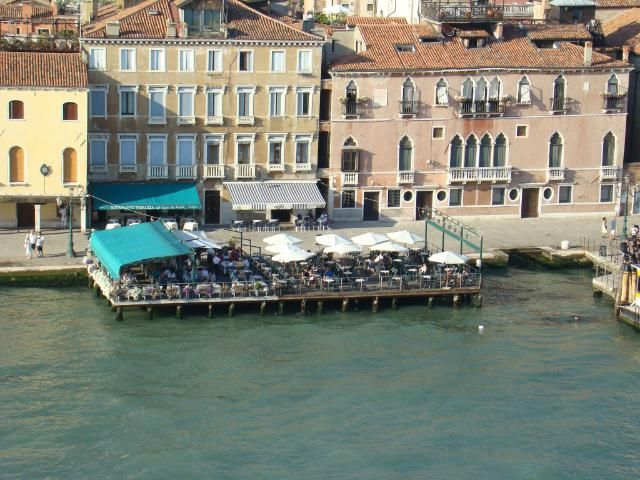 And lots and lots of boats and vessels of all sorts........ more controlled chaos!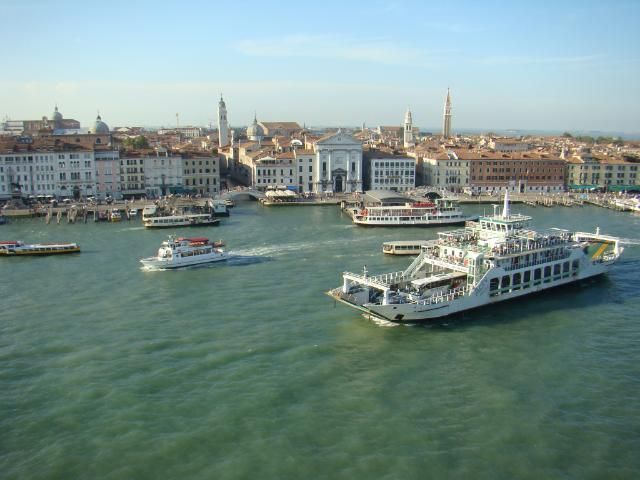 As we got closer to rounding the long barrier island of Lido to enter the Adriatic Sea, we saw more small boats and some guys fishing.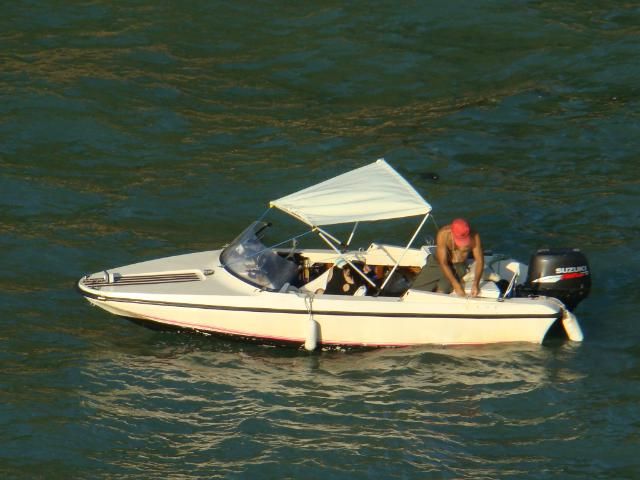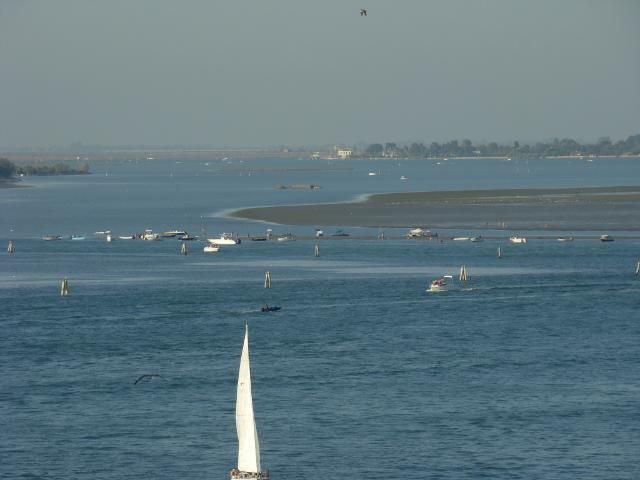 I'm saying "fish on!" for this guy!! Many/most of these boats are "basic" at best..... but I'll bet that these guys eat pretty well!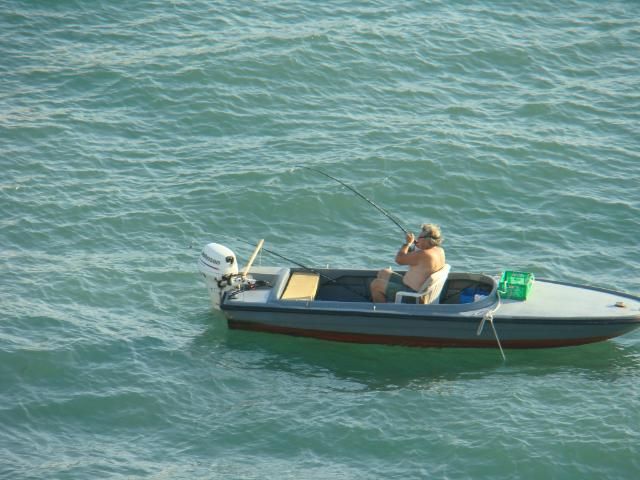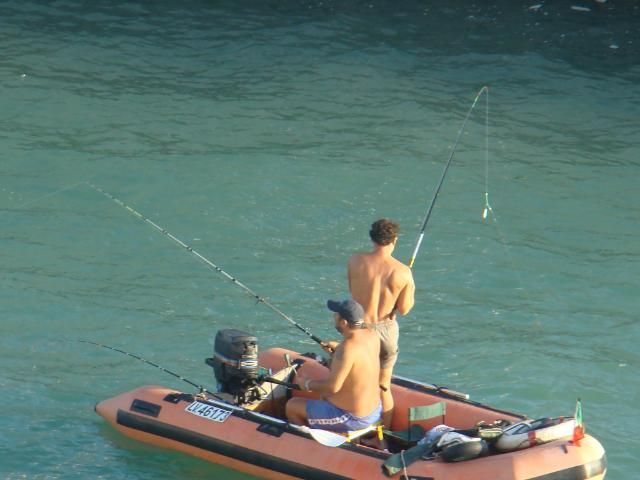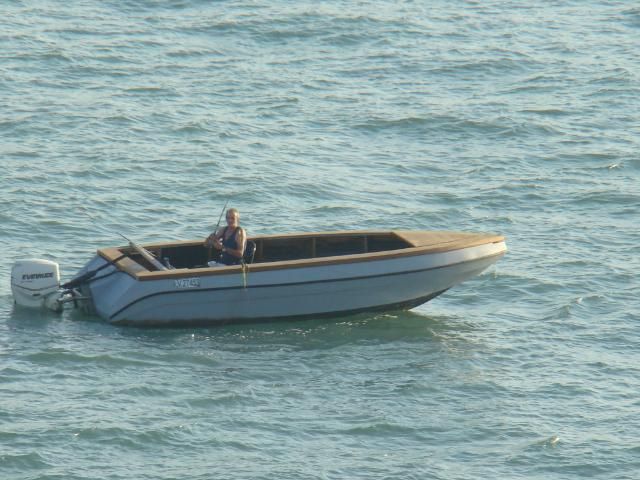 As we rounded Lido Island, I suddendly blurted out, "Hey! That's an airport" as I recognized a long runway and then a control tower, but the weird thing was that the runway was still grass! It turned out to be the Aeroporto Nicelli and until 1960 when the Marco Polo Airport opened, it was Venice's only airport! Hell yeah, I'd love to take one of my old 737s in there! :grin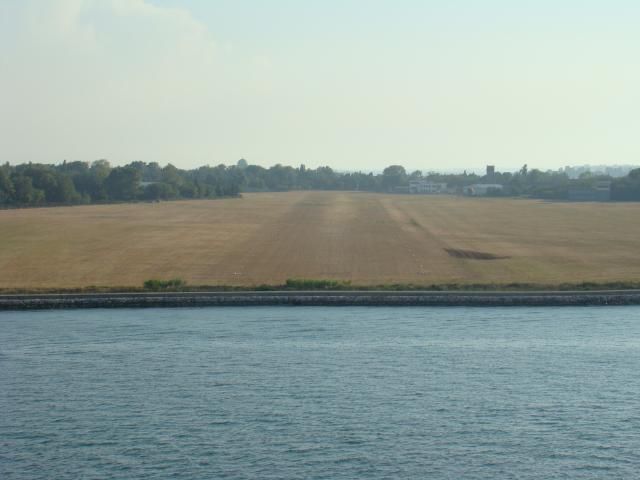 Finally, the end of the channel, the last little lightouse.........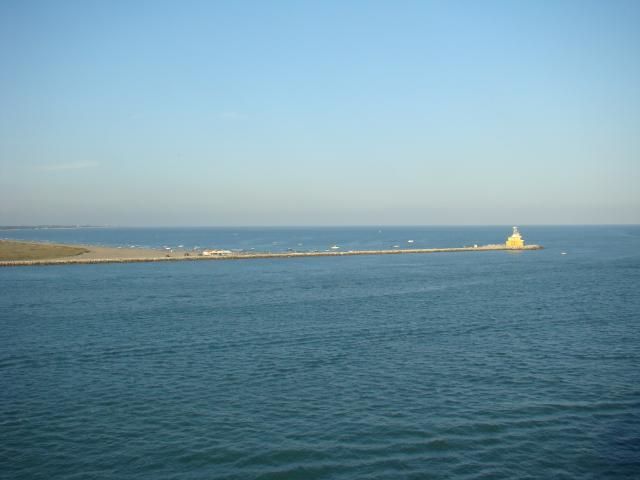 And we were on our way. Next stop after a day at sea, was the island of Corfu at the northwest end of Greece, just across the border from Albania....... We were very happy to start the cruise with a day at sea.... we were exhausted that first night and wanted to explore the ship the next day. Our cabin AC worked great, the bed was big and soft and we both slept like babies that first night.........