Home
›
Boating
The Discoverer Project - 31' TCraft
April 11, 2012 – Day 1
Welcome the newest member of the FishingNosara fleet, the 31-foot
Discoverer
!
With the success of the
Wanderer
, the FishingNosara US build team has selected another 30′ T-Craft to serve as our next great Costa Rican sportfishing platform. The 2012 has been a record-breaker at FishingNosara and the demand for an additional large boat is evident.
The team gained experience with T-Craft on the Wanderer so going with the same hull is a natural choice. T-Crafts were originally built just down the road from us in Titusville, FL and though they shut down a few years back the evidence of their strength can still be seen at many marinas around the world.
In these pictures Craig Sutton, Captain Jack, and Craig Jr. are inspecting the currently installed inboard powerplant.
We plan on selling this motor soon and converting this hull for outboard Yamahas.
This boat is in technically sea-worthy, but the soft floors and rusted bolts are a sign that a full refit is in order. Fortunately, the core pieces are in place and the majority of this boat's needs are time and energy-based rather than costly price-wise.
Craig negotiated a fair price for this boat and we pumped to throw in a week in Nosara in exchange for a price break. We look forward to getting this boats prior owner Earl Newton down to our little slice of paradise either this year or maybe sometime next year…he may even get to fish on the
Discoverer
!
April 14, 2012 – Day 4
Shortly after the glow of finding our new project hull wore off, the team had to address some very tangible obstacles. First off, we had no facility to store this boat nor a boat trailer capable of hauling it.
Even if we could haul it, the flying bridge on this boat stands at 26 feet. We will modify the tower to fold down into the cockpit so we can trailer this boat through the narrow winding roads around Nosara, but as she sits today the top is permanently erect.
Here's what we can surmise about the
Slick Cricket
as she was purchased. This is a 1982 T-Craft 30 foot hull with a Cummins B Series Diesel inboard powerplant backed by a TwinDisc Transmission; this vessel was formerly flagged as the
Miss Jessi
until 1994 when this high-end motor/trans combo was installed.
The rod holders, rub rail, and other through hole fittings are secured with wood screws rather than through-bolts. Virtually none of these important fittings have 5200 sealant in place making this hull a potential sponge of water intrusion.
Also all of the marine fabric throughout the boat is mildewed and rotted so there will be significant sewing needs. Lastly there is a ton of layout changes in store from the rod holders to the fuel fillers…everything must go!
Basically this boat feels 'slapped together' and presents a different challenge from our last boat build. The
Wanderer
was a tight vessel when we began the rebuild; conversely the
Discoverer
must restored to a level of strength and quality that she has never known.
This seems like a good time to discuss the most chronic obstacle we will be facing on this build: We have virtually no money for this project.
The revenue generated by FishingNosara and Nosara Paradise Rentals barely covers the overhead, maintenance, staff and expenses inherit in running a resort in Costa Rica.
The reason we are building another boat is not that we have $100,000 burning a hole in our pockets, but because there were too many times this last season where we had to turn away clients because the
Wanderer
was already booked. Though we predict that the
Discoverer
will be a success it will not begin generating money until she is in the water.
Why am I telling you this? Well, if you want to see the perfect way to do boat work in a perfect shop with an unlimited budget and all the right tools then you may want to look elsewhere.
The FishingNosara build team consists of car mechanics, handymen, auto detailers, computer nerds, and other oddball characters and we build boats with hand tools and guts.
Over the last 5 years we've built world-class sportfishing vessels in a patch of dirt in the rainforest:
In an empty warehouse:
and this time we're doing it in the backyard:
Naturally you can take away lots of boat building knowledge from this project and hopefully it helps you on your own boat projects. However it is our hope that all marine enthusiasts can draw inspiration from our commitment to hard work and creativity in overcoming obstacles rather than just throwing money at them.
In that spirit our good friend Marcus over at Ft. George Island Marina came through for us huge. He offered us a slip for the boat in his warehouse, use of their fork lift, and space in the yard to knock out the first phase of the project.
We did him a favor by tearing out all the moldy fabric so we wouldn't make a mess of his facility.
Marcus tucked her into her slip and we all slept a little better that night.
The
Discoverer
was safe and sound, and we begin to search for a boat trailer and a permanent home for our new prize.

May 8, 2012 – Day 28
Matty and Captain Jack have really bad luck when it comes to rainstorms during FishingNosara projects. Let's check the highlights:
Loading 10 golf carts into a container with only a pickup truck and one set of ATV ramps? Freezing rain.
Building a pallet with all the gear for the
Adventurer
? Hot muggy rain.
Pulling the tower off of the
Discoverer
? Lighting storm with tons of rain.
Unfortunately we didn't get many pictures of this deal since Marcus was boldly defying logic by operating the forklift in a lightning storm; I love the guts on a guy who says, "The radar says we gotta shut down in 10 minutes…I think we got time!"
You can tell by the rain slick on the floor that we barely made it in time. It's too bad they don't put forklift driving in the Olympics because Marcus would bring home the gold every time.
Captain Jack and Matty utilized the forklift to hold the tower up while they built a pallet-style support for the tower to rest on. This level platform will be the canvas upon which Craig Jr. executes his welding artwork so it needs to be strong and keep the tower square.
Once the rain cleared up we used a borrowed trailer to haul this monstrosity back to our shop. We'll be setting this aside for a while as we continue to seek out a buyer for the inboard motor and settle on just the right trailer for this boat. For now we are one step closer to getting this boat on the road!

June 15, 2012 – Day 38
[video=youtube_share;zohKPefz0t0]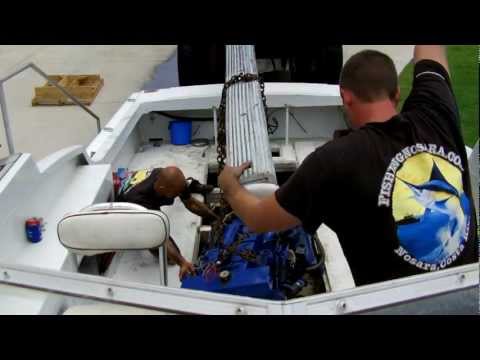 http://youtu.be/zohKPefz0t0[/video]
Enjoy the inaugural episode of
The Discoverer Project
. We will be presenting these video vignettes of our progress as often as possible as the Discoverer takes shape. No phony actors or multiple takes here folks, just real guys taking real risks to make a real dream come true.
In this episode we rip the motor from the hull and deliver it to our buyer. The proceeds from this sale are going straight to Magic Tilt Trailer and we expect delivery of our boat chariot in about 10 days.