Home
›
East Central General Fishing & The Outdoors
Port Canaveral Offshore 08-01-12
ACME Ventures Fishing
Posts: 851
Officer
Port canaveral Offshore 08-01-12
Another day of fair weather and fishing. Winds were forecast to pick up,
and that usually means the sea's will follow. We have a nice breeze all day,
and the sea's stayed fairly nice all day. Fishing is still a question mark
however, with pockets of cool bottom and dirty water creating issues.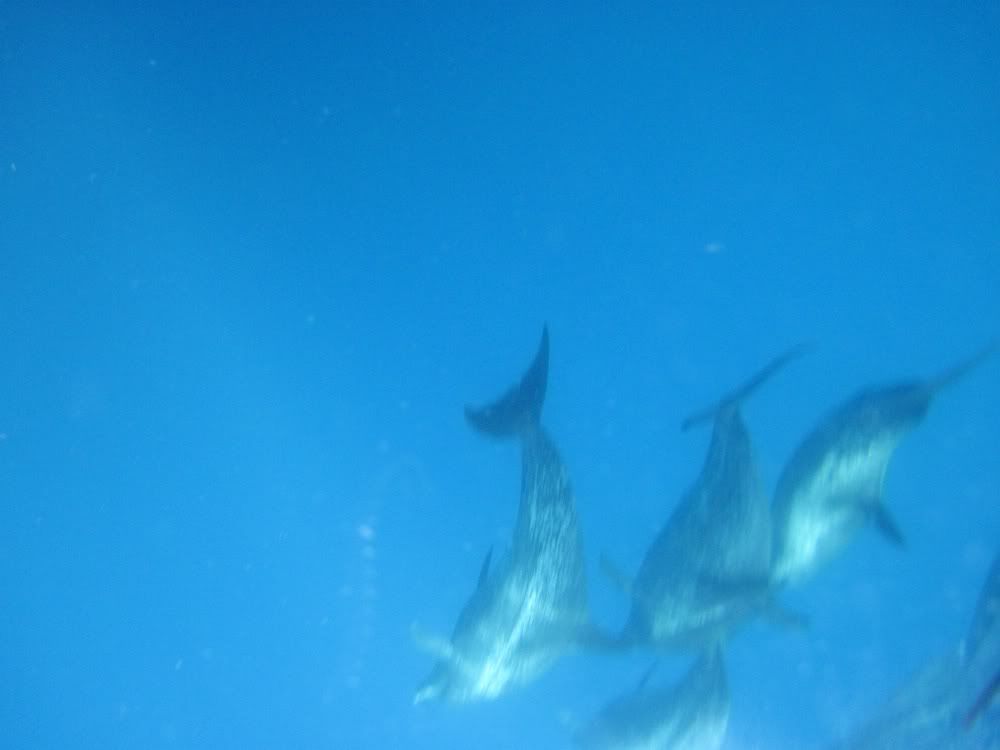 We found Jacks in good number at our first site, and stayed a while catching
one after another. A lot of Almaco and AJ were there, but all AJ's were
short of keeper size. We did keep a handfull of Sandwich sized Almaco's
to take home. These smaller Jacks typically have no worms, and are very
tender, making great sandwich thickness filets.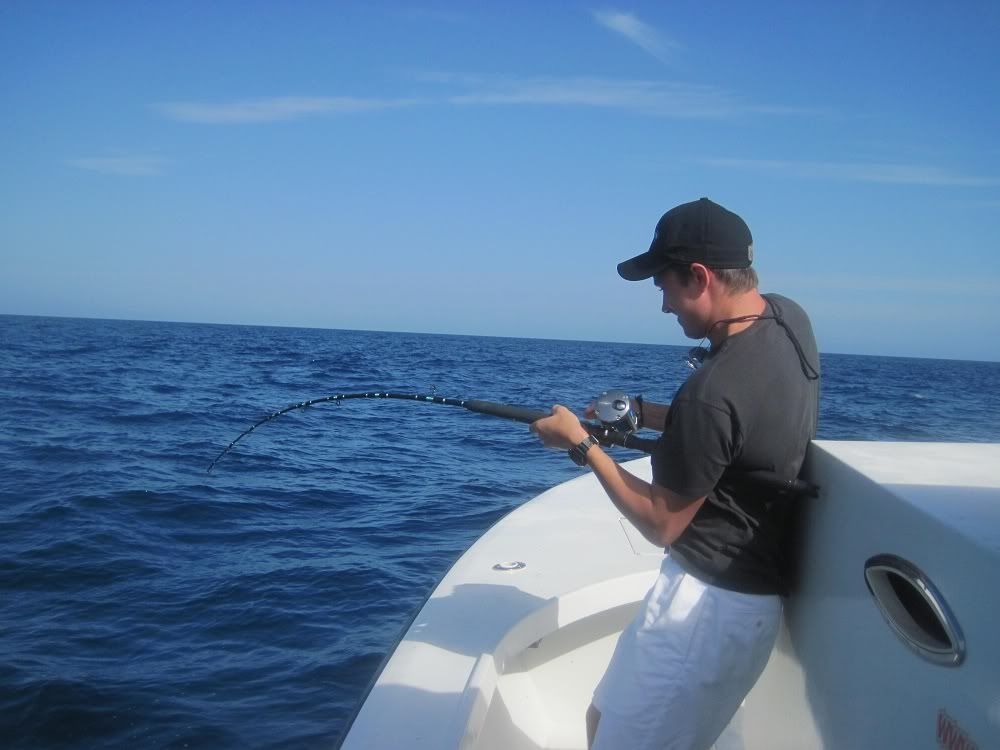 Of coarse the Red Snapper provided for some hard fighting Catch, Tag and
Release action. The largest of the day was nearly 36" long! I hope to find
that one once the mini-weekend opens! After my guest got tired of fighting Jacks,
we opted to take a breat and troll.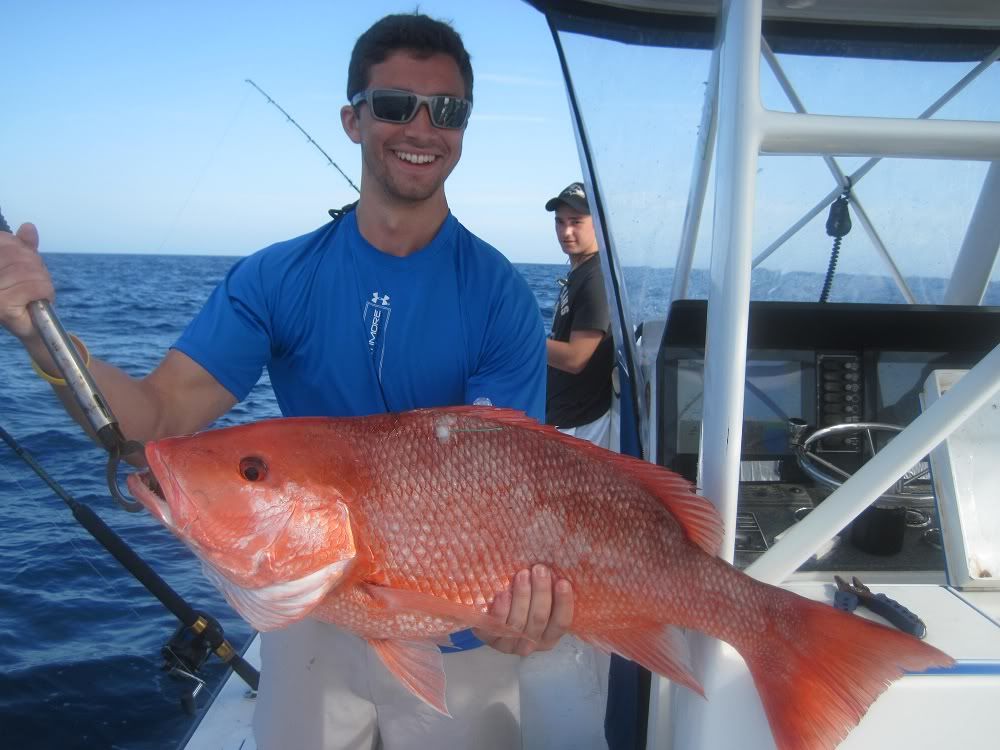 We set lines and headed east. In 145' of water, we found a North-South rip. It
only had a little Turtle grass in it, but we followed a few miles. No fliers, or
really not other bait was seen in it. We did have one breif hookup, though not
a big fish. With the rip not looking too promising, we continued east. We found
scattered weeds around 230', but green and somewhat dirty water was with it.
Rather than trying to work through it, and with dark clouds building to the west,
we decided for a last fishing stop at a deeper wreck.
We found some fish marking, not a lot, but enough to try. The current was still near
4 mph, so we had to get well up current. We also put a larger, heavier verticle
jig to work, and it paid off. The live bait did not even get a sniff. On a light action
jigging rod, the rod doubled over, and drag peeled. The fight was on. We expected a
nice AJ at the end of the fight, but got a large Almaco instead. Similar fight, similar
taste, and not many worms, so it was a good fish to put in the icebox.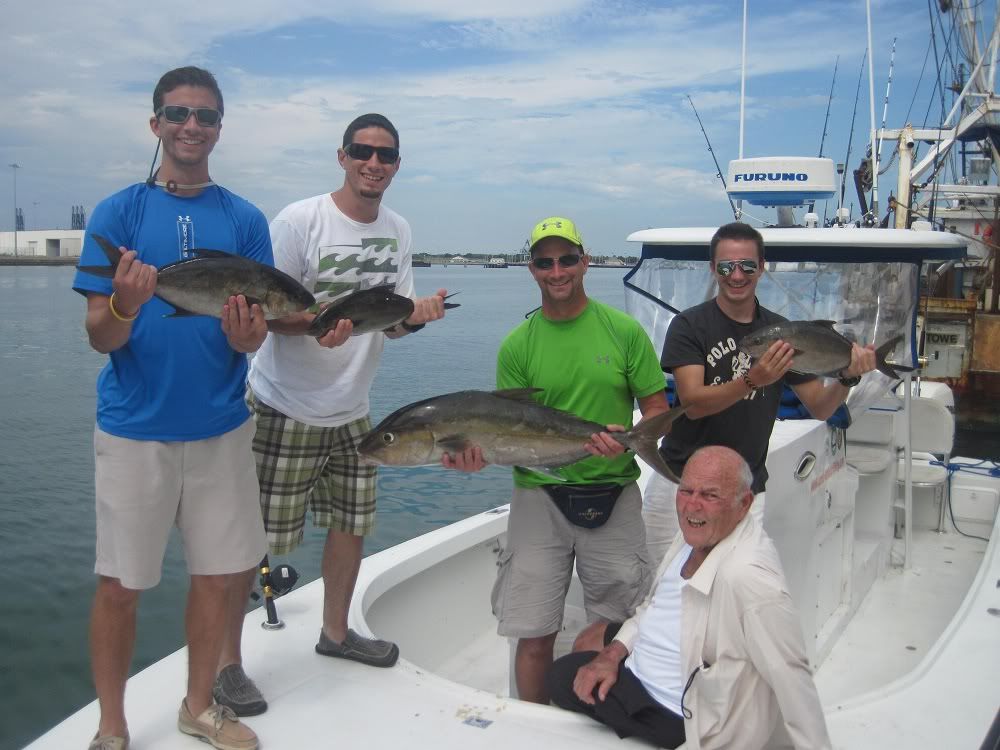 Now my guest had some fish to make sandwich's out of, and thick meat for the grill!
We decedided to run to port to ensure the storms that were building did not cut us
off. Though we got sprinkled on the way in, the storms fell apart and drifted north.
To the cleaning table we went, and ended the day with sore arms, and fish for dinner.
Captain Henry
ACME Ventures Fishing
www.ACME-Ventures-Fishing.com
321-794-7955
602 Glen Cheek Dr., Cape Canaveral Fl.
Deep Sea Fishing Port Canaveral
"Wile e Coyote"