Home
›
General Fishing
Quick 4hr trip Vertical Jigging, Spear Fishing, Fire Pit and Smores VICTORY LURES
wellcraft
Posts: 1,333
Officer
I have been watching the weather for three weeks now and it seemed that every weekend the winds would be blowing to hard. This week that just passed had a decent forecast but sure enough we had a family get together on that saturday so we only had time for a QUICK trip.
After gearing up, gassing up and getting a few snacks we made our way to the marina and put the boat in the water, we cleared the channel and entered the bay, 20min later at a 31mph cruise we were out past the barrier islands and on the way to our first and only wreck of the day! As we clear the reef the seas were a steady 2-3 with a few 4ft swells it was PERFECT for fishing. We made it to the spot and no fish were home so i started searching off of the wreck and finally found what we were looking for:thumbsup: after i set up the first drift we noticed we are drifting between 1.8-2.1knots making the drift a a pain but sure enough the first drop with the victory vertical/butterfly green jig 5.3oz produced an instant hit but half way up from 250ft the hook ripped from the fishes mouth letting me know my drag was way to tight. By the time i reeled up I had to reposition the boat and set up. this time we had a double on, both on the green jig but my buddy was using 30lb braid and this beast poped his line, as i am pumping my fish up i feel a HUGE run off and then slack i figured i was sharked and boy was i right.
The fish were moving so by the time i was setting up my third drift the fish were no longer at that area so i had to circle around and spot them again on my sonar sure enough we found them, this time my buddy dropped down the blue 3.5oz jig and got slammed instantly when it hit the bottom but once again his 30lb braid was no match for the fish at this spot! On the fourth drift i bring up eveidence that we are being sharked so i decided to leave that spot so as to not feed the **** sharks anymore!
This guy hit the green jig and become shark bait
We found some birds working out past the spot and decided to go see if there were any dolphin or tuna there. I quickly drop down the 5.3oz green jig we sell and caught this guy
We must have caught 10 of these guys in a matter of minutes between my buddy and I.
But with only 1-2hrs left of fishing time i decided we had enough of feeding sharks and catching bonitos so we headed in to a couple of spear fishing spots i had near and i got to work
Quickly speared a nice 14" hog and a nice 22" red grouper and headed in for the barn
We cleaned up the fish and the boat and headed straight to my grandfathers house for the family get together. I figured fresh hog fish must be ate on the spot so
A few hours later my little cousins wanted some smores so my brother in law and I got to work on the fire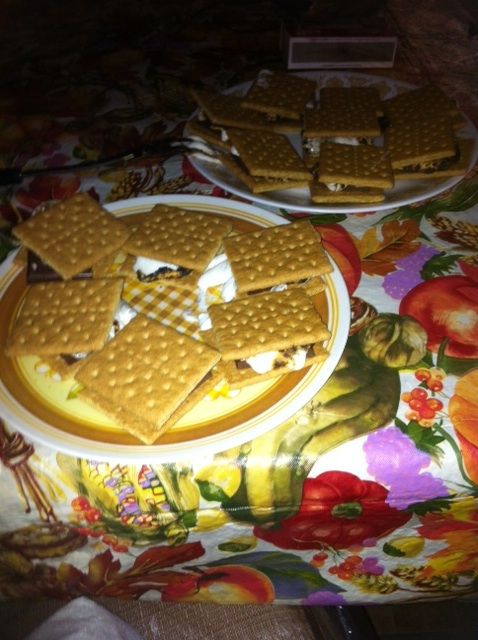 All in all it was a GREAT saturday full of fights with big fish, good friends and family and great food! Thanking God for an awesome weekend!
I lost 3 jigs on that wreck and it did not break the bank, so if you want to try great jigs that wont hurt the pocket click the links in my signature!

Vertical jigs, Trolling lures, and more! Click the logo!
All V-Series High Speed Wahoo Lures
http://victorylures.com/trolling-lures/v-series.html
Face Book Page for Victory Lures
http://www.facebook.com/VictoryLures
Visit My Blog
www.averticalthought.com