Home
›
Southwest General Fishing & The Outdoors
Back in Sunny (more like rainy) Southwest Florida 7/17/12
SWFLFisher
Posts: 74
Deckhand
Well I finally returned from my summer job at the US Olympic Training center, and decided I'd fish whether it was rain or shine. I checked the weather on NOAA and weather.com, and was thrilled with the sight of low winds and 20% chance of rain until 2 O'clock. Being in Colorado for such a long time though, I became used to believing the weatherman on the very few days it was supposed to rain. Of course, I realized my mistake when it began raining at 5 am on my way to pick up my friend RJ and his hair cutter Joey (that's how he was introduced to me anyways ha!).
After calling my good friend and forum member Trey (swsnookred) the day before, I decided redfish would be the target for the morning since they'd been chewing close to home recently and the tides were right. We loaded up on the usual bait for this time of year (small threads and white bait), and started our search for the bronzed beauties who always change colors as the river water begins to mix with the surrounding waters.
As the storms continued to get worse, the fishing day seemed like it was going to be a miserable one. I forgot my rain jacket, of course, so being soaked the entire day was inevitable. We started off the day with two or three mackeral, a bunch of ladyfish, jacks, and a solid trout. Now I'm all about getting the rod bent, but these were not the fish I was looking for. After hitting up multiple spots for redfish, I was tired of the rain and figured the change in temperature just caused severe lock jaw. I figured since snook fishing has been my specialty this summer, I switched gears and decided to put my friends on some snook.
We had a decent incoming tide and only half a well full of small baits, but we were determined to slam some BIG snook nonetheless. Now of course the weather and tides weren't going to be in our favor today, since nothing had been going our way. We had the wind blowing one direction and the tide flowing the other direction making my initial plan to powerpole and chum a complete failure. We could see multiple fish busting up our chummers, but had no chance at actually making a cast to them. I decided to lift the powerpole and trolling motor the entire mangrove line until we hooked some fish.
We started off with a couple jacks and some baby snook, which is always a good sign. After twenty or thirty minutes, a real big snook comes flying out of the water blowing up one of our baits. Originally I thought RJ had hooked the fish, and then I realized Joey was hooked up in the back while RJ's line had created a birds nest at the top of Joey's rod. Fortunately he was still able to reel, so RJ and Joey walked up and down the boat basically fighting the snook together. Once she was worn out enough, I netted her and snapped a couple quick pics before the release. We decided to catch a few snapper on our way home, and then called it a day shortly after.
She went over 35" on the board: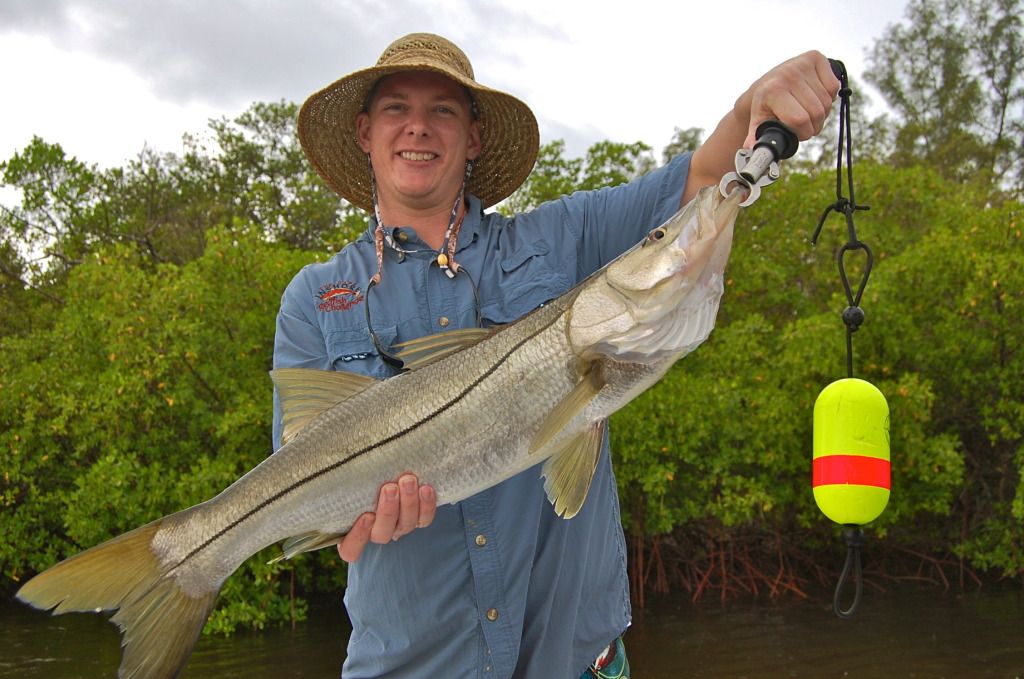 All in all it was a crappy day turned good with smiles and high fives all around. It was nice to be back on the water!
Tight lines and God bless!
-Ty