Home
›
Southwest General Fishing & The Outdoors
Fishing with an old friend and a true warrior (Extensive story with pics and video!)
SWFLFisher
Posts: 74
Deckhand
Since I'd been killing the fish earlier this summer, I decided to go fishing with one of my best friends and long lost fishing partner, Tim Sommer. After finding out he had Hodgkin's Lymphoma (cancer of the lymph nodes) at age 18; Tim fought it off, finished high school in time to continue on to USF, and relapsed after his first semester. Being that there was a 99% chance that it shouldn't have come back; Tim, his family, and his docs decided fighting it aggressively and knocking it out then and there would be the best option for him. He spent a week or so every few weeks enduring intense chemo at the hospital, had weekly visits to see his doctors, and eventually was moved to a children's hospital in Tampa where he had a bone marrow transplant. Now fortunately for him, and myself, I was still back home finishing my senior year of high school while he began treatments again back home so I would see him every day and would often be with him at the hospital. Unfortunately, a large majority of his friends were off living their lives though, and were continuing on with their college experience, while he had to return home to fight for his life...
Although he still had more support than he needed, Tim mainly had his family and a select few friends who still lived back home to pass the time with him while he was at the hospital. This part of the fight was easy since he had been through it before, and still had much support from those who were around him. It was a different story though months later when he moved to the children's hospital in Tampa. Here he was over a hundred miles from home, his friends, and from the water and area he loved. Although a few of my friends and I would come to visit when we didn't have school, he was in Tampa for nearly a month with basically no one but his family there to support him. With all the chemicals and painkillers he had in him, his memory was a bit on the rusty side as he could only remember us coming but not the extent of any of our conversations. He continued on with his fight and was determined to kick cancer's A$$ no matter what it took. He underwent his bone marrow transplant, and thankfully began recovering fairly quickly. I was able to see him a couple days after the transplant, and his spirits immediately had risen since he hadn't seen friends in nearly a week. In fact, it was the first day he didn't have severe sickness due to the bone marrow transplant. Unfortunately, I had to leave to get back to school, but he continued on his fight as always. At this point in time, as I could only imagine, Tim was done with the hospitals, doctors, and nurses he had seen every day for what seemed like an eternity. Before I had left though he said with a smile on his face and I quote, "you know the quickest person to recover from a bone marrow transplant was out of the hospital in around two weeks (I forget the exact number of days now), I bet I can beat that!" Sure enough he became the fastest person to recover from a bone marrow transplant at the hospital he was in, and he had survived through his second match with cancer. Now on to the fishing!
We began our day with the normal hour long cruise or so out of the river and into san carlos bay. Two casts of the net at the causeway and we were loaded down with bait and ready to wreck some fish! Our first thought was it would be awesome if we could bring some fish home for lunch or dinner, so redfish was obviously our first targeted species of the day. As we pulled up to our first spot of the day the mid to high incoming tide was perfect, so I began chunking up a bunch of threadfins and the fish started hitting in no time. We pulled in fish after fish with a couple double hook ups and a triple hook up in between. No joke Tim caught a smaller red, I hooked and fought an overslot fish, and then Tim hooked and reeled in another red while I was still fighting mine in! An absolutely amazing start to the day, especially since we caught fish from 18-28" at the same spot I couldn't buy a fish over 23" while prefishing for a tournament. Unfortunately we had some dolphin troubles so I was putting fish in the wells and releasing them when the coast was clear. This ended our redfishing early, but we were content with the midslot fish we had kept and decided to target the next species.
As we continued on our journey, Tim and I began talking about the fights he had been through and how his faith in the Lord was stronger than ever. Now me being the "see it to believe it" type of person, I had my own perception on organized religion altogether. Tim was so passionate though, I just couldn't help but listen and really connected with him on a spiritual level that I didn't realize was possible. He told me how anyone in his situation just wants to be surrounded by people and ultimately be distracted from the things going on around them, which obviously makes the whole process of fighting cancer or a disease go by much quicker. He then began to tell me a story.
He had recently been at a christian leadership group, and was having trouble understanding why he had survived and "what his purpose was". Clearly he felt there had to be a purpose as to why God had spared him, especially with all these Christians surrounding him who "had a purpose" themselves. The final day of his camp had come and he still couldn't find his purpose, so he began yelling at God, or at the sky, or maybe just at life, but either way he became frustrated and was yelling until he suddenly stopped. He had a frog in his throat and could no longer yell. A sensation came over him that he claimed felt like the same nausea he had felt during his treatments. He distinctly heard something say "the sick". He immediately mumbled out loud as best as he could, "God, do I have cancer again"? The sickness then seemed to stop as he heard the words "help sick". At that moment he realized his purpose was to help the sick, and to help those who were like him. For so long he told me he had run from being this "survivor", when he really should have embraced it. He decided he wanted to be there for the cancer patients who had no one else there to pass the time with them, it was his purpose. Half an hour later the camp broke everyone into groups of three to talk about their experiences they had that week. Tim met two girls. One had found a purpose for healing the sick, while the other girl already believed that healing the sick had been her purpose for so long until her organization had nearly fallen apart. Tim began to tell the girls about his experience with God and how his purpose was to help the sick get through their treatments with someone by their side. The girl who happened to be the leader of an organization that was nearly falling apart began to cry. She told Tim she was a senior this year and had just graduated from USF, and that her organization to help stand by the sides of cancer patients in need of company was basically a failure. She offered for him to take over the organization next semester, which he accepted with enthusiasm and a new energy I have never seen out of him before. Coincidence? I think not. As Tim begins to take over this new organization this summer and upcoming fall, I'm going to hopefully help set up events where we can take out children who'd rather have their minds on something else other than their illness onto the water for a day of fishing. I'm sure you'll hear more about that in the near future. Now back to the fishing!
After our chat on our run to my snook spot, we dropped the powerpole and began wading an area that had been holding a lot of solid snook recently. I, of course, took the camera and hand told Tim to catch him a big one. Within the first few casts Tim hooks into a good fish that nearly caught him in the mangroves and then nearly wrapped around me. After a short fight, he brings the fish up for a quick picture op and returns it to groves where it belongs. A few casts later he hooked and caught another solid fish and then managed to lose a few bigger fish. We made our way back to the boat and decided we had enough bait to fish one last spot, so we picked up the powerpole and headed to some docks to find some BIG snook.
Upon arriving to our final spot I loaded up my whiffle ball bat with bait and chummed the docks to the best of my ability. The fish seemed uninterested. As we headed away from the area I had been chumming, all hell broke loose! Fish began busting up baits on the surface all over the place. We began catching snook after snook until our wrists hurt! I finished the day off with an overslot snook on my last cast, and called it a day!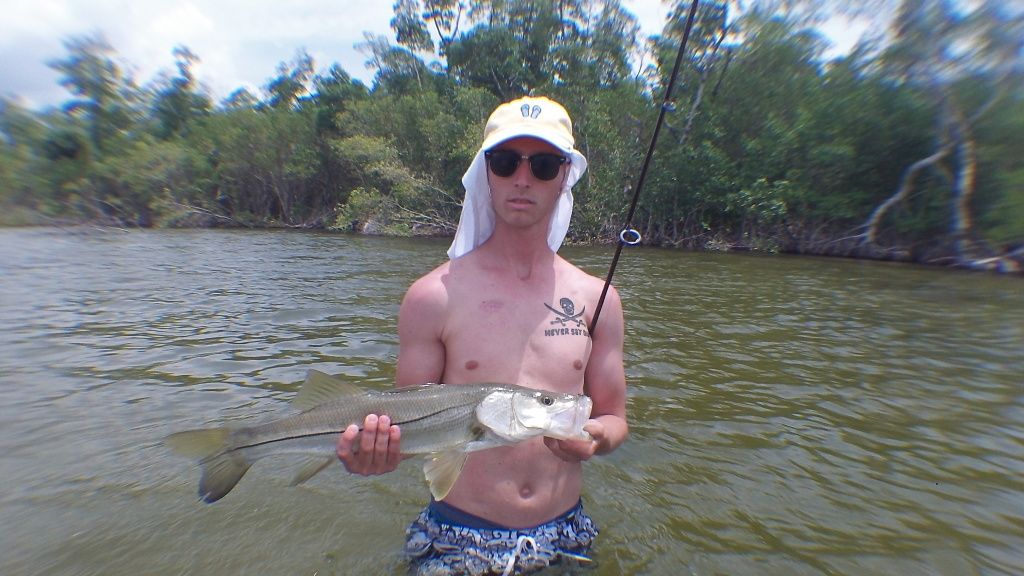 Overslot to finish the day!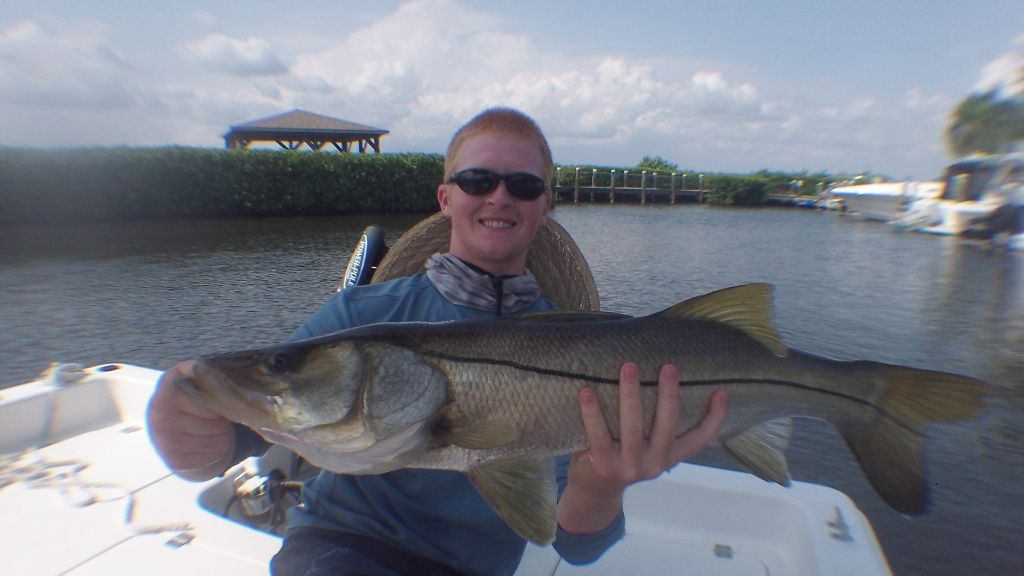 Sorry about the novel BTW! I just feel that Tim has given me a lot of faith, and his story makes me appreciate the life I've been given. Hopefully it can help others going through rough times. God surely blessed us this day, and I'm thankful every day that I'm still able to share days like these with my best friend.
Tight lines!
-Ty