Home
›
East Central General Fishing & The Outdoors
Trout Bite And Brown Pants
Capt. Tyler Vollmer
Posts: 414
Officer
Thanks to Debby, I've been going a tad bit crazy just staring at the computer screen and listening to the weatherman say stay off the water so I figured I'd give a report and a story. Topwater has been off and on this month. The more overcast, the more strikes I've seem to be having. Skitterwalks and Chugbugs have been the hot ticket for big trout and redfish for me on the days when they're hitting. Other days it seems I might as well have brought the kitchen sink. On those days I quickly switch up to jerkbaits. Find broken grassbeds that mix with small potholes or larger potholes. Pay attention to the bigger ones as I've been seeing trout stacked in the in numbers that would make a school of redfish jealous. No joke! One school of trout easily had 100 fish sitting over a pothole. All overslot fish too so my clients that like to keep fish have only been able to take home 2 fish. (I don't let them take my limit) Look for large schools of mullet to cast in, around, on top, it doesn't matter. Smaller redfish have been swimming with them and the BIG trout are sticking just to the outside of them.
Kayakers/Waders BEWARE: On on of the flats that I've been fishing, I counted 13 alligators. Most were between 6'-10'. I usually know there whereabouts if I'm fishing near them but it seemed as if I missed one. While drifting a flat, not paying attention, the back of my skiff hit the back of one of the bigger ones causing the boat to tilt and bounce. I've got a good sense of balance on my platform but when your surprised like that and see a gator swimming from underneath your boat, it takes you back a bit... Brown pants.
Here's the guy that made me duke myself.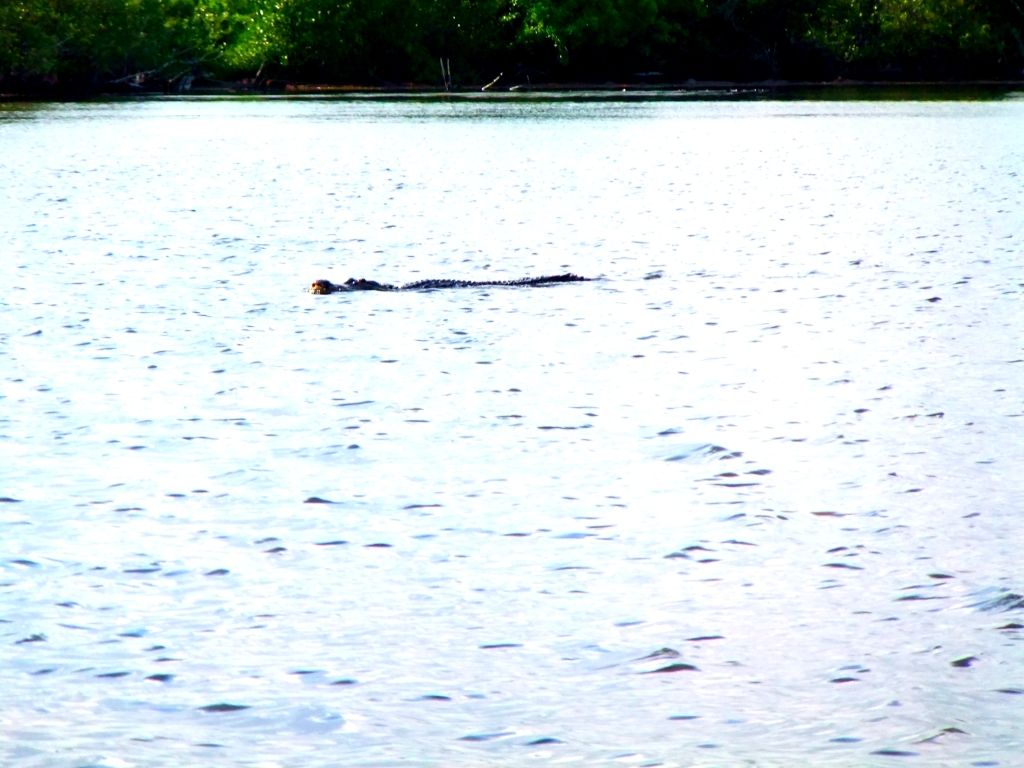 One last thing. My good friend Austin (fish4reds) needs our help. The power of the fishing community is amazing and with a small pitch-in, this beautiful little girl will get the proper education that she deserves! The raffles alone are worth the trip over. One lucky winner will be able to fish with me for a half day!
www.helpemilynow.org