Home
›
Fly Fishing
Stacked hair slider SBS.
Ol'DirtyCaster
Posts: 2,326
Captain
Cuz somebody asked real nice.
Materials:
Varivas 991-ST in 1/0 or equivalent X-long shank.
Schlappen - Your choice of colors
1/4" bunny or magnum bunny, again, your choice in colors.
Master bright dubbing - Your choice of colors
Maribou blood quill - Your choice of colors
Deer Belly hair - extra select in your choice of colors.
130 denier GSP thread
Start by palmering a single schlappen hackle at the back of your hook, just before the bend. Create a base wrap for your thread that extends to, but not beyond, where you plan on starting the collar for your belly hair.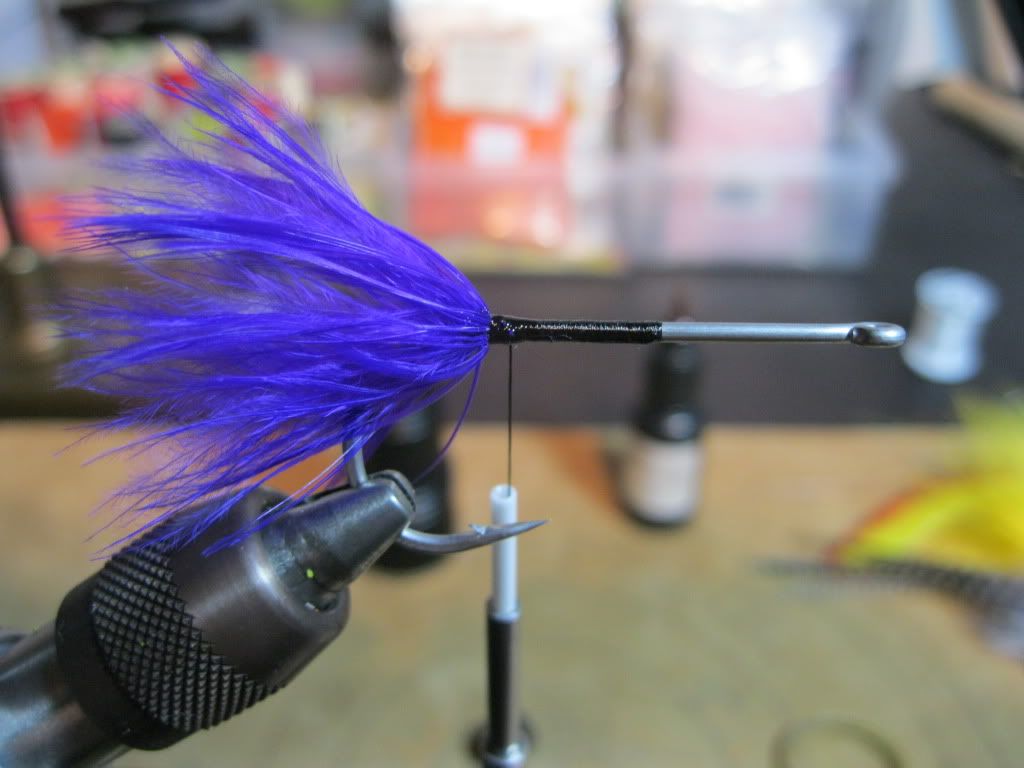 Tie in your bunny right on top of the schlappen hackle you just palmered. Cinch everything down tight, remember you're going to be pushing on this thing pretty hard in a minute. Head cement, or any acrylic of some kind would be a good idea (I use CCG hydro)
Next we're going to stuff a liberal amount of Master Bright dubbing into a dubbing loop, and palmering 3-4 wraps forward with that. Pick it out when you're finished.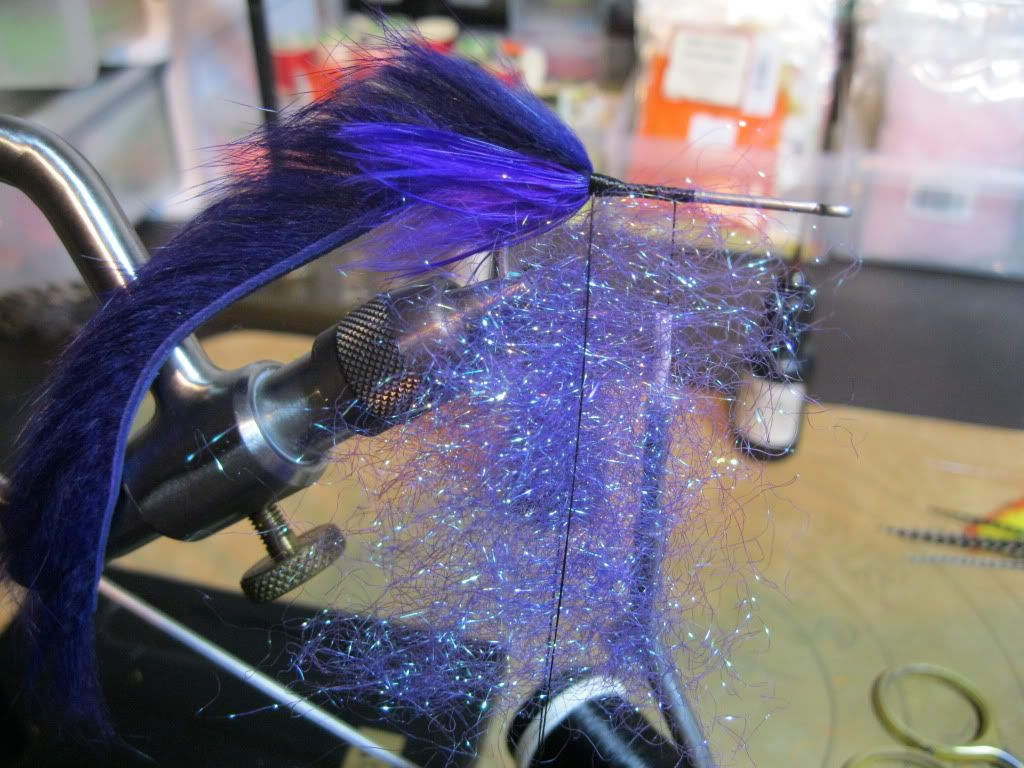 Now that we're starting to get a little bulk, we want to create a collar that will be soft enough to deflect a double edged razor. Firm collars, like those made by neck hackles, make trimming next to impossible.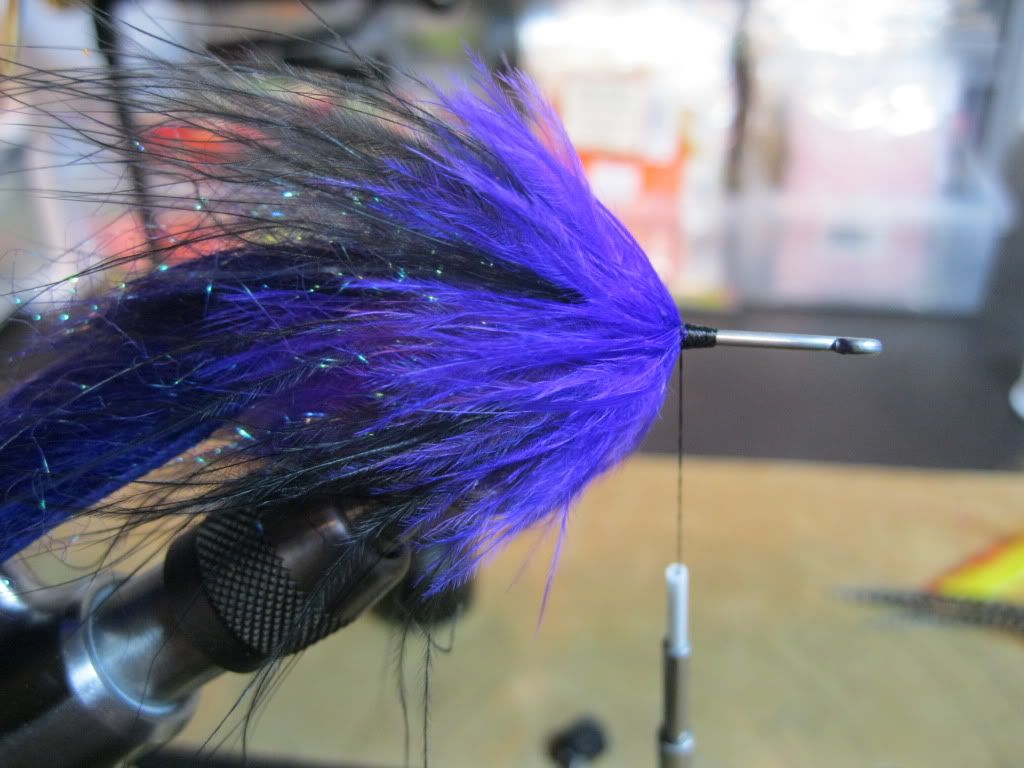 Now for the fun part. The collar is the most important step in creating a stacked head. You're going to be using about 4 times more deer hair than what your instincts tell you is required.
One of three stacks for the collar.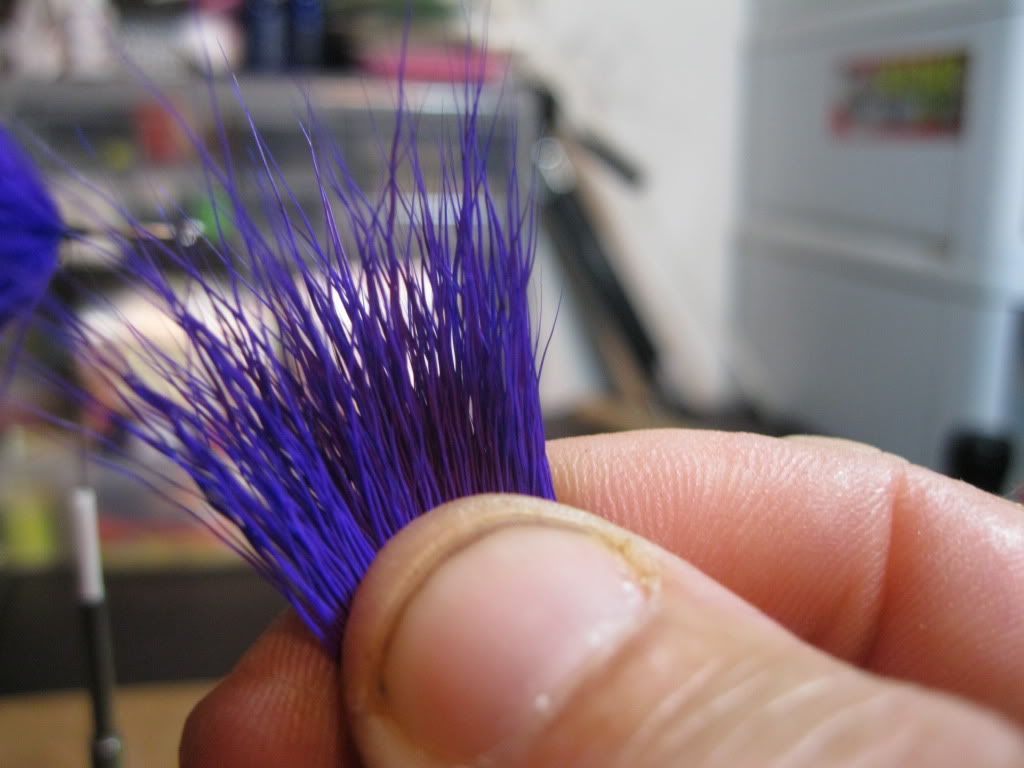 When tying in your collar have the tapered ends of your hair pointing back, and try to match them up with the ends of your schlappen hackles. Tie your stack in, but don't cinch it down yet. You're not done.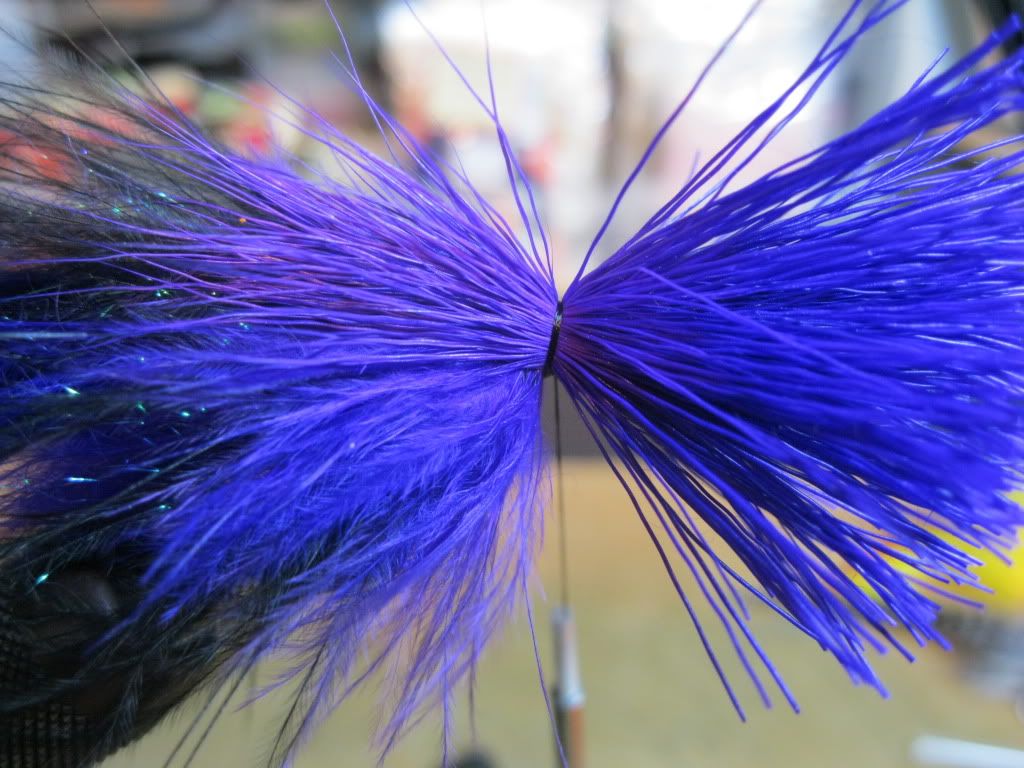 Since you didn't cinch down your hair, you have enough of a gap to add another couple stacks. So do it.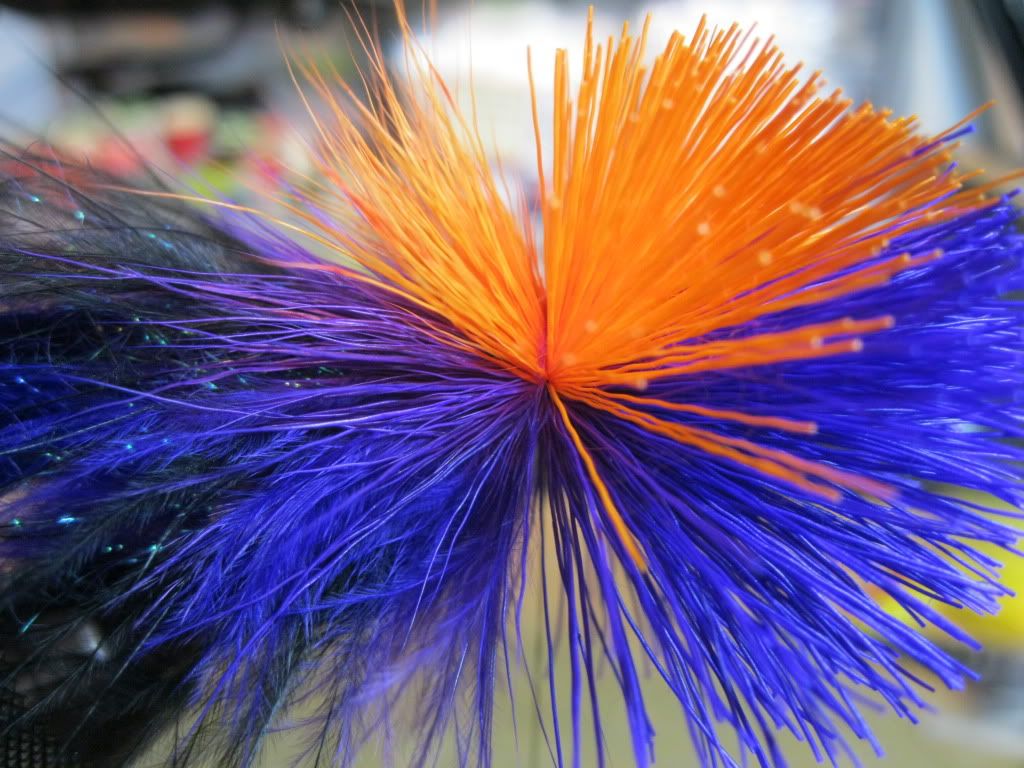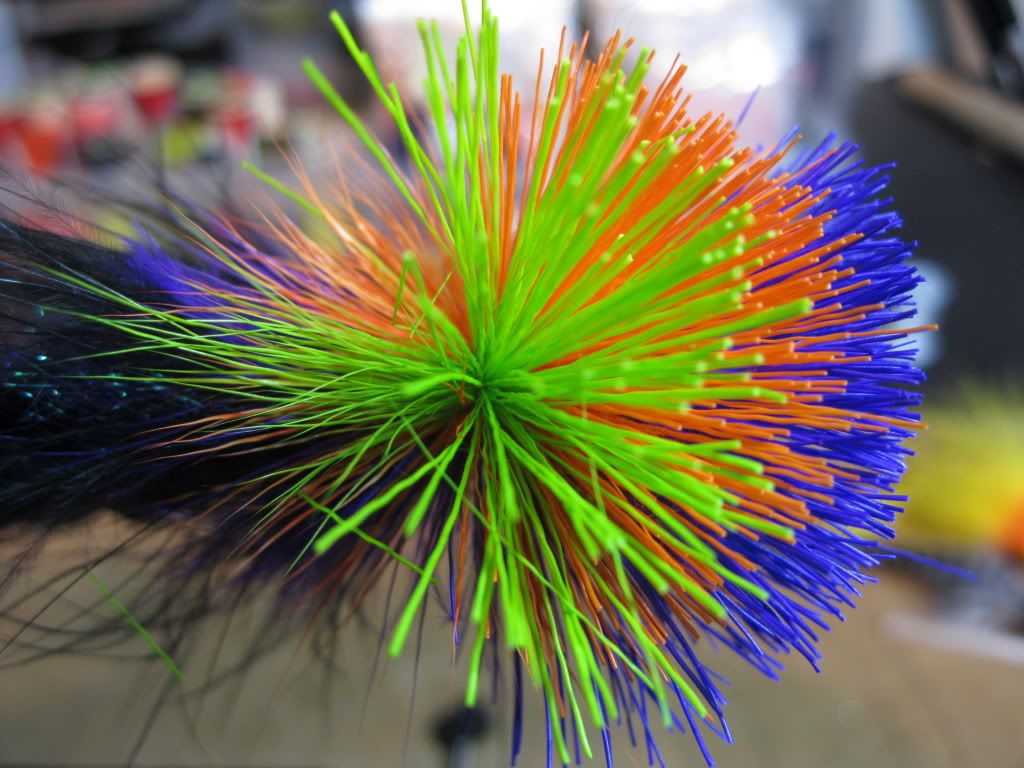 Once you have all your stacks in, hold the sides down and cinch it up to flare it out. Gently start pulling your hair back and push it back hard with a pusher of some kind. (brassie, griffin, or bic pen, doesn't matter). Add a single stack to the bottom, and push it back. You're essentially going to repeat these steps until you run out of hook.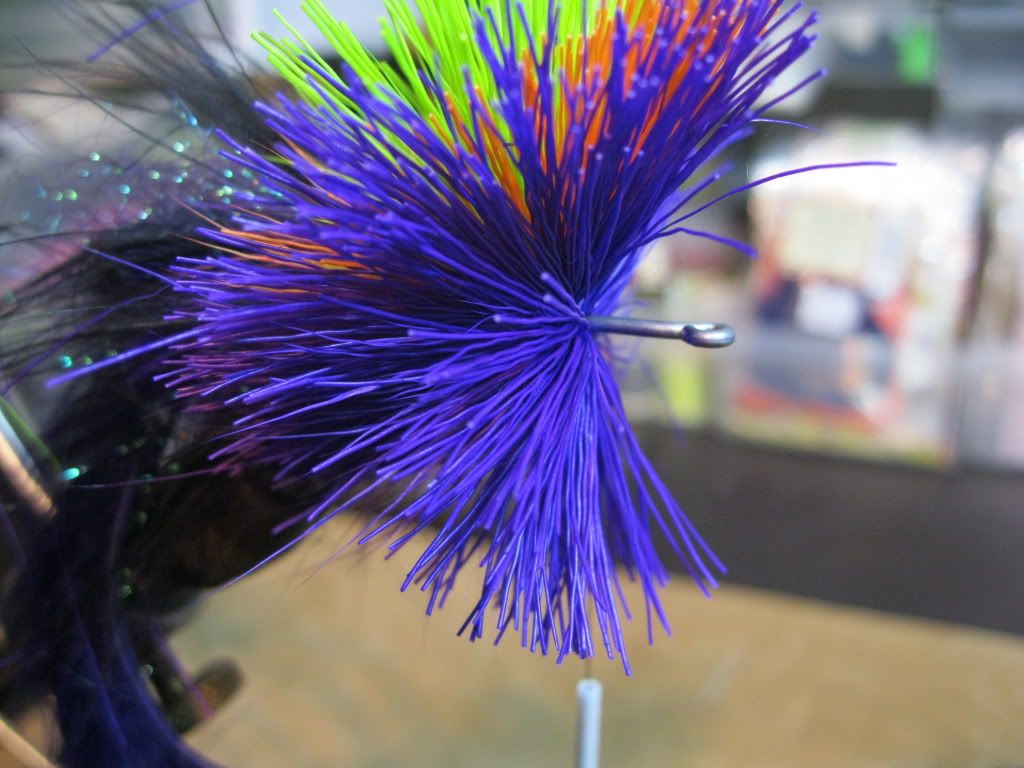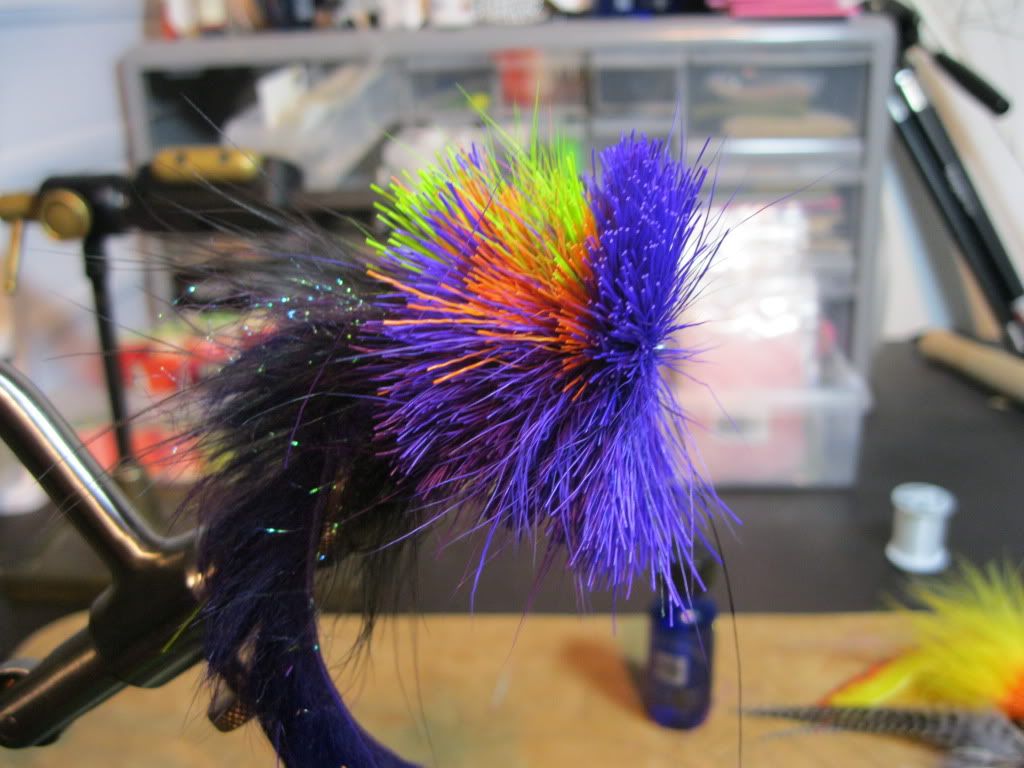 Now, the part you've been waiting for.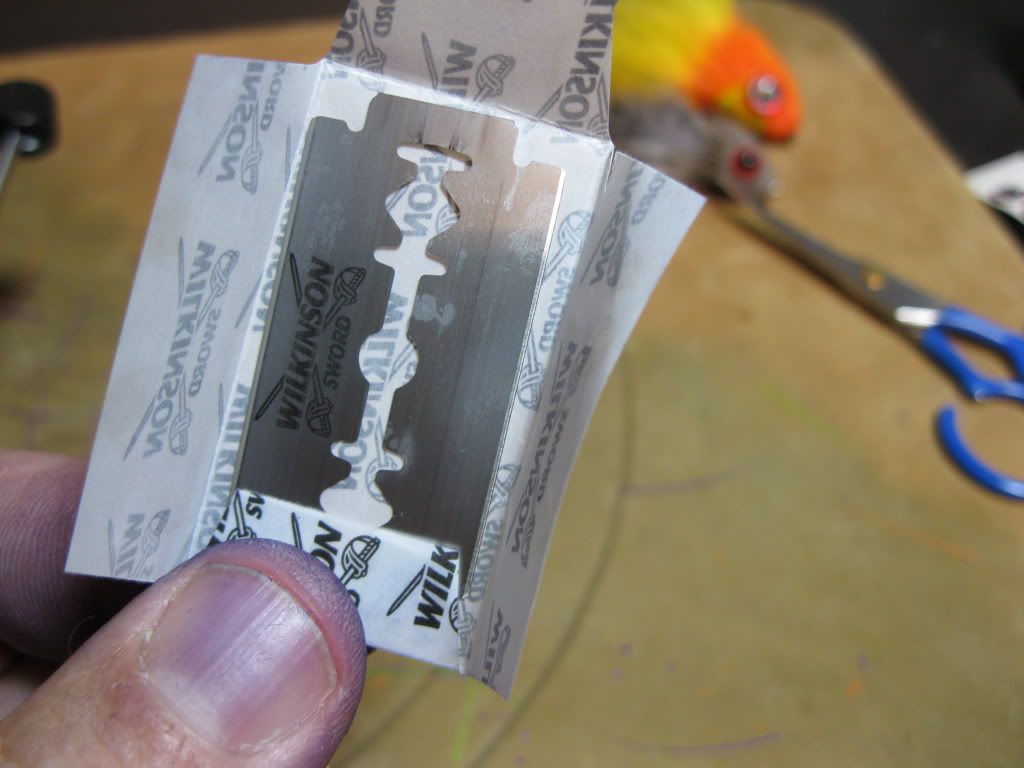 Take your double edged razor and make a single flat cut across the bottom of the fly. Try to make it a level cut, since this will be your reference point for the rest of your trimming.
You're going to rough in the rest of the profile with scissors, but if you got your deer hair tight enough, you're going to get to a point where your scissors become useless pretty quick. At this point you'll begin smoothing out the head with gentle cuts with the razor. What you're pulling off should be so fine it looks like powder.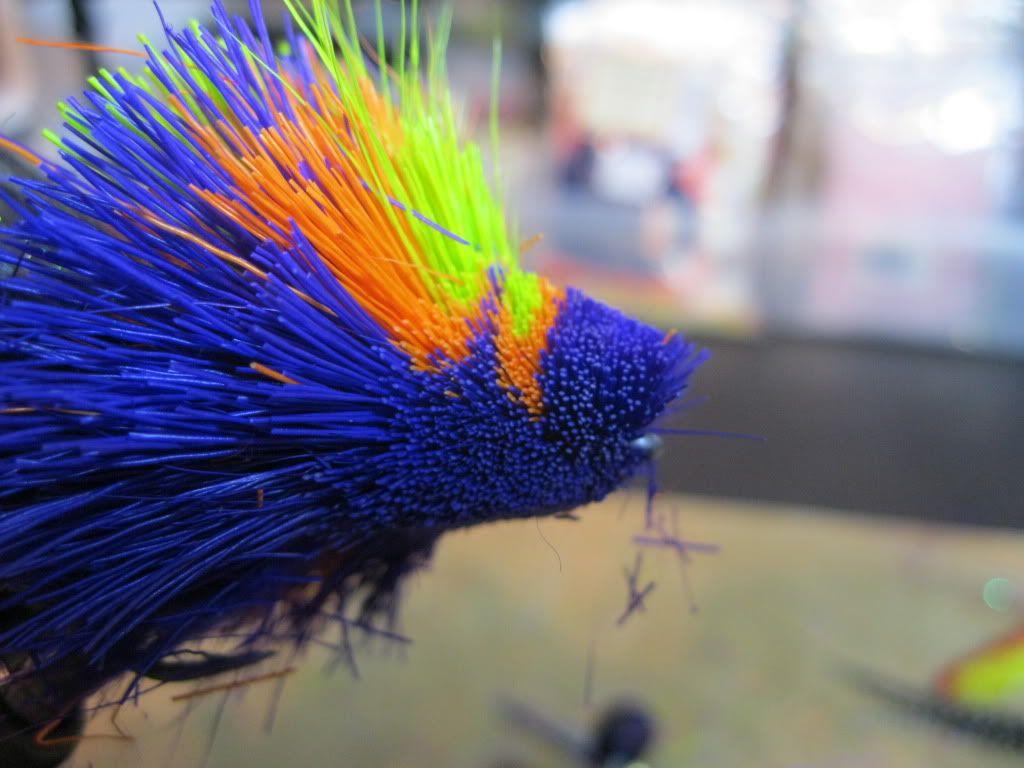 Just keep going until your happy with what's on the vise. This takes practice, so have fun with it.