Home
›
Tournament Insider
FLORIDA SPORTSMAN SOUTHEAST BASH/TOURNAMENT MAY 12 SANDSPRIT PARK
juniorbaiter
Posts: 139
Officer
Click here to register online.
Click here to Print PDF of Registration Form.
Okay Guys/Gals, Mark the date and get ready to fish and party at the Florida Sportsman S/E Bash/Tournament. The captains meeting will be held at Sandsprit Park in Stuart on Friday May 11 at 530 pm. Renowned artist Carey Chen has provided the artwork for this event and will make a guest appearance at the captains meeting. He has also donated the original artwork to our cause which is to raise money to help 16 month old Ryleigh Hunter.
The tournament will be held on Saturday May 12 and the cost will be $25 per angler which will include entry to the tournament, a shirt, dinner and beer.
Check out the event flyer for specifics and the tournament rules below. Feel free to e mail me direct at
[email protected]
with questions/concerns or if you know of someone that would like to contribute to our cause which will help Ryleigh and her family with their mounting medical expenses.
Jim Serra, Bash Chairman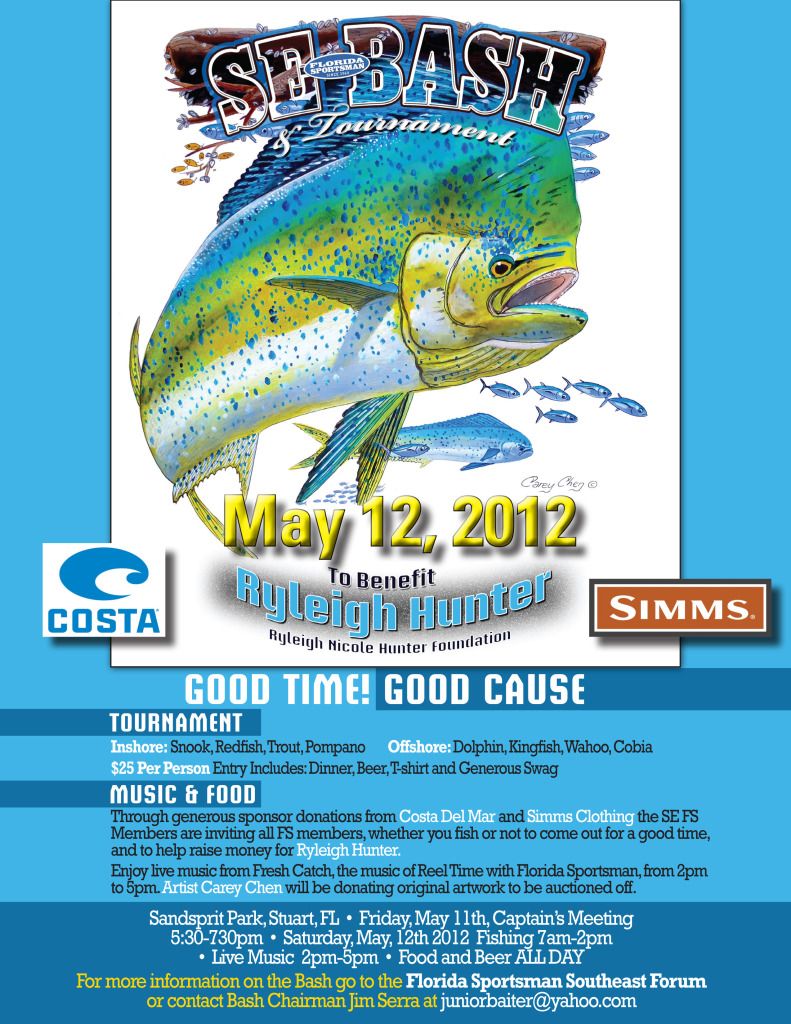 ---
General Tournament Rules:
1. WEATHER: The decision to fish is solely the captain's choice. All anglers fish at their own discretion and risk. If the tournament rules committee determines it is unsafe to fish, all prizes will still be awarded by raffle tickets at the Bash (must be present to win). No entry refunds.
2. All boats must be registered and prepaid to fish the Bash tournament.
3. Tournament hours of fishing are 7 A.M., with scales and photo judging open from 10 A.M. until 2 P.M. (If you are in line by 2 P.M., your fish will be counted.)
4. All state and federal recreational fishing rules governing weight, size, bag limits and licensing must be observed. Only legal sized offshore fish will be weighed.
5. One member of each fishing team must be a member of Florida Sportsman Forum prior to May 12, 2012.
6. Weigh-in and photo-judging will be at Sandsprit Park, Stuart, FL.
7. Florida Sportsman magazine, its sponsors, vendors or members of the committee are NOT responsible for any incidents/accidents that may occur during this event.
8. By registering for this event you agree that you have read and understand these rules.
Specific Offshore Tournament Rules
1. All fish must be caught on rod and reel (no electric reels). Kites, downriggers, planers, and wire lines are permitted. No line test restrictions. Live, dead and artificial baits are permitted. No limits to the number of lines each boat can fish.
2. Eastern boundary is 25 nautical miles. Fishing in The Bahamas is prohibited.
3. Tournament scales open at 10 AM. No mutilated fish will be weighed. Anglers entering fish must return to the weigh station in the boat they fished from. No fish or anglers can be transferred between boats. All fish weighed in must be accompanied to the scale by an angler from the boat it was caught from and be weighed in the presence of the Official Tournament Weigh Master. In the event of a tie (identical weights), the first boat that visually checked in will win the award based upon time, the other fish
will become eligible for the next lowest award category if applicable.
4. Only one (1) fish per category per boat can be entered. Offshore species include kingfish, dolphin, wahoo and cobia. Prizes will be awarded for each of the largest species weighed, but no more than one prize be awarded per boat.
Specific Inshore Tournament Rules
1) For snook, seatrout, redfish and pompano, the goal is to catch and measure the longest fish for each species. Under-slot fish cannot be counted toward the tournament. The top two finishers for each species win prizes; there is no third place prize. Natural baits or artificial lures are allowed.
2) Wading, kayaking shore fishing or fishing from a powerboat are all allowed. Make sure to bring along your own digital camera to take photos. Also, bring the lawstick passed out at the captains' meeting on Friday, May 11.
3) Lines in at 7 AM sharp. There is no check-out on the morning of Saturday, May 12. Feel free to get on the water early, but don't fish until 7 AM. If a picture is taken before 7 AM it will not count. (For example, a picture taken in the dark will not be counted. Sunrise is at 6:34 AM on May 12.)
4) Once a fish is caught, that fish must be measured on a Florida Sportsman lawstick, handed out at the captains' meeting on Friday, May 11. Photograph the fish on the lawstick, with head starting at the 0 inches mark. Make sure the whole fish is clearly visible. Keep the fish out of the water for as short a time as possible. For snook larger than 36 inches, take a second picture of the portion of snook that measured past the lawstick. (One way to do it: Place your finger on the snook where the lawstick initially measured. Then, move the lawstick to that fingered position to show how many more inches past the 36" the snook measured.)
5) Snook, seatrout and redfish are measured as Total Length (TL). According to the FWC, total length is the straight line distance from the most forward part of the head with the mouth closed to the farthest tip of the tail with the tail compressed or pinched together while the fish is lying on its side.
6) Pompano are measured as Fork Length. According to the FWC, fish regulated by fork length are measured from the tip of the jaw or tip of the snout with closed mouth to the center of the fork in the tail.
7) Only the longest-measured catch for a particular inshore species will be counted toward the tournament. Any tie-breakers go to the angler who first checked in at the judge's table. It is to the angler's or boat's benefit to photograph-and-measure a number of species to have a better chance at winning a prize.
8 ) If an angler wants to keep a legal snook, redfish, seatrout or pompano, make sure to measure and photograph the catch before placing it in the cooler.
9) The inshore judging table opens at 10 A.M. and closes at 2 P.M. No internet connection is available at the park, so make sure to use a digital camera that's able to connect to a computer. Sending photos via email will not work. Smart phones will not work. The judging table will have a card reader on hand to accommodate digital camera memory cards.
10) One boat can only win one prize. (This does not apply toward separate raffle prizes). If a group of anglers is fishing from a single boat together, that boat as a whole can only win one prize. A group of inshore fishermen that starts out in a boat together, but then ends up wade-fishing separately is still treated as a single boat. The reasoning behind this is so that a "hot-shot" captain can't win all the prizes, leaving no prizes for anybody else. This tournament is about Florida Sportsman members and fishermen having fun, fishing and listening to good music. This is also a tournament to benefit Ryleigh Hunter.
Prizes for the Florida Sportsman 2012 Southeast Bash & Tournament
All tournament entries will be entered in a drawing to win a TFO rod of their choice and a Florida Sportsman Gift Package. There will be a drawing from the Inshore division and one for Offshore.
Offshore Division: Heaviest Dolphin, Wahoo, Kingfish and Cobia
First Place for each offshore species Wins a 65 Quart Yeti Cooler.
Second Place for each offshore species Wins a Penn Defiance 30 reel.
Inshore Division: Longest Measured Snook, Redfish, Trout and Pompano
First Place for each inshore species Wins a 35 Quart Yeti Cooler
Second Place for each inshore species Wins a Penn Defiance 20 reel.
In the event that a particular species is not entered for a prize, the prizes will be awarded via a drawing from all teams entered in the tournament.
Bash Q&A
1. What about those who want to attend, but aren't fishing?
The SE Bash is more about getting together for a good time than trying to catch the biggest fish to win a tournament. All Florida Sportsman members, their family and friends are encouraged to come out and enjoy the music, food and good company. The Bash is free to all.
2. What time does the Bash actually start?.
Saturday, May 12th
Food, Beer, Music 11am to 6pm
Tournament: 7am to 2pm
Music Entertainment JackFM 99.7 10am-6pm
Live Music:Robbie Bullard Noon-2pm
Live Music with Fresh Catch 2pm to 5pm
3. Will t-shirts be for sale prior to the Bash, can I buy without going?
Yes, you'll be able to buy t-shirts and help raise money for Ryleigh Hunter without going to the Bash or fishing in the tournament.
4. How do I pay? Website, Paypal?
We're working on making it available to register for the Bash online, as well as buy t-shirts. Watch this thread for when that becomes available.
5. Can I bring the fish to the weigh in by car?
Yes, you can bring your fish to the weigh in by car, you don't have to come by boat.
6. Will there be a raffle, silent auction?
Yes, there will be a limited number of silent auction items, notably speaking we'll have original artwork by Carey Chen.
7. What will the winner of the tournament get?
The Tournament's format and prize structure is based on keeping things fun. Everyone has a shot at winning, one local boat or captain won't win it all. No big prize money at stake, but definitely good prizes to win. There will be a Yeti cooler and Penn rod and reel combo for each of the largest fish categories. Maybe more based on donations prior to the event. Watch this thread for additional prizes.

8. Who is Ryleigh Nicole Hunter?
Ryleigh Nicole Hunter could use our help. Ryleigh's mother Kristina Conger, her uncles Sean and Michael Conger and grandfather, Mike Conger all love to fish and are part of the Florida Sportsman Forum community. "I've been a subscriber to Florida Sportsman magazine for years, It's awesome how the fishing community is stepping up to help," said Mike.
Because of a blood incompatibility coupled with exposure to nitrous oxide as a newborn, Ryleigh has severe hearing loss. But, thanks to a cochlear hearing implant inserted inside one of her ears, she won't be sentenced to a lifetime of silence. Thanks to Medicaid coverage, the device, which costs up to $90,000, was implanted the day before Thanksgiving, 2011.
But Medicaid only covers one implant, so that's where the Florida Sportsman SE Bash comes in, "we won't be able to raise all of the money needed for a second implant and subsequent medical bills, commented Bash Chairman Jim Serra, but if we can help, that's what being part of a community is all about."
Check out Ryleigh's Facebook Foundation Page:
http://www.facebook.com/pages/The-Help-Ryleigh-Foundation/154621827951859?sk=wall&filter=12
If you would like to make a donation on top of attending the Bash:
Donate: Make checks payable to "Ryleigh Nicole Hunter Foundation"
Drop at: Any Wells Fargo Bank branch
The Music of the Bash
10am-6pm Music Entertainment JackFM 99.7 "Playing what we want"
Noon-2pm Robbie Bullard
2pm-5pm Fresh Catch (Also the music of Reel Time With Florida Sportsman)