Home
›
Southeast General Fishing & The Outdoors
SLI 3-31-12 NO FISH BUT WE DID GET A "LOVE BOTTLE."
Plane Fish n
Posts: 6,439
Admiral
The Plane Fish N crew today consisted of myself and Evan (No Limits).
We left Bo's ramp at 0700am and headed to the inlet.
We were greeted by a slightly sloppy 2-3' sea but it was definitely manageable.
Bait was scarce at the few spots we hit until we got to Shrimpers. There were several boats there and the baits ranged from sardines to yellowtails to blue runners.
With bait in the baitwell, we decided to troll out to deeper water.
Long (Fish2Nguyen), Jeff (Always Forward) and the Let's Go team (Bo, Mel and Tom and Sean) were some of the many fishermen who were out there today and we all kept in touch.
Once our spread was set, we trolled to 325' where we found a very promising weedline and within minutes, we had our left flat line going crazy only to find it was a huge clump of weed.... UGH!
In 880', we found a decent weedline forming but again... NADA!
Continuing Southeast, we ended up in 1100' and found nothing so we turned our bow towards a Southwest heading and in 525', we come upon a HUGE, well formed weedline. There was all kinds of flotsam (including Jeff's infamous flip flop), so we thought.. "this has to be good."
We deployed our live baits here and nada!
Then, Evan spots this bottle and says "there looks to be a note inside." We picked up the bottle and it was some sort of love note written by a lady from Miami! She threw it in yesterday and we picked it up in Stuart. That gives you an idea of what kind of current was running today.
I called the number on the card but got a voicemail so I took a picture and texted it to her.
About 1:00pm, we decide to call it a day. No fish but it was great to be out on the water and to hear so many friends.
Enjoy the little compilation below.
Cheers
[video=youtube_share;DsAU3HVtrBU]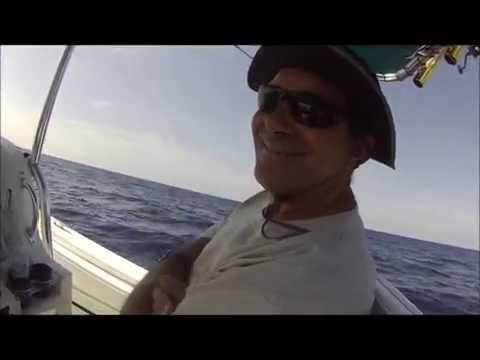 Eric
PLANE FISH N