Home
›
Southeast General Fishing & The Outdoors
Stuart Offshore 3/30/12 - Slammer dolphin
Captain Dave
Posts: 3,392
Captain
Today was interesting in that I had my friend Ben (BigMojo) coming up from Broward to fish with me. Now last time Ben came up last July, he brought his Dad out with us and we not only ended up getting his dad his largest personal dolphins (nice gaffers) that day, but we also ended up scoring Ben his personal best dolphin...
Now fast forward to today. Ben came up early this morning and I basically told him today wouldn't be as successful as the last time with his Dad, but we'd still see what we could do. We shot straight offshore and found some real nice signs with birds going nuts, but a brief troll around that area didn't produce a thing. We picked up right away and headed east. We stopped at Pushbutton Hill but it didn't look all that great, so we picked back up and pointed southeast again. It didn't take long and in 600' we found just what we were looking for. Weeds, birds, bait, debris, and NO OTHER BOATS (that was short-lived!)... just what the doctor ordered and we knew we were going to score. In less than 3 minutes of having the spread out, a schoolie climbed on and we sent him back to get bigger. We called our friends into the area and proceeded down the line for another 15 minutes with no bites. We decided to cross the line and work the opposite side of it heading north. While I'm setting out a bait on the rigger that I just rigged, I look back and see a keeper dolphin nail out long shotgun bait and the reel started wailing the sound we all love to hear. Ben got to work on the rod while I cleared our 8 rod spread, ran the boat, and organized the cockpit for a clean and uncluttered fight. Since we had this fish on 20lb line, we had to take it fairly easy. About 15-20 minutes later we had a beautiful bull sulking deep under the boat. Ben did a great job on the rod and his patience paid off. I made a lucky gaff shot and in the boat he came...
We ended the day with 3 schoolies and the slammer in the box (that didn't fit), and let at least 3 or 4 others go to grow up more.
I want to especially thank my friends Gerry (CaptGerry), Scott, and Pete for taking the time to film us boating our fish with their GoPro. I'll get that footage sometime this week. Pete got a still shot from their boat for us on his cell...
Last but not least, Ben edited together some incredible GoPro underwater trolling footage yesterday with his TrollPro camera housing he made that we pulled under our teasers. A lot can me learned from this.
http://youtu.be/mK0PvHxvw1E
[video=youtube_share;mK0PvHxvw1E]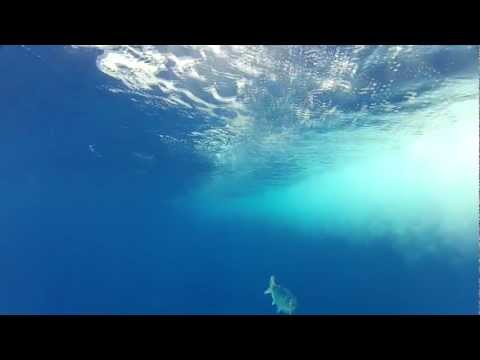 Great job today Ben! :thumbsup
Your Southeast Florida Real Estate Resource
!
www.HomesOfTreasureCoast.com
Search for homes on any mobile device with my
FREE MLS SEARCH App
!
http://app.kw.com/KW2GYNJDM