Home
›
West Central General Fishing & The Outdoors
5-28 PB Cobia
saltydog7seas
Posts: 41
Greenhorn
First of all i want to say that I hate that I had to re-register for the forum and I don't like the new format at all. Ok, I'm done complaining for now, on to the report.
got a call from Jerry on thursday to head out and put some fish in the freezer. My inshore spots hadn't been producing so we decided to head out about 25 miles to at least put some AJs in the cooler. Surface temp was 82 but the nasty algae bloom is still out there creating a thermacline. On the bottom in 65' it was around 75 degrees. Gags are thicker than I have ever seen them in the area. If I was allowed to shoot 30 for myself over 25" I could have shot my limit.
After making two dives already Jerry had only one tank left so I decided to drop in on one of my #s to investigate. I rolled in and as soon as I cleared the murky algae bloom I looked down to see a field of legal gags, schools of Ajs , baitfish and all kinds of other life. The thing that immediately caught my attention though was a big cobia.
I kicked towards him as he circled, lined up, crossed my fingers and let her fly. When I pulled the trigger I didn't realize how big he was. When I realized that the shaft slammed home just behind the pec fin I gripped my gun tight and hung on for the ride. These fish are seriously just tanks. After being drug on a straight rocket ride for about 100 yeards he started circling and moving up and down in the column. This was apparently enough to get the attention of a 500lb Jewfish who decided that he wanted to make dinner out of my little cobia. I grabbed the line with my left hand and swam at the hebrew with the gun in my right. After waving the kill spike on my Rhino in his face he realized that I wanted the fish a lot more than he did. I was finally able to reload my spare shaft and slammed another one into the cobia's side. This took a lot of the fight out of him and I was finally able to drive the kill spike home for the win. I hit the surface and commenced to do the happy swim.
Back on the boat we realied just how big he was.
We didn't have a scale, but I measured him and he went 56". I looked it up and that puts him somewhere over 60lbs.
My total for the day was two nice snapper (18 and 20"), three hogs (around 15"), one mackeral and a 48" AJ.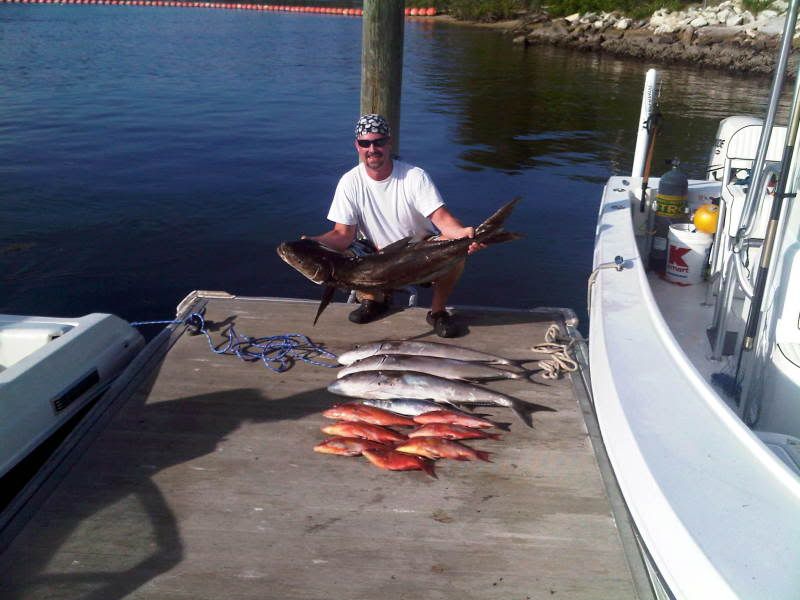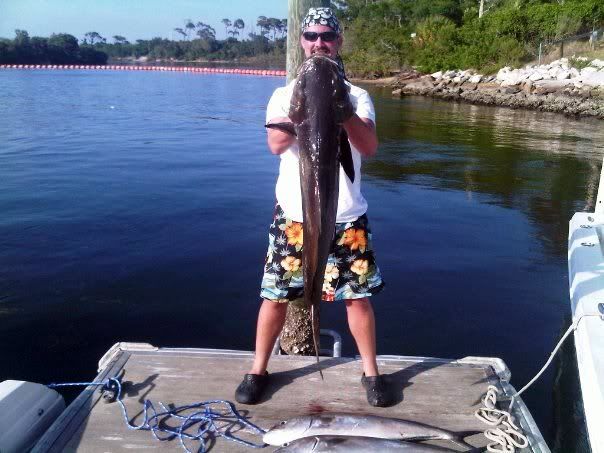 That being said this gag closure is rediculous. I had just shot one of my snapper and had the free shaft in my hand. As i went to reload it a gag around 26" decided that he wanted to occupy the crack where the snaopper were just 5 feet away from me. I didn't want him to run the snapper out so I swam over to try and make him move. He actually let me get close enough to poke him with the shaft in my hand. I don't know how many other gag's (well over 22") just swam along with me not even bothered by me being there. Good thing they are endangered.