Home
›
Keys General Fishing & The Outdoors
Team Fiasqo Yankee Capt Mutton Marathon "Late" Report (Feb 17-20)
LitiGATOR
Posts: 819
Officer
I've been extremely fortunate this past year, partaking in countless trips to the Bahamas, the Keys, Venice -- Louisiana, locally, and other semi-exotic locations resulting in some amazing fishing trips with great friends. It's been the best fishing year of my life. But, one thing was missing — the Dry Tortugas. My brothers and I have been fishing with Captain Greg and the Yankee Captain since were all in our early teens; more than 15-years, at least a couple times a year for me. That's a lot of trips, every one of them enjoyable. But I hadn't fished on the Yankee Captain since last year's "Armageddon V" trip and the itch has been strong for several months. Team Fiasqo had already booked the date for Armageddon VI (March 2nd), but I didn't want to wait any longer and once a year just isn't enough.
For the past couple months I'd been watching the weather and waiting for the right combination of good weather and free time to make a trip. For one reason or another it just never happened. Last week I decided to take a gander at
www.yankeecepts.com
to see whether there was a trip the upcoming weekend. What I saw gave me mixed feelings: a three-day "Mutton Marathon." The positive is that there's definitely a trip going this weekend, weather permitting. But those trips usually fill fast. I picked up my phone that Tuesday before the trip and called Greg.
Me: Greg, how's it going? You got a full trip this weekend?
Greg: No, come on down; plenty of room and weather looks great.
Me: You want me to bring you any goodies from the main land?
Greg: Yes, a "Jaynormous Pastrami Sandwich" from Too Jays in Boca Raton.
Me: Seriously?
Greg: Yes.
Me: See you Friday.
And just like that, I was in. From simply taking a quick and innocent look at the website, to fully-committed to a three-day Tortugas trip in a matter of minutes --- too fast, too furious. That's how Team Fiasqo does things.
Now I had to gather up a crew to accompany me. I've done the trip alone many times, but it's more enjoyable with friends. Both brothers couldn't make it, and the Caucasian member of Team Fiasqo, Johnny --- after flip-flopping for 10-minutes, decided that he couldn't make the trip either. No worries, my friend Shane and I had been trying to make a trip for the last few weeks. One call to Shane and he was "f**k yeah" in. Shane is reliable, organized, and punctual — everything that my brothers and Johnny are not. Suffice it to say the preparation for the trip went off without a hitch. Bait was secured and before meeting at Shane's house, a quick stop was made to
Too Jays
to pick up a Jaynormous sandwich for Don Tortuga.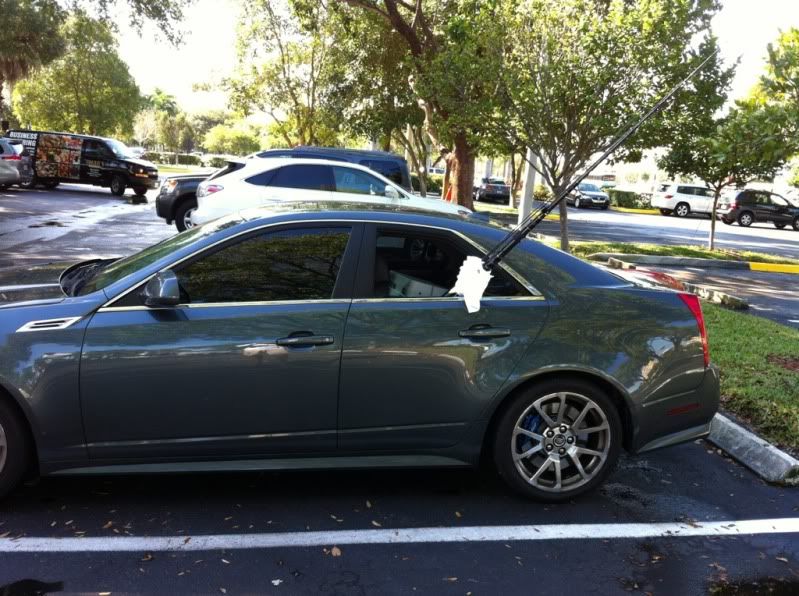 While waiting for the order, I noticed a sign for an eating contest. I almost registered Captain Greg, but you had quality. To be eligible you had to eat a Jaynormous sandwich in one sitting, unassisted. The qualifying round would be a cake-walk.
Next stop was Shane's house. We loaded up his truck and hit the road towards the Keys.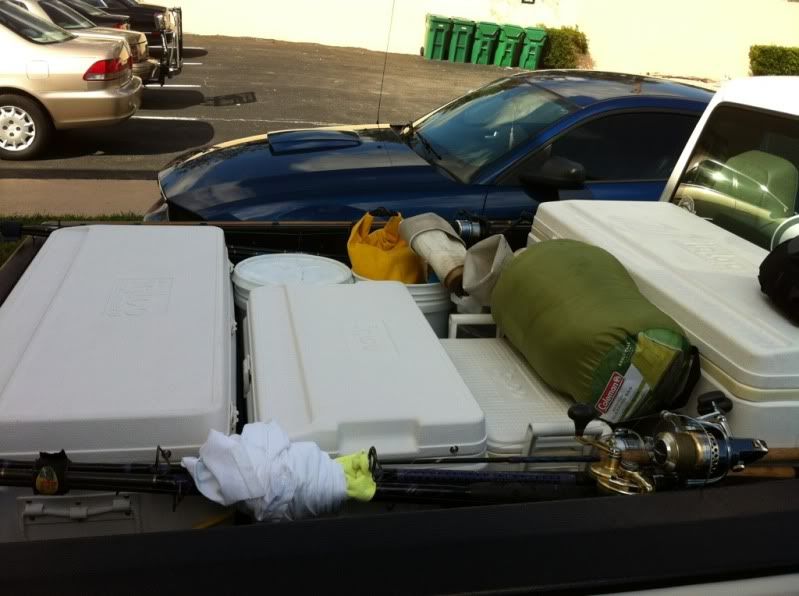 Shane and I had been fishing the Keys' bridges the weekend prior, so everything was all-too-familiar.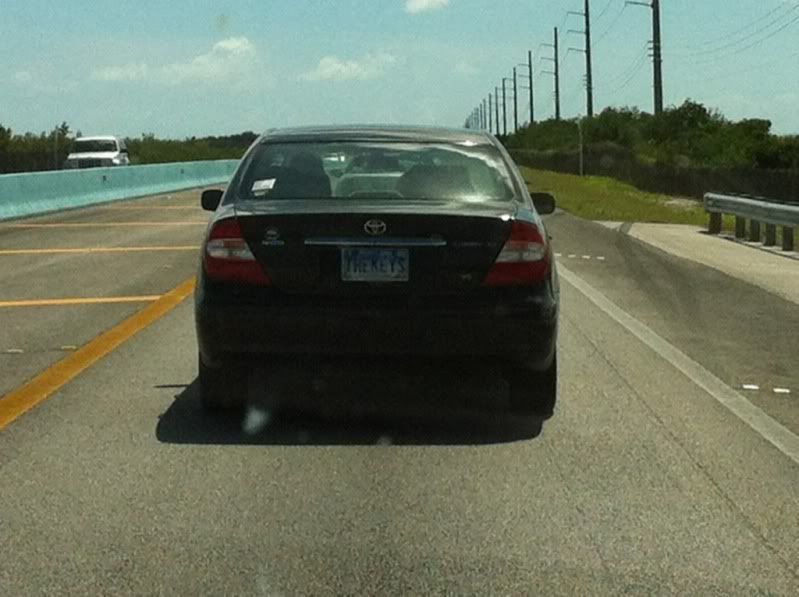 There was one stop in particular that we had visited last weekend which needed another visit — the All-You-Can-Eat stone crab at Ballyhoos. Last weekend we spent over an hour there stuffing our face with fresh-caught "mediums." After a brief discussion, Shane and I agreed that if we had a "good" trip, we'd stop there on the way back up.
Stopping at certain bridge that shall remain "nameless" for a couple hours to top-off the bait coolers is customary for our Tortugas trips and this was no exception. Before too long, bait was secured and the weather looked great. One quick stop to Publix for provisions and we were at the boat at 7:30pm; the boat wasn't leaving till 10pm. Unlike a standard Team Fiasqo trip, we were exceptionally early. Normally Greg is leaving the dock as we roll up. With the spare time, we quickly and efficiently loaded our gear onto the boat and grabbed some dinner at the Hogfish Grill. Apparently Greg had pimped-out the galley with a satellite TV for our viewing pleasure. Can't beat catching the tail-end of the Miami Heat game before leaving the dock.
I hadn't seen Greg in over a year, so I expected him to look the same as always. Which is why I didn't recognize Greg-minus-a-human. I had to find out how he lost so much weight so quick.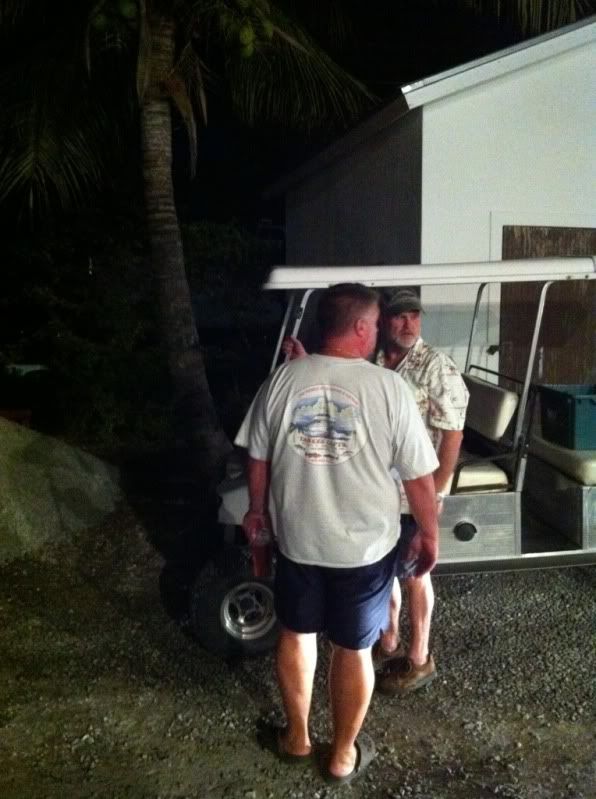 Me: So, how'd you lose it? Eating better? Exercise? Both?
Greg: No, stress.
Alrighty then, take that Atkins! Lest there be any confusion, Greg was still able to quickly put down the Jaynormous sandwich --- you qualified Greg!
Looking around the boat and dock I saw some familiar faces as is usually the case on these trips, and a bunch of new ones. Jack Hexter, whom I have fished with several times, and his brother were aboard. It looked like a great crowd and everyone was pumped. All three mates were new to me, and introductions were made. After some immediate trash-talk with Josh and Chad, I knew they were good ones before we even left the dock, and I was right.
With the gear stowed and the bookkeeping done, we pushed off the dock and headed towards the dreamland that is the Dry Tortugas.
As already mentioned, I've done this trip countless times. While I look forward to them, I'm not anxious or excited on the ride out to the fishing grounds; it's become customary. This would lead you to believe that I could calmly go down to the bunks and get a solid night's sleep on the 5-6 hour ride out, especially since Shane and I had been driving and fishing all day. But, that's my Achilles' heel --- try as I might, and I do every time, I just can't fall asleep on the ride out. Every single time, I lay down and tossing-and-turning for hours until the engines wind down to signify that we have arrived. Oh well, if that's my curse, I'll deal with it.
As the anchor was deployed and the engines wound down, all the eager anglers awoke from their slumbers and staggered onto their respective positions at the rails. The weather was great and the hopes were high.
Before too long the Muttons started coming over the rails, along with some huge yellowtails and the occasional blackfin tuna, one of which I was able to "accidentally" catch while Mutton fishing.
It was a nice steady pick and before long the sun was up and Captain Matt retired to sleep the day away as Don Tortuga took over. Generally, the day-time fishing is slower than the night action. But all day long the bite was steady with some very nice fish coming over the rails.
One of Shane's big day-time Muttons
Cameron was fishing the port side of the boat and pulled up a couple near 20# Muttons, he was slamming the big fish and somehow kept the little ones away.
Ron also pulled up some really big Muttons.
I got into the action with some nice lower-teen fish and was putting together a pretty good trip.
Shane was also having a great trip with some solid mid-teen Muttons, and a nice black grouper that had to go back.
The great weather and slow current allowed Greg to venture to some deeper spots in the 230' range. Tons of nice yelloweyes and, unfortunately, Genuine Reds were coming over the railing all day long. The nice Muttons kept coming up, too. So did some big scamps and gag grouper . . .
Normally, I don't depend on the day-time for too many Muttons. If I can head into the first full night with a couple Muttons, I'm happy. But because of the consistent action, I had nine mostly big fish heading into the sunset bite; Shane was at seven. As the sun faded into the horizon, Shane hooked up to a big fish. He looked at me as line peeled off his reel and said, "This is Big Betsy, this is her." The whole ride down Shane had been telling me how bad he wants a "big" Mutton for his wall, naming this elusive fish "Big Betsy." It was to be.
As he fought the monster, I peered deep into the water and told him it was a Mutton. A minute later a 19# Monster was at the surface and quickly gaffed and brought aboard. Shane let out a triumphant scream and lifted his Big Betty --- his trip was made. I put my rod in the rod holder and went inside to grab the camera. As I came back out, my rod started screaming; I handed Greg the camera and came tight on a fish of my own, which turned out to be another slob! A little smaller than Shane's, around 17#, she was a beauty and would end-up being my biggest Mutton of the trip. More importantly, we had a great photo opportunity with both our freshly-caught monster Muttons.
As I put the camera back inside and put another bait down, I heard some commotion on the bow. Apparently Keiran, a great angler and my main competition on the trip, had hooked a nice Wahoo while sending his bait down to the bottom.
A couple minutes later, Big Al, who had been complaining about Greg fishing too deep, hooked into a Wahoo of his own while attempting to catch a kingfish; what a nice surprise. Still want to go shallow, Al?
Shallow Al
with his wahoo.
Ironically, people were trolling wahoo lures between spots and two were caught by "accident."
As the night took over Captain Matt took over and headed a little shallower to some of his spots. Again, the Mutton action was steady; the yellowtail bite, however, was fast-and-furious. Would-be Mutton anglers switched out their Mutton rigs for chicken rigs to get in on the furious action. Everywhere I looked people were bailing yellowtails. There's nothing wrong with yellowtail fishing, but that's not why I was there, and I picked away at the Muttons all night long.
Me with a nice out-of-season Genuine Red
Shane was feeling a little under-the-weather and went down to get some rest. As the night carried on, I started to converse with the gentleman to my right, who I had previously been calling "Guyana Gary," turns out his name is Rohan and he had driven down from NY solo, to meet up with his gaggle of Guyanan/Trinidadian friends in Orlando, and down to Key West. I didn't get to talk much to the rest of his crew as they were fishing the stern and other side of the boat. But Rohan was quite eager to chat with me between bites.
This was his first time fishing on a trip like this, and it showed. At first I was quietly frustrated with his casts, constantly tangling me. But he didn't know, and it wasn't fair to get pissed at him. So, instead, I did what I should have done from the beginning, and tried to help him out. Offering assistance to a fisherman can go one of two ways: the angler is either receptive, or offended. Rohan was extremely receptive and was becoming a better angler by the hour. Before too long, he had bagged a nice Mutton and countless yellowtail. His angling skill before the trip compared to after the trip was night-and-day; I had a blast fishing next to him.
Rohan the Barbarian
tight with a nice fish.
Josh, one of the best in the business.
Rohan the Barbarian
with one of his many yellowtails.
Shane with a nice out-of-season black
To my left, and all over the boat, Keiran was putting up some good numbers.
We had sort-of distanced ourselves from the pack with the Muttons and I always keep tabs on what people are catching all over the boat, and on what bait. I had a lead on him of a couple fish as we headed towards sun-up Sunday morning. But a glaring issue was presenting itself --- fatigue.
On a two-day trip, I fish every spot, no sleep. It's not possible on a three-day trip, at least not that I've seen. But I had to plan my sleep. To my knowledge I was the only one that had fished non-stop until that point. So I headed down at 9am and pulled Josh, the mate, aside and told him "if they start catching Muttons, please wake me." I slid into my bunk and closed my eyes, next thing I know it's 3pm and I feel great. I didn't miss too much as the day bite was relatively slow. Perfect plan.
Shane was still feeling under-the-weather, but I felt well-rested and decided I was going to close-out the rest of the trip non-stop and without sleep. Sunday night came quick and again the Muttons and yellowtail started to come over the rails at a good clip.
The wind had kicked up and Matt had to go a little shallower than he would have liked, but there were still fish being caught all over the boat. Additionally, the wind was pushing hordes of flying fish into castnetting range; before too long I had enough to use for the rest of the trip --- a rare luxury.
Keiran hit a little hot streak and closed the lead to within a couple fish. I distanced myself with a little hot streak of my own as sun-up Monday morning approached. As the final bell rang, I set my rod down with a total of 26-Muttons and high-hook. I believe Keiran finished with a very respectable 17. Shane didn't fish for a large chunk of the trip and still managed eight mostly big Muttons. He'll get his revenge during Armageddon VI.
Some candid shots between moves.
Team Guyana grabbing a quick bite
TJ from
Team Deerfield Pier Rat.
That look on his face? It's called victory --- he just scored a cup of
Ramen Noodles
from the cook.
Rob from
Team Deerfield Pier Rat
catching-up on the latest in tackle innovations.
Almost everyone caught at least one Mutton, and many people had six to 10. Many of the fish were in the mid-to-upper teens, with several pushing 20. It was a great trip and spirits seemed extremely high all over the boat, albeit tired.
As we neared the dock, I counted close to 40 totes, which is amazing. The brunt of the catch consisted of Muttons, yelloweyes, yellowtails, huge porgy and giant white margate. There were a couple wahoo and several blackfin tuna peppered-in, and of course, several big kingfish --- one of which ultimately won the pool.
Totes stacked two-deep
As the catch was unloaded and the anglers piled-out, the infamous "Circle of Death" formed around the stack of totes, to be distributed to everyone. It seemed like almost everyone went home with a nice cooler of quality fish. You can't really ask for more than that.
Chad-the-Pimp with one of the wahoo.
Shallow Al
with his "yellowtail-on-a-gaff" move.
My bounty – 26 Muttons, a blackfin tuna, and various other species.
Shane with his "Big Betsy" which he got a replica mount of.
Shane and Shallow Al
Shane with his catch.
Team Pier Rat
represented with nice Muttons, kings and tuna. Jack Hexter and his brother caught a bunch of nice Muttons, and assorted other species. They had a really good trip and I always enjoy fishing/chatting with Mr. Hexter.
Team Guyana
put a hurting on the yellowtails and managed a few nice Muttons.
Rohan the Barbarian
, I look forward to fishing with you again buddy.
As always, the hot bait was "fresh." What I mean is that if it was fresh, it worked. Whether it was blue runner, goggle eye, flying fish, ballyhoo, etc. Fresh is king; don't waste time with live bait!
People always ask me "what's the best spot on the boat?" And I always say "where the least people are." It's the truth. I spent almost the entire trip fishing in the "worst" spot on the boat, the side. Halfway up the boat, on the starboard side. There weren't many people around me, and I caught a bunch of fish from there. I can assure you that the fish aren't looking up at the boat and swimming to the stern or bow baits. It doesn't matter.
It was one of the more enjoyable trips I've had on the Yankee in a long time. I've always been friends with the mates on the Yankee, for years. I can honestly say that the mates right now, Chad, Josh, and Lyndon are some of the best I've ever seen on that boat, and that's not light praise. They work very, very hard to make the experience enjoyable for us; please keep in mind that their income is based on tips.
Captains Greg and Matt did a phenomenal job, as always, and constantly moved the boat to keep us on the fish. The bust their
@ss
and it shows.
Armageddon VI is this coming weekend and I can't wait. I feel like I'm tuned-in to the fish, but that could all change as every trip is different.
If you're interested, shoot me a PM as I might have a couple spots available.
This trip has been awesome every single year.
Yes, we stopped by for All-You-Can-Eat stone crab, and it was awesome.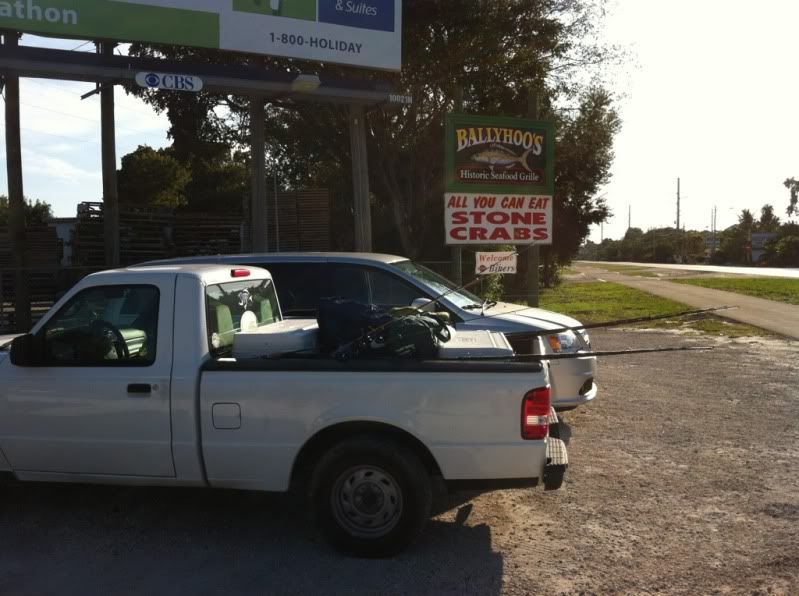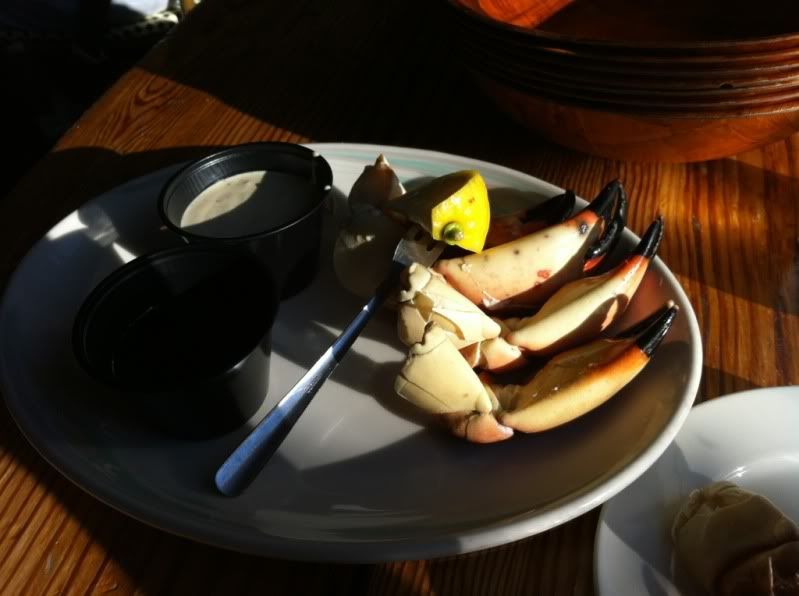 Till next time . . .