Home
›
West Central General Fishing & The Outdoors
Pasco County Backwater..
Moondawg
Posts: 214
Officer
Went out today with a good friend to a favorite backwater area that we had left alone for a while. It's an area that's really only accessible by kayak or canoe, so being the two of us, we took the canoe..Anyway, about 15 minutes after paddling we were both surprised about the lack of movement or action on the water, no mullet, no reds tailing, no nothing... The current was moving well (tide was going out) and the moon was rising. About 10 minutes after that we approached a spot where a saw a huge swirl on top of the water I cast my sixwave topwater lure and within seconds it was in the air, (not much) but enough to see it was a nice snook. I kept working it and again it got slammed, but this time on top and game was on. Fought this extremely strong fish for a few minutes and it broke my 20lb fluro leader.. My buddy Chris casted in the same spot, within seconds he had a nice snook, ( It was so quick I thought I was getting my lure back and relieving a snook from a lure from it's mouth). We ventured to the flats to find just an **** load of fish crashing the surface and causing quite a wake non-stop. It was an eventful day, not for the amount of fish that we caught, but the action from reds tailing, mullet going absolutely nuts and the couple of snook that were caught and safely released. Also I should mention the amount of wildlife that we saw, it was just excellent.
Snook that were caught were not that big, but we did see quite a few others dash around below the mangroves. When you are in a spot that constantly has about a 4 foot ledge in front of the groves, you can't go wrong..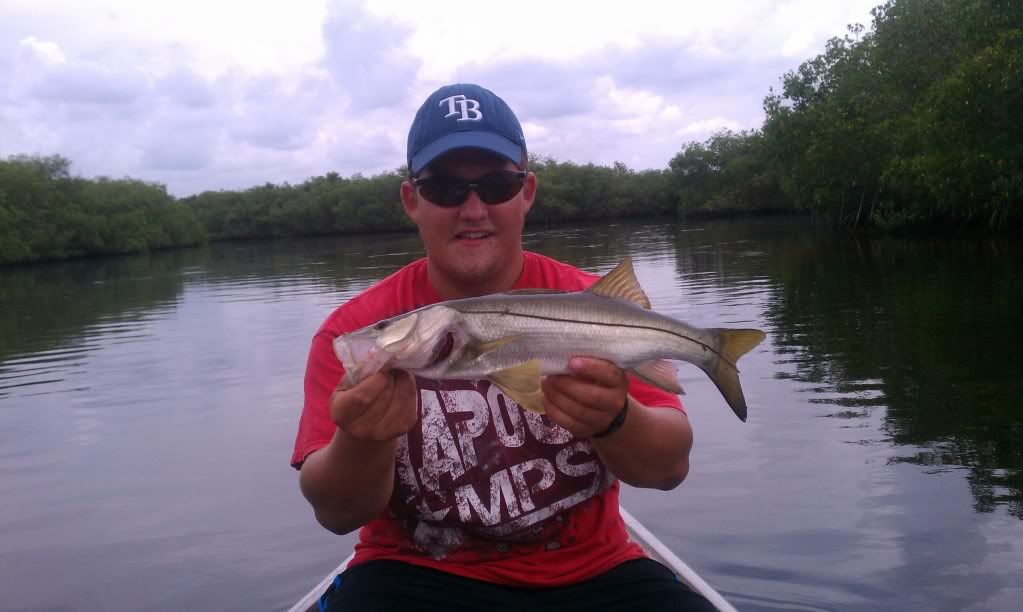 Just 'cause the sun don't shine, doesn't mean you can't go fishin'..
http://www.sixwavelures.com
100% Handcrafted Wooden Lures & Jig Heads