Home
›
Tropics
Somewhere South of Bimini
The crew and I had planned on a trip to the Tortugas to catch muttons. Because of weather, timing and then work issues, the trip was on then off then on and then off. Hall passes were in jeopardy and a few wives and baby-sitting mothers-in-law were getting pissed. Some of it was my fault. So, we recovered and improvised and went somewhere south of Bimini. On the trip were my good friend Haniel, Stephen (Kingair on The Hull Truth), Ernie (lucky7team7) and Ryan (
[email protected]
).
We met at the dock at 545am and were pushing off at about 630. Everyone brought way too much stuff. We stopped at government cut to buy some sardines from Ashley II and then we were off to North Cat Cay to clear. We were bogged down by the weight and the boat's very dirty bottom. Yet, we had an excellent crossing, although we spotted nothing on the way, and made it to Cat before 840. We were the first to clear. We fueled up at Cat and headed south. We tried finding a wreck south of Cat on the bank but my GPS was off by a few hundred feet (:huh:huh:huh:huh) so we never found it. Not a good start. We went further south to the spot where we were going to bottom fish and stay the night. The tide was changing and we put out the high speed trolling gear. Two 80Ws and three 50Ws. Alternating between 100'-300' we caught got a hit, and were thrilled, until we saw that it was a cuda. Then a second cuda, and more disappointment. We kept the fish for DD bait.
A while later, we saw a fantastic shower of flying fish and then we got a hit, followed by a second hit and then a third hit. Never had 3 wahoos on at one time. We were elated and everyone started clearing lines, etc. Except, the first fish to come in was a cuda. And the second fish was also a cuda and so was the third. A TRIPLE CUDA HIT. We were disappointed.
After a few hours and no wahoo, we stopped trolling at the middle of the falling tide and anchored to start yellow tailing and bottom fishing. We fished some very nice tails and rock hinds. Used plenty of chum, dead sardines, live and cut gogs threads on jigs. Night fell, and then the tails got huge. Some as big as small muttons. Ernie and Ryan showcased their talent. Caught a small black. Nothing huge. At 700pm Stephen cooked steaks and corn for dinner on the grill. We had air mattresses and bean bags and sleeping bags and hit the sack at about midnight.
Up at 510am to see a huge storm with lightning behind us. Not good. Had bagels, pastelitos, coffee and OJ for breakfast. Fished some tails and drifted for bottom fish and at about 900am we saw a pack of wahoo swimming around the boat while drifting in about 200'. We threw jigs and live bait and everything we could at them, but they wouldn't eat. We made the call to high speed troll even though the tide was incoming. Why not?
So we switch the gear and start high speed trolling. A few minutes into it we get a hit in 197' followed by a second hit. It was the 300' and the 100' lines. I initially feared we had 2 cudas on, until they kept taking line out. We cleared the lines and we saw blue and stripes approaching the boat. A nice gaff shot, followed by Ernie almost going into the drink and then we had a wahoo on board. It weighed about 50. The second one came in and then the celebration began. We kept trolling until 1000am and started the cross back to Florida (about 5 hours earlier than expected) because there was a nasty storm brewing north of us, between our spot and Miami. We had three options: go through the storm, go to Bimini to wait it out or head to Key Largo. We headed to Key Largo because going through the storm was not an option and the weather was forecast to pick up dramatically after that storm passed. Going to Bimini was not an option because we would have been stuck there. We crossed and only experienced a small rain shower at the southern tail of the nasty storm. We saw a nice pallet but did not stop because of the storm. We made it to Key Largo safe and sound by about noon.
We caught some nice tails, rock hinds and 2 very nice wahoos. We estimated them at just short of 50# and about 40#. We had a great trip, made new friends, told some lies and laughed. Can't wait to do it again. Below are some pics and a video. In the video you can see the size of the wahoo. They look tiny in the pictures.
Stephen, Ernie and Ryanat North Cat Cay fuel dock.
[URL="[IMG]
http://i410.photobucket.com/albums/pp184/rafasan/AtCay.jpg[/IMG]"]
[/URL]
A very large YT caught by Ernie.
[URL="[IMG]
http://i410.photobucket.com/albums/pp184/rafasan/erniewithYT.jpg[/IMG]"]
[/URL]
Sunrise somewhere south of Bimini
[URL="[IMG]
http://i410.photobucket.com/albums/pp184/rafasan/suncomingup.jpg[/IMG]"]
[/URL]
Ryan and Haniel with the wahoos
[URL="[IMG]
http://i410.photobucket.com/albums/pp184/rafasan/ryanandhanielwithwahoo.jpg[/IMG]"]
[/URL]
Ernie with the wahoos
[URL="[IMG]
http://i410.photobucket.com/albums/pp184/rafasan/erniewithwahoo.jpg[/IMG]"]
[/URL]
Me with some of the YT
[URL="[IMG]
http://i410.photobucket.com/albums/pp184/rafasan/rafaelwithYT.jpg[/IMG]"]
[/URL]
And a video of the gaffing of the second wahoo
[video=youtube_share;cWvvu8gKs9U]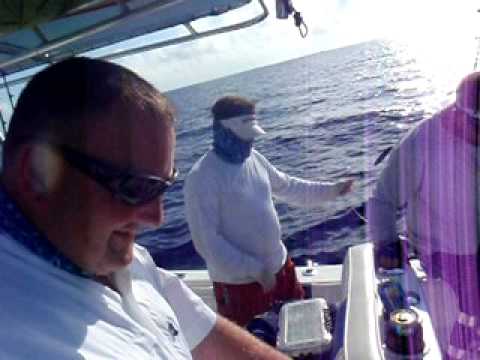 http://youtu.be/cWvvu8gKs9U[/video]