Home
›
Sportsman's Kitchen
Christmas Standing rib roast
AllenR
Posts: 2,702
Captain
Did a 7 pounder on the BGE yesterday. I injected with an entire can of beef broth/ 1/4 cup of red wine. Then rubbed heavily with Montreal steak seasoning. I put it in a 475* oven for exactly 20 minutes for a good sear.
Here it is ready to roll into the oven. A few veggies in the roasting pan to flavor the Au Jus(onion, celery, carrot, garlic)
I put it on my 300* BGE with one chunk of tangerine tree wood about the size of your fist. I wanted just a touch of smoke flavor and thats what I got.
I let it go until my temp probe hit 122*. As soon as I did, I took it off, tented in foil, wrapped in a bath towel, and put it in a cooler, while the wife was finishing everything else up. To my amazement, the temp shot all the way to 135* while resting. Next time I will eliminate the towel and just let it sit on the counter tented in foil, as it went past the rare stage that I like prime rib
Here it is after a 30 minute rest, and ready to slice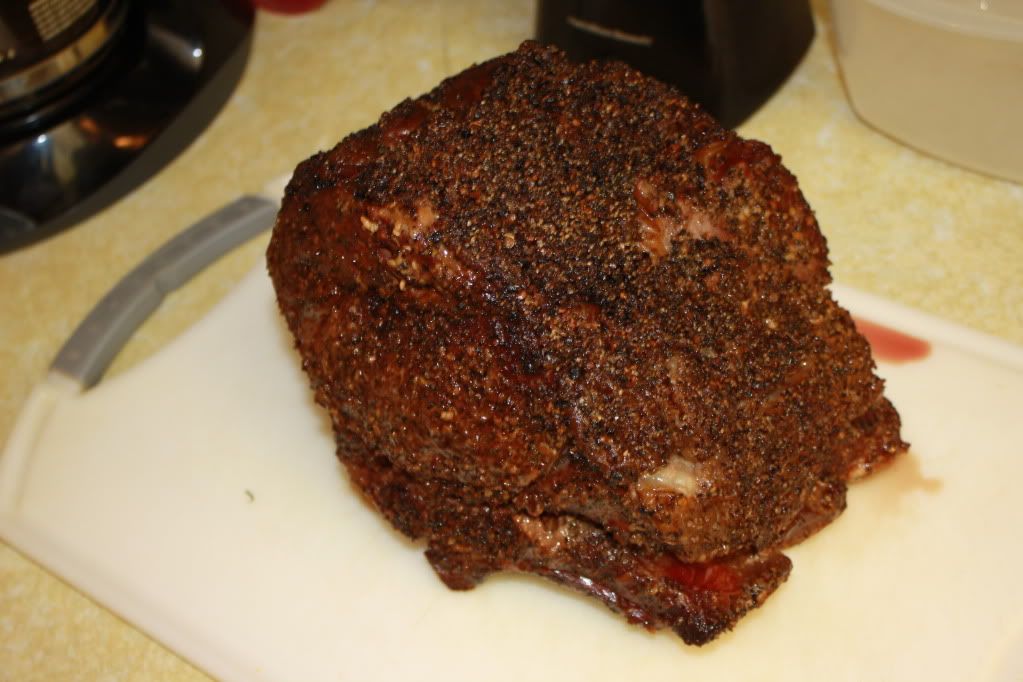 A couple shots ready to serve