Home
›
Southeast General Fishing & The Outdoors
8/21/10 FPI Crazzzy Day Offshore Fishing Trip
Roc N Rol
Posts: 1,352
Officer
Took 2 boys from down the street fishing today, there 1st trip out in a boat. Some one got into my garage this week ( I left the garage doors open to late), which is no excuse for what they did, and stole 4 spinning combos from my rack. Talked to someone that knows everyone in the neighborhood and asked if he could check around, figured it was a local job. He knew exactly where to go right off the bat. Ten minutes I had 2 combos back in the rack 2 to go. It was 2 boys from down the street. Talked with them and there momma who was holding and waving a belt around. Went to where they ditched the other rods cause the police picked them up at night and took them home, any way the house where they dropped them the owners had found some rods and 1 more of my combos was home. The last one is not comming home, a Stradic 8000 and Travala jigging rod. Later that day they came down and apoligized and said how sorry they were and it wont happen again. They seemed sincere and I accepted there appoligy. I decided to take them fishing to try to teach them something about the person they robbed and the value to me of what they stole. Parents dont spend time with them they are on the street all the time. They wanted to know if the boat would go faster than a shark and I asked them why, Will a shark attack the boat, No, What if a giant octopus attackes the boat and tries to pull it down, That only happens in the movies boy. Are you going to take a gun to shoot the octopus, No.
They were ready at 5:30am, we loaded the boat and headed to the ramp. Got out the inlet and headed to 10A for some bait, this ought to be interesting.
[IMG][/img]
Got to 10A and they caught bait and having fun catching them. some of the boaters had fun watching the circus I had going on in the boat with them. No pics of bait fishing as my hands were full.
Here is Can I drive? and Can I work the gas?
[IMG][/img]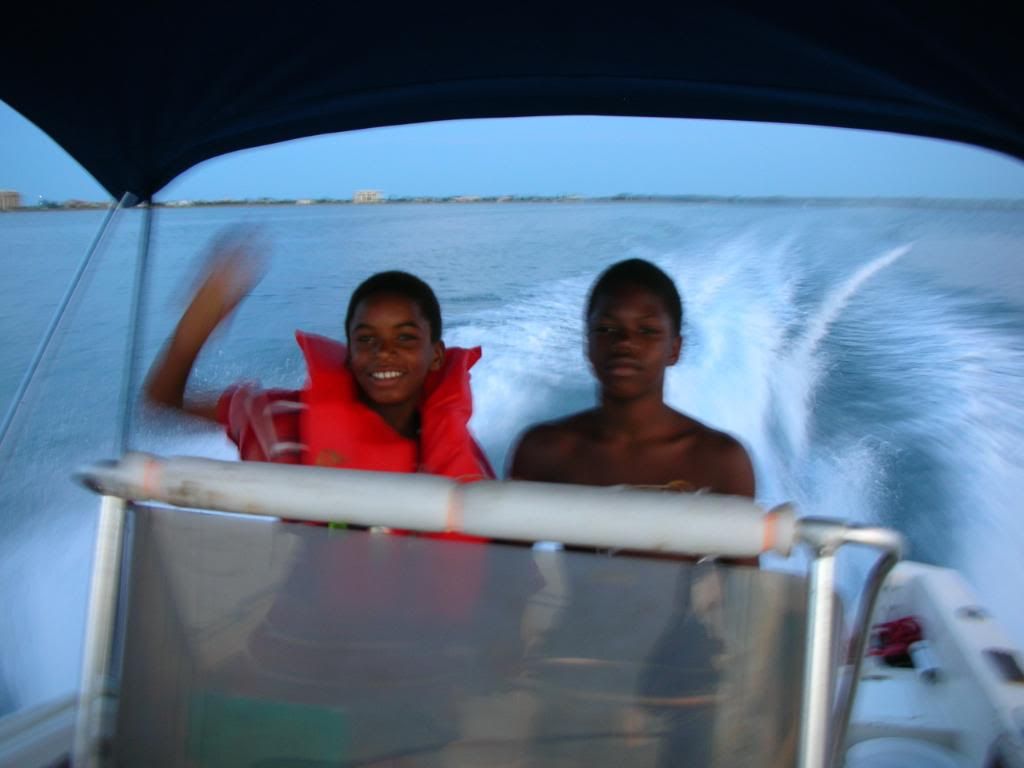 Went out to 80' and put some daisy chains in, in hopes of some black fins and came up with a cuda. Told them we were going to run out to a wreck and catch some fish. They had some 2396 questions, Whats a wreck they ask, I tell them its a ship called the Muliphin, Are we getting off this boat, no it is on the bottom of ocean, how did it get there, it was sunk for a reef to attract fish so we can catch them. I wont to use this rod, no we are useing this one with a virticle jig, I wont to cast, no we dont cast here we jig here, can I drive, no, I wont to work the gas, no leave the gas alone, can we go to McDonalds, boy do you see a Mc Donalds out here, I want to cast, I know you do. So I hook up on the 1st drop and give the rod to one and pull the fish away from the wreck, can I drive, No, can I work the gas, No, Keep the rod up, leave the gas alone boy.
[IMG][/img]
[IMG][/img]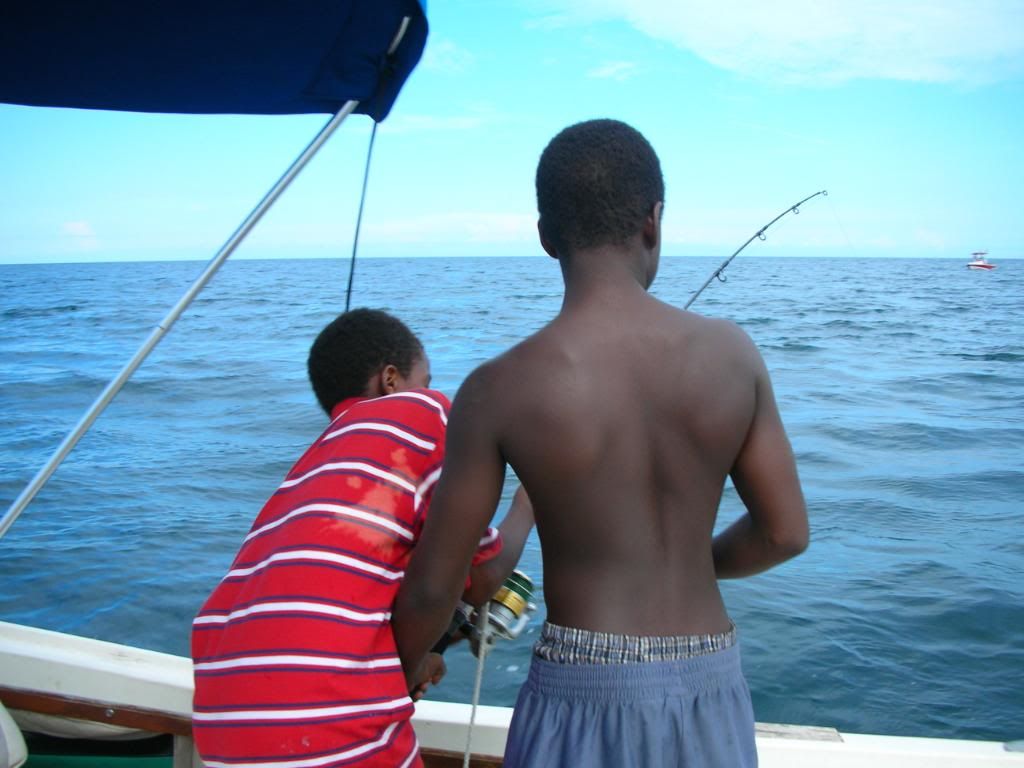 I tied a lanyard to the rod cause I did not want them to loose my new Travala combo that I replaced over the side. The 1st fish was a Almaco and in the box. Move back over the spot, can I drive, No, can I work the gas, No. Drop 2 and fish on, hand off rod to next boy, and pulled off the wreck, can I drive, No, 27" AJ comes in the boat, nice fish boy but it is to short,
[IMG][/img]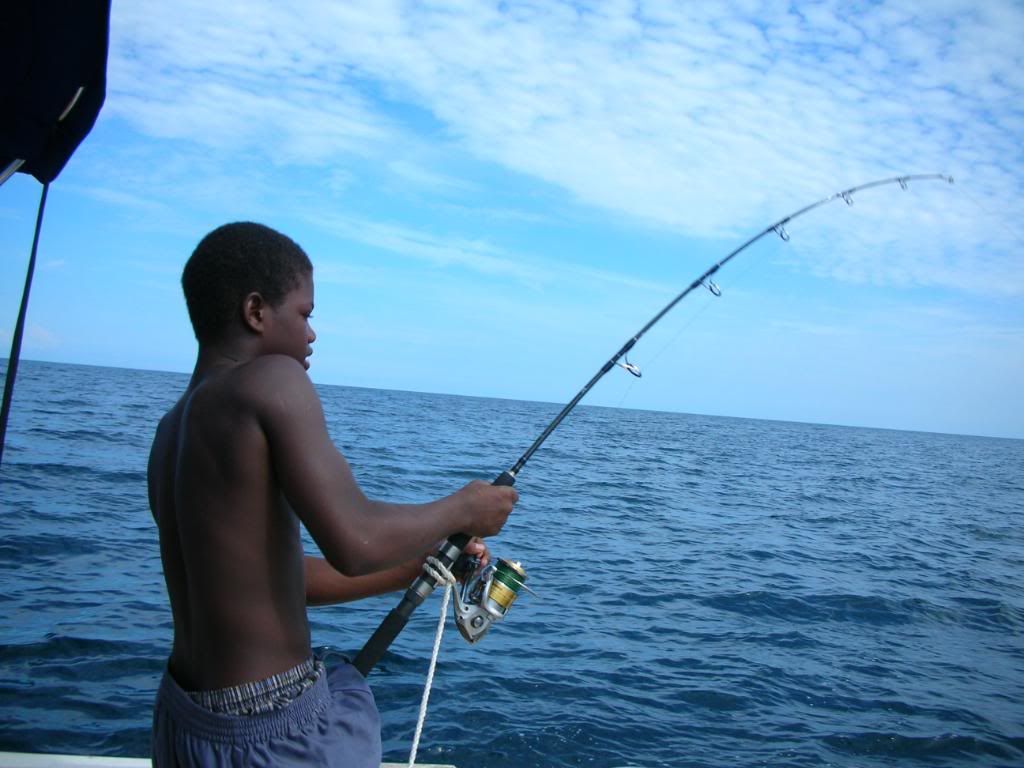 I want to keep it, no it is to short and back it goes, I get another turn cause you put it back, No you fought the fish and got it in the boat, fish caught, his turn now, thats not fair, shure it is. Can I drive, No, Can I work the gas, No, are we going to Mc Donalds, No. Another AJ and a Bonita and I was ready for something else. Headed in to try for a king for them, can I drive, No, can i work the gas, No, can I cast now, No. Can I use this pole, No. Got to 50' and drifted some livies for a while, I wont to cast, I know you do. Nothing on the drift and they were loosing interest so slow trolling is next. I put fresh baits on start the troll, short time and fish on, they fight it for a while and it comes in another bonita. Can I cast now, No we are trolling, Can I work the gas, No it is fine. I want to cast, Not now boy. By now I am neading a Zanex or something stronger.
Finaly some time to my self and no questions
[IMG][/img]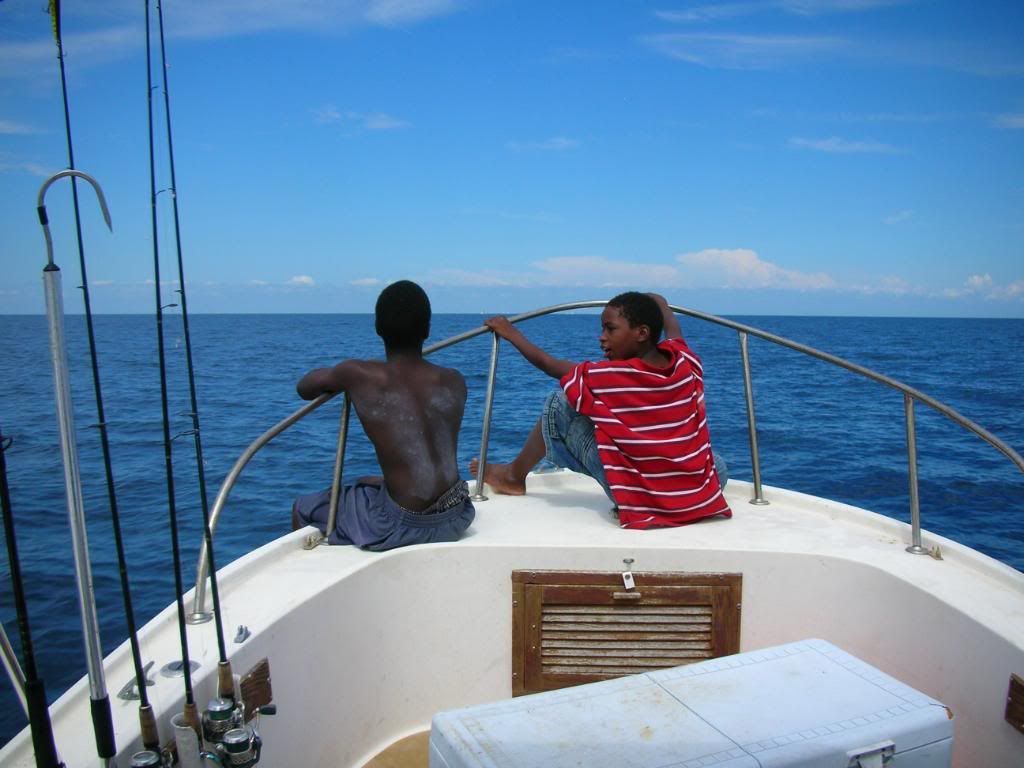 We head in to the Turning Basin to try for some Macks and now you can cast. Can I use this lure, Sure, one cast and he puts the rod in the holder and gets out the bread. He wanted to cast all day and now is his chance and he wants to eat? One minute later and he is ready to cast and I look and see a dough ball on the last trebble. You dont fish with dough balls here boy, I want to catch a bass, There are not any bass here its salt water. Nothing biteing and I have had enough, put the rods away and head for the ramp. Loaded the boat and hear, Can we go to Walmart, NO. Are you going fishing next weekend, NO.
I dont know if I accomplished what I set out to do, but I tried to change there life a little. Lock your doors and keep an eye on your boat, cause Now they wont a boat, and you all know what else they need.
[IMG][/img]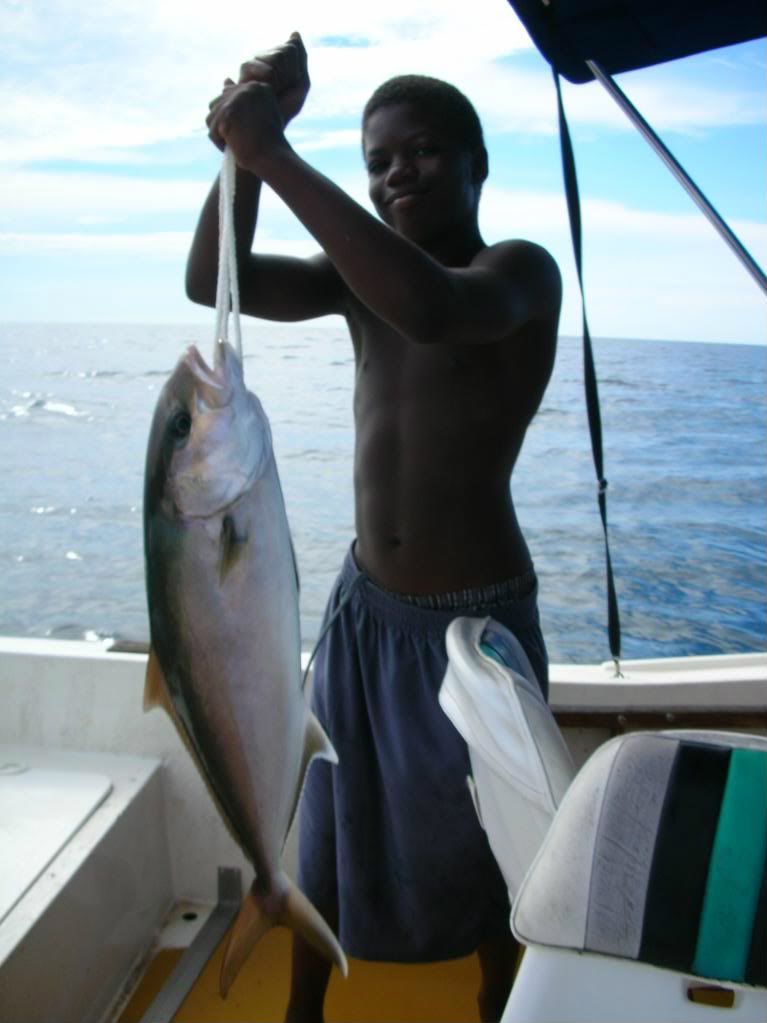 [IMG][/img]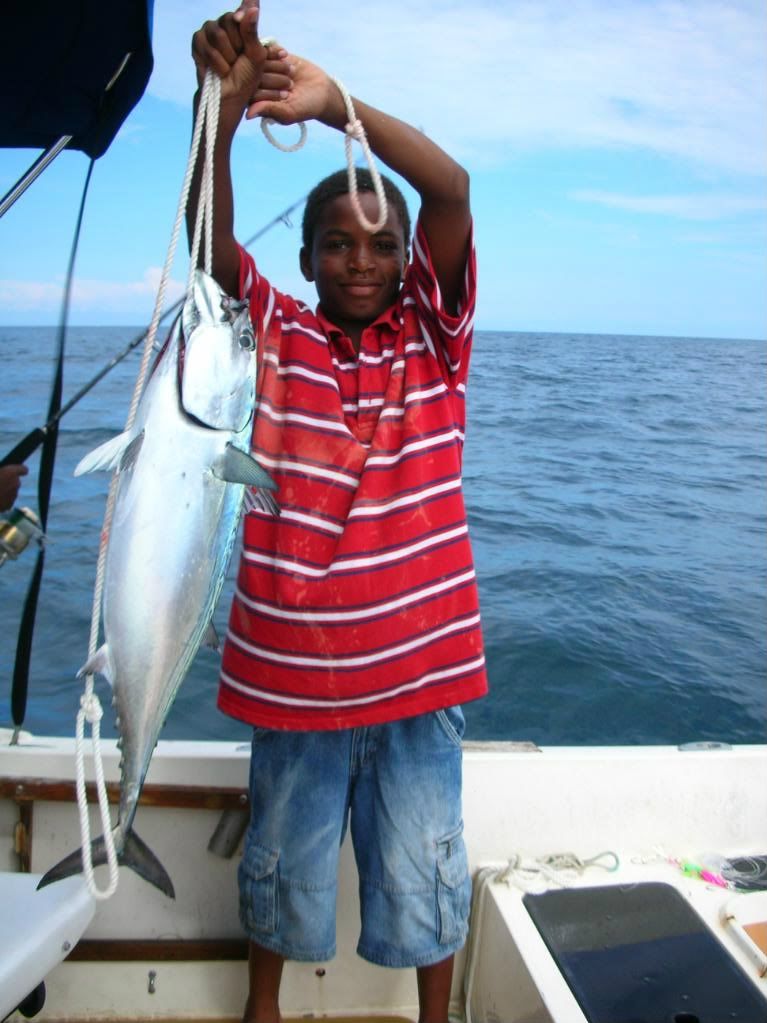 [IMG][/img]
If I get robbed again, the Police will handle it, i dont even wont to know who got the stuff.
Total tally
2 AJ's released
2 Bonita
1 Cuda
1 Almaco
LOCK YOUR DOORS AND KEEP THEM LOCKED, I AM