Home
›
Northeast General Fishing & The Outdoors
Ledge trip - Sunday 5/29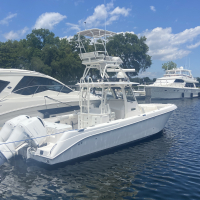 cftsmoke
Posts: 378
Deckhand
After a long period of being shore bound, I managed to put together a last minute crew and trip to ledge.  The trip also gave me a chance to op test everything on the new boat which was an added bonus.  Due to the last minute planning, we got a later start than I'd hoped for out of Mayport but the run out was a comfortable cruise.  The water temp stayed in the 77-78 range for the first 45m and, although we started hitting decent weed lines before Elton, there was alot of scattered weed that also made trolling a constant chore.  We ran out to the drop and trolled some good weed at 600-800 and managed to pick up 4-30" mahi and a blackfin in an hr.  Then it got quiet.  By the radio, it sounded like everyone was picking off singles regularly but nobody was killing it.  
After another hour, we ran back into Elton and picked up some bees and triggers to round out the shopping cart.  Great day with friends on beautiful seas.  We even managed not to get the pop-up storms guarding the inlet.
2016 Everglades 325.