Home
›
Ten Thousand Islands General Fishing & The Outdoors
12/9 foggy!
nobleone
Posts: 107
Deckhand
Went out a couple of hours yesterday in the DENSE fog, haven't seen anything like that in a couple of years.  Went slow speed mostly out the pass, fog did not lighten up at all into the gulf.  Looked like everyone was staying inshore, many boats where there are usually next to none.  Threw the topwater at likely spots on a bar that was just beginning to show.  No hits and more boats showing up by the minute.  Back into some bights  when this redfish took a swipe at the dark topwater (white wasn't working so good), he missed it and got the trebles in the head, into the net he goes after a couple of under the boat attempts and once around the troller.  Fished farther into the bight without success, water was getting low, bar was showing full.  Time to run into the back.
Fog had lightened a bit but visibility was poor.  Too many boats!  Idled past to a spot, power pole down.  A few throws, nothing.  A Whaler pulled up too close and the guy pointed out a spot to his friend so I threw the topwater there and a 24" snuke crashed it.  The whaler guy hollered, "Trout, eh?"  I just grinned and released the fish.  Too many boats for my tastes so I headed further in back.  Water was moving pretty good.  Had a couple of follows but no takers.  Fog had mostly cleared and temp was rising, no sun yet.  Got another snuke but water had slowed down significantly.  Ran back to the marina, still a little foggy and of course jet skis idling around right in the channel, bumped bottom, tilt up, cleared the shoal back into the channel.
Another great day in the 10K.
PS  My hundredth post!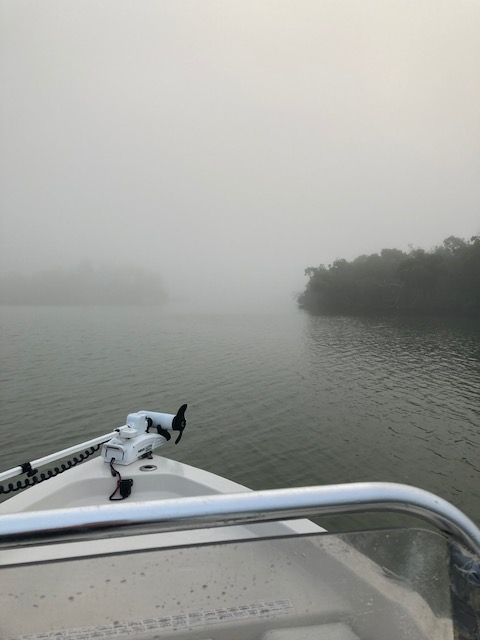 "If it's not one thing, it's an alternator"