Home
›
Big Bend General Fishing & The Outdoors
Cedar Keys, Thursday 8/19
Moon Shadow
Posts: 1,074
Officer
My main reason, besides getting away a little bit, of going to Cedar Keys on Thursday was I wanted to take a few photos and videos of Brown Pelicans and other birds.  I wasn't disappointed as I was lucky to get some amazing videos and photos of them diving and feeding.
Since this is a fishing forum I will make a fishing post because I did fish in several spots from shore and piers.  The first spot or spots I stopped at was where you first reach the guardrail just outside town.  Parked the car and walked up and down and casts, frozen Shrimps with a float just set around 18 inches and let it drift.  I had hope of catching a red but every few minutes I would reel in a 10-inch catfish.  After about 10 of them, I said enough of this and left.  Driving by the pier on the left I notice nobody was fishing on the pier.  That should have been my first warning, but no, the pier was calling my name.  This time I had a pack of squid, A for sure catfish draw, so I cut off a big piece and tried it anyway hoping for a big black drum.  I have in the past caught huge drums using squid, but that was in the past.  Today as soon as the squid hit the water a big Sailfin catfish suck it up.  Every 3 or 4 minutes I caught nothing but catfish.  After about a dozen caught fish I looked at my watch, Lunch Time!  It was hard leaving all this excitement but I didn't look back when I left.  Had a picnic lunch at the beach, that is what they call it.  It's just some sand dumped on the land but it is kind of nice.
The next stop after walking downtown taking a few photos of the birds was the main pier.  I left my poles in the car this time. It was time to take the Pelicans. photos. I stood on the pier, there were just 3 other bored-looking people fishing on the whole pier.  In a half-hour of taking photos and videos, I manage my best photos and videos of the diving birds I ever took.
The last stop was Shell Mound, again the pier was completely empty.  Fished for another hour and take a  guess what I was catching.
Hard to believe but yes more Sailfin and hardhead catfish.  I was in shock when a 3-foot shark bit me off at the pier after a few-minute battle.
Oh well, I did make my goal of filming the pelicans.  Here is the video it really did come out better than I could of hope for.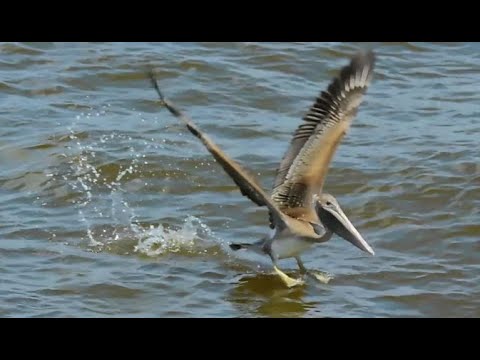 https://www.youtube.com/watch?v=1zAZ0bmM37U