Home
›
Fly Fishing
Venice, LA trip report....Tarpon, redfish, sheepshead and alligator gar on fly.

Randy Richter
Posts: 64
Deckhand
Took a group down to Journey South Outfitters in Venice for a three day trip, but arrived early and went out with Captain Bobby Warren for a day of pre-gaming. The primary focus was reds, but tarpon were rumored to be around, and although tarpon on fly are a rare event there for many reasons, I came prepared with a 12 weight rigged up with a 6/0 black and purple ep baitfish pattern. Once we got outside the marsh, we immediately saw a rolling tarpon, then another, and another. We decided that perhaps the redfish could wait. We ended up in the middle of an acre or two of rolling tarpon, many of which appreared to be VERY large. There was some current, and the water was murky, so I started just making long casts with the 12, and swinging the fly down and across in the current. Had a jarring hit about twenty minutes in, but turned out to be a large jack. Then, maybe half an hour after the jack was released, I came tight again, just as the fly started to swing. The fish moseyed off, taking about 150 yards of line, but identity was still in doubt, when suddenly it launched out of the water. Giant tarpon. My knees instantly went a little weak. What came next in the deep water, and current, I can't make very exciting. I pulled as hard as could, using the butt of the rod, and all the tricks I've learned on tuna and big sharks, and it didn't seem to make much difference. The fish only jumped a couple more times, and mostly didn't expend much energy. It took a long time to land, too long, but eventually ended up boatside, and we leadered it, guide estimated at 130 plus. Honestly, looked bigger to me, but I may have been hallucinating at that point. Fish got feistly on the leader, and we didn't end up with any pics. Haven't been able to stop thinking about it since I got home. People from the area keep messaging me, and sharing how rare tarpon on fly really are there down there. The first one landed, ever, on my guides boat on fly,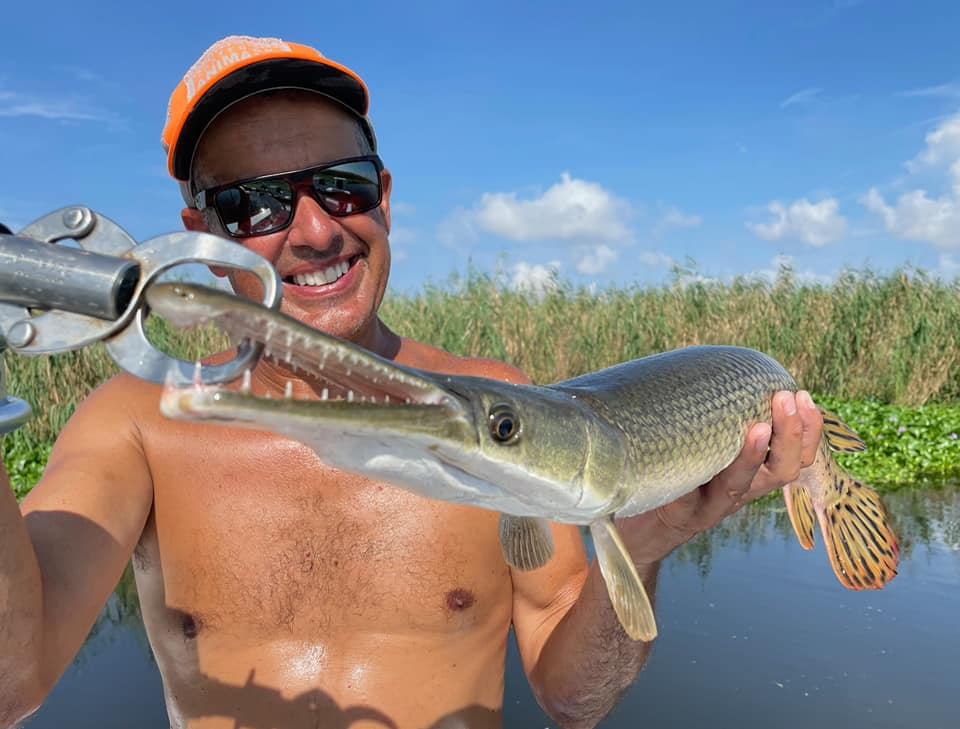 and he's been there 30 years. I feel very fortunate.
The three days at Journey South flew by. One day where two boats had decent fishing, and one struggled. 2nd day, storms, and not one fish was caught. Third day, everyone lit them up. One of the boats landed 15 reds between 15 and 25 pounds (on spin) fishing the schools on the outside, the other two boats poled the inside. I landed 8 reds, a sheepshead on fly which I was stoked about, only my second, and really concentrated on the alligator gars. I hooked five, landed a small one, and lost a giant that looked as big as I was. The aggression with which they launched themselves at the fly was amazing, honestly, have thought about them more than the redfish since I got back. Journey South, with Captain MOe and Eric Newman, took wonderful care of my guys, and the food experience is unbelievable. I can't wait to go back.