Home
›
Northeast General Fishing & The Outdoors
Offshore Mayport 5/30 Kings, Cobias, and 1st Sailfish
Sea-Squatch
Posts: 2,117
Captain
We got an early start Sunday morning, and planned on making it out to Elton. We caught our pogies quickly at the poles, and started out to Elton. It wasn't long before we knew Elton wasn't going to happen for us. The north wind, and a super unorganized ocean had us running pretty slow. It was also a super wet ride too. We stopped at MR, and bottom fished. The snaps and sharks ran us out of there. We decided to troll to RL, and it didn't take long for us to hook a small sail.
Here's my 13yr old w/ his 1st ever sailfish.
It was a quick pic, and then released. High 5's, and then some more trolling. We never had another strike all the way to RL. We did put a small king on ice from the flat line. It started laying down so we slowly made our way to AH. We caught a couple of stringer fish, and a little bit better king. The ocean got better, so we ran out to TW. At TW we got into a decent bite of stringer fish, caught a nice king, and a couple of cobia (1 keeper).  It was a fun day, and we managed to scrap up a good box of fish.
Here's our pic back at the cleaning table.
...and if you're bored, watch our video from the trip.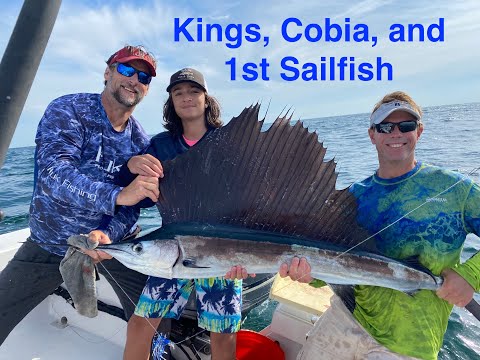 https://www.youtube.com/watch?v=fGm5Ewqag1M