Home
›
Southwest General Fishing & The Outdoors
Lot of things were Going Wrong...But then they didn't...TUNA 02/26/21
CaptainBly
Posts: 2,749
Captain
So, decided to get out on Friday after all this crappy weather and before a 1000 boats would be out there this weekend.
Put together a crew of the usual suspects.  Manny, Kevin, My brother Zeke and his buddy Butch and off we went.
Burch and I did a little pre trip trip on Thursday and put the traps out.  We then went scouting for white bait.  Get to the bay pier at Fort Desoto and didn't see any flipping but the screen lit up.  So I put down the trolling motor and get the remote and press the anchor lock and no beepie.  Well crap...
Unplug it, plug it back in hoping something didn't boot up right but no...it wasn't working.  I had a second guy that could drive the boat though and all good.  Throw the net a couple times but couldn't get anything.  So we head to the gulf pier.  One and done there.  Got more than enough and loaded the well.
Put them in a bait pen overnight and hoped they would survive.  Load up on Friday and they are still kicking great so we got some great bait.  Traps are loaded with pins so we are overloaded but off we go.
SO, I had to put down the anchor offshore for the first time since getting this boat.  That kind of sucked but surprisingly I hit the anchor bearing right on the nose pretty much all day.
First spot was slow but we put a couple mangos in the box.  Tide was RIPPING north.  Jigs were very hard to use it was going so fast.  1/4 oz was going 100+ feet down tide but we were getting bites, just hard to deal with with that much line out.  3/8 oz worked better but weren't getting bites.  Tried the hog balls too which got way better up and down.  Picked away all day.  Tide finally slowed down and was much easier fishing but the bite was slow.  I am assuming because of the full moon.  At the 3rd or 4th spot the free line goes off.  Hootie Hoo.  Haven't had that in a while.  I grab the rod and the fish is making some impressive runs so I am thinking and hoping Tuna.  But then comes to the surface way away from the boat which is not like a tuna.  I slowly get him in and he is tail wrapped but it is a decent black fin and he goes in the box.
Put the flat line back out pretty quickly and literally within seconds....the drag starts screaming.  I hand the rod to my brother and we land another MONSTER tuna this time.  Probably twice as big as mine.
Start noticing some dead baits in the live well and the live well pump is kind of squeeling a bit and not pumping enough water so I turn off the pump, open the hatch up close the seacock, and unscrew the live well pump to see if anything is jammed in there or something.  There was a little seaweed in there so I cleaned it up and had someone flip the switch back on and now it doesn't run at all.  Crap...  I have a second well but really have never used it and that switch isn't working.  I even have backup pumps but the bait was already dying and didn't get that crazy.  Saved as much as we could just dumping water in there but it was a losing battle.
No more tuna hit so we jumped around.  I didn't take a final picture of the box but we probably had 10-12 mangos, a few lanes, and one keeper Red Grouper.  Like I said, it was a strange bite.  But we managed and tuna nachos tonight are going to be awesome.
On the way in we came across a pod of playful dolphins.  Took this video.  They were pretty fun to watch.  As you can tell from our stupid discussions, we aren't sure what flavor they were but they were fun.  I am sure Will can help us out with some id'ing.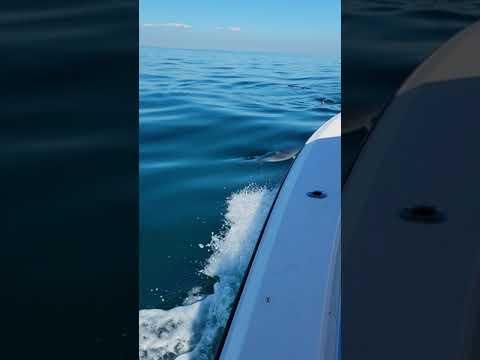 https://www.youtube.com/watch?v=tcPv9YP1xx4
It was a gorgeous day on the water though.  68 degrees offshore.  Fished the pipe in 105' of water about 34 miles west northwest of Egmont.  Tried some new spots and found those tuna at one of them.
Was a very slow bite though even though we had great shows.  Got to think it was the full moon hangover.  Only a few smaller ARS today too which was good.  All bait produces.  Frozen Dines, live and fresh dead white bait, pins.  
Tide was RIPPING north early and was almost unfishable but settled down.  Rigs ranging from 1/4 oz to 1/2 oz jigs or hog balls.  
Tight Lines...
In Loving Memory of James Zielske, January 19, 1957-July 5, 2013