Home
›
Southeast General Fishing & The Outdoors
BBI 2/25 Nada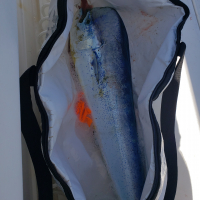 JWPB
Posts: 262
Deckhand
I never fish a West wind, but had not used the boat for months so needed to run it.  Late start after fog cleared.  Left BBI around 10:15 and outside the inlet, north and south was a parking lot full of boats between 50' and 200'.  Kites, trolling, bottom fishing.  Looked like Juno beach on a weekend....
I tried to stay away from boats, zig zagging around shallow to find a hole I could head out.  Nice blue water, calm, 76 degrees.  Saw a mackeral sky after some bait around 200' off martini but never hooked anything.
Headed east to 650, found scattered weed around 450' on way east and trolled it, but was scattered, no clumps.  Found some slicks as well, and followed them, but nothing.
Around 12:15 wind switched to NE and report say 12mph but it kicked up white caps, steady chop and made the fishing uncomfortable.  I continued around another 2 hours, scattered birds, flyers, weed, but never hooked up.
Was trolling 5-7 lines, all artificial, diving plugs, #2 planer and all different colors on top, including a bird shotgun.  Not even a bonita inside 200 south of BBI or off the pier on way back in.  But was a nice day to be out there, and troll back with waves and wind behind me was much more comfortable.

Jupiter 29FS