Home
›
Big Bend General Fishing & The Outdoors
11/15 CR trip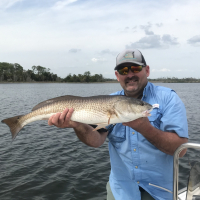 Wishin i was fishin
Posts: 988
Officer
  Been a while since I've posted anything, so I'll brag about my grouper trip. About once a year or so I get the urge to try fishing for grouper. Something I've never really had a ton of luck with. This was the weekend, as the bites been good based on recent reports and the wind predictions were decent. So we headed west around 8am to the 15-20' range and started dragging 20' and 25' diving plugs and was pleasantly surprised with a keeper gag pretty quick. Another hour or so trolling the same area 2nd keeper came aboard. 
  Made a move to a different area a few miles away, hooked a short. Put in another 30 minutes trolling with nothing. Decided to bottom fish a promising looking ledge and finished a 2 man limit by noon. 
 The most productive gag trip on my boat to date! I did receive a few pointers from a forum brother. You know who you are, I didn't wanna put you on blast. Thanks a lot!
 Headed back inside to see what we could do inshore. Added a trout while searching for reds with our leftover pinfish, and called it a day around 3pm.