Home
›
Southeast General Fishing & The Outdoors
9/15 bbi to lwi mahi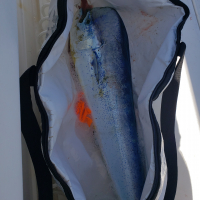 JWPB
Posts: 262
Deckhand
Have not fished much this year, las trip in June was skunked out of bbi, not even a Bonita.

Fished 9-12 am out bbi.  Ran deep and found edge of stream 10-11 miles out.   Just current line, not a lot of trash or weed.  Kept going to 1300, gave up and blind trolled for 2 hours.

4-5 current to north, small seas, 83+ water temp.  Finally gave up and turned back in off of WPB and started bringing in lines to run in and fish shallow.  Got 2 in when I saw the edge again, but this time with weed and turltes.   Turned north and put the 2 lines back out and caught 2 mahi in about 20 minutes and headed in.   23 and 26 inch cows.  I typically would have thrown back the cow but freezer is empty and I have people in town who will eat the roe.

Second was 26 inches, much more lively fight, again, would have thrown back smaller had i caught the 26 incher first. 

Was a really nice day, steady se wind so not too hot. Seas spaced far enough that they moved boat and baits around but nothing jarring.

Jupiter 29FS