Home
›
Southwest General Fishing & The Outdoors
Sea Trek ARS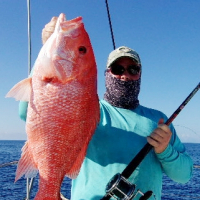 Shedhead
Posts: 62
Deckhand
Embarked on two trips with Sea Trek out of Ft Myers Beach. One June 19th -21st  the other just last mid week. My first experiences on a head boat.  
Both trips ended with good catches, with the first having a group of googans consitantly crossing lines and doing other stupid things, we didn't get out ARS limit, not necessarily fault of the crew. But the second trip much better overall for the boat, a limit of ARS and a better by catch.
This is a do it yourself kind of trip, food, rods, reels, not included. General  knowledg of bottom fishing a big bonus. Any my most memorable photos.