Home
›
Northeast General Fishing & The Outdoors
Everglades 325/355 vs Boston Whaler 320/350.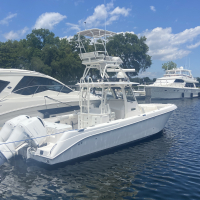 cftsmoke
Posts: 378
Deckhand
I did post this in the "Boating" forum but also wanted to see if anyone here in my home waters has any insight in real world use with what we deal with in NE Florida. 

It is about time for a repower or possible move up from my 05 Everglades 290 w/twin 250 Verados. Other than the age of the engines, I really like everything about my boat.  The fishing features and ride are great for me while the family likes the creature comforts, safety and comfortable seating - a coffin box just doesn't fill the need when doing anything other than fishing.  The unsinkable hull also provides a level of comfort when running 40-60M out to get to the ledge in NE Florida. 

As far as the upgrade, I've started looking at used (2016-2019) Everglades 325/355 and had someone offer up similar year Boston Whaler 320-370.  Not interested in Yamaha 350 so the Everglades will be twin/trip Yamaha 300s and any Whaler would be the same configuration in 300-350 Verados.  Does anyone have experience on either of these boats and engine combinations? Fishability, performance, durability etc?  Any insight would be greatly appreciated. 

Yes, it is more than I want to spend on a boat but the bride is actually pushing this so who am I to argue? 
2016 Everglades 325.