Home
›
West Central General Fishing & The Outdoors
Large Reds in Tampa Bay 6-20-11
GEO
Posts: 33
Greenhorn
Redfish are a good target right now on the incoming tide. With the hotter water temperatures redfish are still willing to bite. Redfish will come in to feed as the tide rises. They will feed on grass flats that have many sand holes especially near some mangroves or oyster mounds. A stealthy approach is the best way to insure a better chance of success. Also do not crowd the redfish out of the area they are feeding but instead make longer casts or use small pieces of cut bait to chum them to you.
A 7' 6" Medium light rod with 10lb braided line will help to achieve longer casts which will inturn help you catch more fish, especially if they are spooky.
On the business end I use 3 feet of 25-30lb fluorocarbon leader with a 1/0 -2/0 light wire circle hook, depending on bait size.
Live baits like scaled sardines or pinfish free lined are good baits and you can also put them under a cork just above the grass line so they can not hide but are at the feeding level.
Cut baits are also a great choice for redfish. Pinfish, ladyfish,mullet, scaled sardines and any other oily fish will ring the dinner bell for the redfish.
Areas holding redfish are the 4th street area, Weedon Island, Tierra Verde and Fort DeSoto.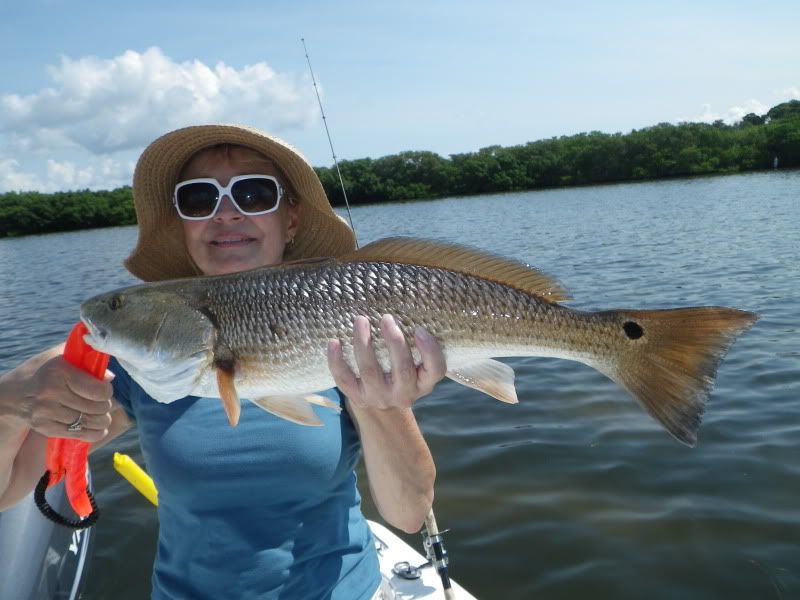 On another note cobia have been showing up on the deeper grass flats where they drop off, also around bridge pilings and channel markers.
Have a heavier set up ready like a tarpon spinning outfit rigged with 50lb braid, a 5 foot 80lb leader and a 5/0-6/0 hook.
Live threadfins, large scaled sardines and pinfish are all great choices to throw at cobia.
Capt. George Hastick
" The Fish Hunter "
Fishing Charters
Www.fishtampa.com
727-525-1005