Home
›
General Paddle Craft
Fort Lauderdale Inlet - 9 May 2020 - The Blackfin are Biting
John McKroid
Posts: 4,211
Captain
Thankfully the boat launches are back open after a long shutdown due to Corona Virus.  I launched in the early hours from the public boat ramp at SE 15th street and enjoyed a favorable current all the way out the inlet.  Goggle eye fishing was slow, but I managed to get seven before heading out to the pre-dawn fishing grounds.  Even without live bait the previous trip about a week earlier produced four nice Blackfin Tuna using Vertical jigs.
This time, I had hopes of finding a nice Mahi, Wahoo or a larger Jumbo Blackfin on live bait.  The first bait went out about 15 minutes prior to sunrise in 90 feet of water.  When I reached 200ft of water I discovered that the current was 2.3 knots Sth.  I metered some fish that seemed to have lockjaw.  Since I did not want to end up peddling back from Tenneco Towers, I peddled back in shallow to get out of the current.  I was tired from my early start, and if I was going to give it a try in the afternoon, I needed to take a nap.  I looked for the swim buoys to tie upon, but it appears they have been moved?  So, I drifted at about 0.2knots Sth in 30ft of water off Dania pier while I went for some sleep.   Two hours later when I arised from my nap, I expected my goggle eye bait to be stripped off by Triggerfish, a Cuda or shark.  Instead, I was stoked to learn that a nice Mutton Snapper had swallowed it!
That made my day, but I still wanted to put the remaining 4 goggle eyes to use, so I headed out deeper to see what I could find.   The wind had come up and although it was bumpy, the current was now wind countered for about a knot of Sthly set..  The dirtier water made it easier to fool the fish with the vertical jigs, and soon I started hauling in some fish. 
 I still had fresh fish at home, so I released most of the catches.  Live bait produced a couple of bite offs including a brief hook up reeling in a surgically sliced half a google eye making me believe I had just missed a wahoo.  I also leadered a sailfish and would have gone for the alongside bill photo, but the Sailfish pulled me into the precautionary area and there was ship traffic, so I tightened the drag which resulted in a break-off.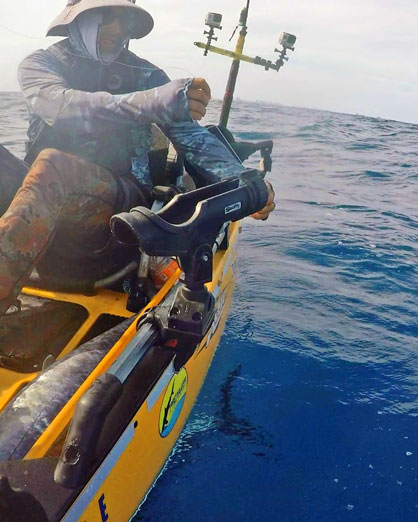 Other than the Mutton, I did harvest the larger of the two legal King Mackerel I caught, A blackfin that looked like it would bleed out if released, and a 28lb Tuna taken on my last live bait.  
Spring is the best time of the year for offshore kayak fishing  -- get out there!