Home
›
Photography Corner
Resident Hawk
gogittum
Posts: 4,246
Captain
Going to try an experiment here.  In addition to taking pictures, I'm also a story teller and have 100s that I've shared.  I'm going to try copying and pasting a short one to see if it works.  Here goes:     Nope, didn't work.  Do it the slow way:
A few days ago, I was working at the computer and saw a flurry of movement near the feeder out of the corner of my eye.  A quick look up and I saw a small Hawk down by the watering dish with a Finch in its' talons.  You can barely see the Finch.  Had time for just 1 quick shot and he grabbed his lunch and took off over the hill with it.  I kind of hated to see the little guy killed like that, but Hawks have to eat, too..........
This morning, at the computer again, and saw a Pigeon land in the plum tree that holds the feeder.  Haven't had Pigeons here in the past and I wasn't pleased - I look on them as flying Rats.  A closer look, I saw the hooked beak and I grabbed for the camera.  My Hawk raising friend in SE Oregon had tentatively identified the one the other day as a Sharp Shinned Hawk.  Mr. Hawk has found the cafeteria and came back for a repeat but was disappointed this time.......but I wasn't.  I got a couple of very nice shots of him and my friend confirmed the Sharp Shinned identification..........
Hawk about 20 ft away, taken thru living room window.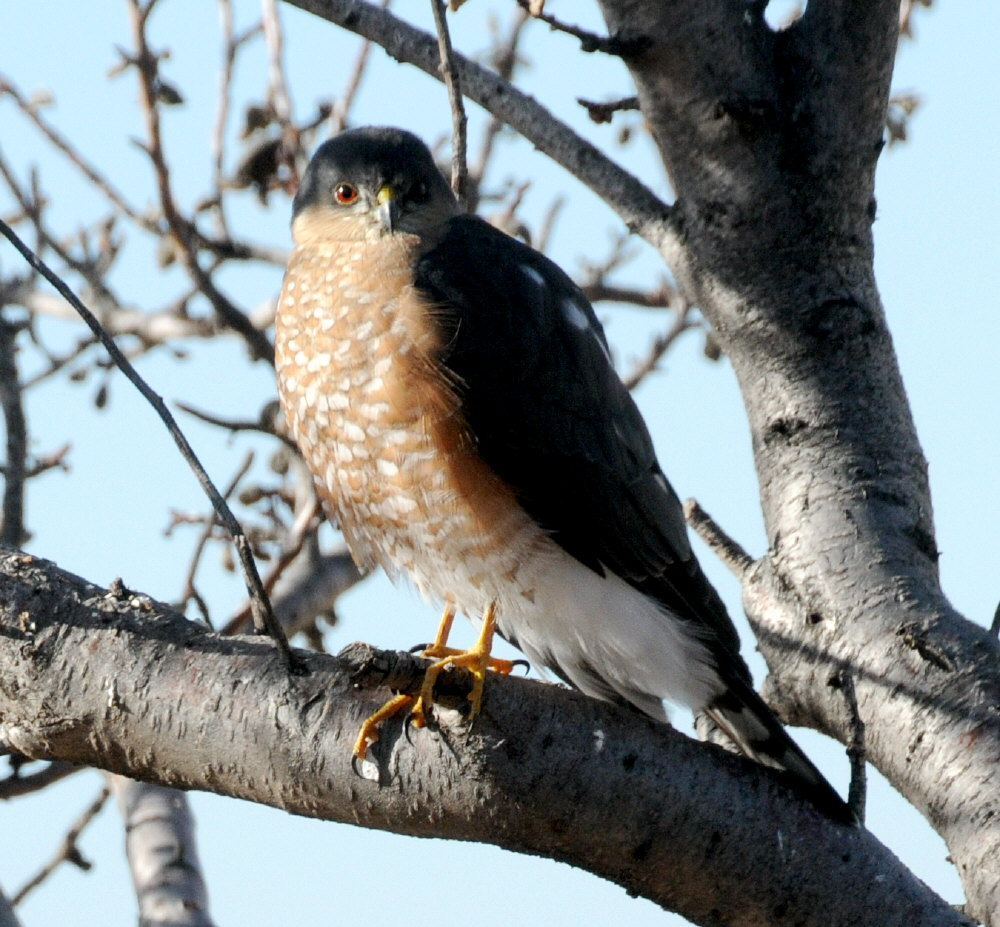 He sure has a wicked set of talons.
Not sure if this is an acceptable way of doing things.  Hope so.......let me know.