Home
›
General Hunting
"It's finally here!"
harbison
Posts: 4,507
Captain
Well! "It's finally here," November. For many of us this marks the beginning of the best time of our year, hunting season. We in Florida are so fortunate to have many public lands. The Florida management areas offer, for a most affordable fee, some very good hunting. For the more serious hunter, clubs & outfitters offer tremendous opportunities for that real trophy, our hunt of a life time.
I personally have hunted deer & bear in Maine, elk, and bear in New Mexico, and the famous "Black belt" area of Alabama. After over 1/2 a century of hunting I will take Florida wild boar hunting over anything, anywhere, I have ever hunted. The thrill of the stalk, or sitting in a blind & hearing footsteps approach, then you can even hear them breathing. The noise their ears make when they shake their heads is, to say the least, fascinating!
Monday morning, time to visit Tiger island Outfitters, Cedar Key, Florida. I check into the cutest little cabin you have ever seen. Boy was it warm inside. One thing, watch that darn little basset hound named, "Cornbread." I found out the hard way...Cornbread loves TV dinners.
Tiger Island is under fence; however, the hogs are wild & free running in a very large area. They are as hard to harvest as any hogs I have ever hunted. These dudes are not just wild, they are very wild, and smart.
Shall I stalk hunt, hunt from a tree stand or blind. I know I can walk the oaks all day long and never see the same tree twice. However, it's raining, think I will hunt from a nice dry hut. My guide for the evening hunt, Mister Joey Henderson, recommended a hut overlooking a very active corn feeder. Joey took me to my hut, and what a hut it was. Hog signs were everywhere. Even after doing this stuff for a lifetime, my excitement level was off the chart. Will the rain force the brutes to hold up, or make them more active? I have seen it do both.
After about an hour I see my first sign of activity. Hogs! Only problem was they were way off, but headed my way. Closer, closer, they came. Will I get a shot? Do they know I am here? Are they teasing me? This one lone boar, around 100 pounds, appears and looks directly at me in my hut. If I even think about moving, he will disappear in a cloud of dust. Finally, the smell of that golden corn gets the best of this boar; he puts his head down to indulge, time to pick up my gun. Ever so slowly I make my move. Even though I am concealed in my hut, he sees the movement, I freeze. We play out this cat & mouse, rather hog game, for what seems like an eternity. Finally I shoulder my Ruger #1, put the cross hears of my Leupold 3x9 scope just under his right ear, gently touch the trigger & send that massive 45//70, 335 gr., Hornady on its way. What a shot, hog down & out. I call Joey on my radio. He arrives, congratulates me and take this fine animal and me back to my cozy little camp. I shut the door good & tight; that darn "Cornbread" would like nothing better than to make my dinner disappear! A good hot shower, fine meal, and one excited hunter hits the nice warm bed. Think I will do this again in the morning.
6:30 Tuesday morning: I am greeted by two young men, Mister Joey Henderson, & Mister Javis George, my guides for the morning hunt. Let's take a look at the hut I hunted yesterday evening. Has it been hit again? I must say the place was devastated, fresh hog tracks & rooting all over the place. I want to hunt this place. The sun was shinning but boy was it ever cold. This should make the hogs frisky, and hungry. About fifteen minutes after settling into my cozy little hut, I see hogs, hungry hogs. Cute little 50-60 pound BQ size hogs are all over the place. They are actually fighting over the corn. I watch in amazement; what a sight! Then, still in the woods, I see this much bigger boar. I don't think this trophy is going to give me a shot. I raise that Ruger & wait, and wait, and wait. I see his massive outline, but never a clear, put him on the ground, shot. Then, ever so slowly, this monster with the big teeth shows himself. BAM! in an instant it's all over. I call Joey & Javis. This boar is big. They use a winch to load my prize.
Back to camp: Mister Crichton Allen, along with wife Tracy, own Tiger Island Outfitters. Crichton immediately invites me into his house. He is as excited as I am. He wants to hear all about my hunt. Boy did we have a lot to talk about. In the mean time, Joey & Javis expertly quartered my hogs, put them into my very large ice box, loaded them with ice, and put this stuffed hog ice box into the bed of my truck. So long for now! Time to head back to Tampa. I will be back. "It's finally here!"
Bob Harbison Florida native, live long sportsman.
Cutest, well equipped cabin:
What a neat little hut.
Note all the hog tracks, tree stand in back ground:
My Monday evening boar; what a shot:
Tuesday morning. Guides Joey & Javis admire my trophy. Note all the hog tracks: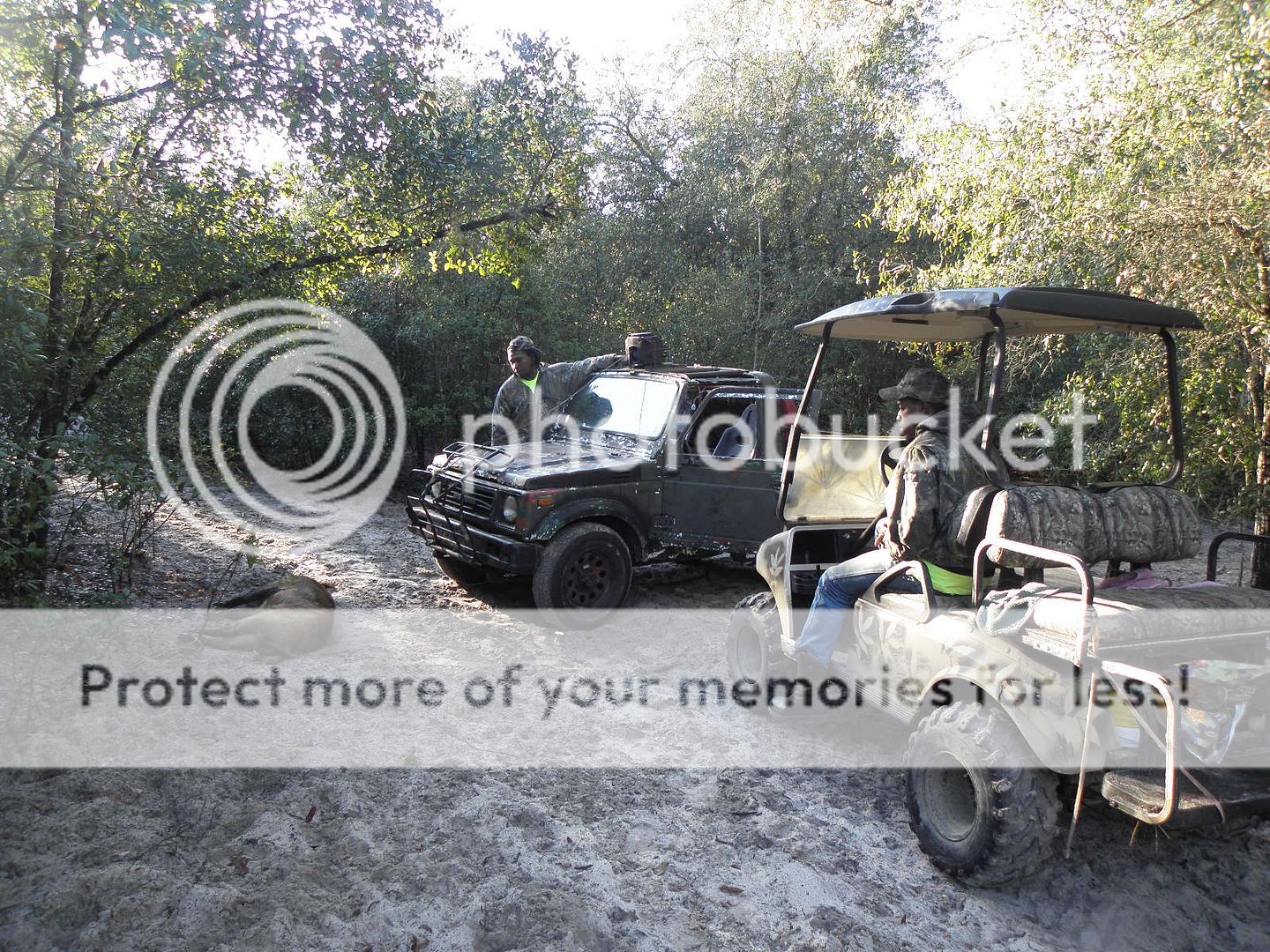 I am proud of this one; Javis checks out my beauty:
Me & my trophy. Had to use the winch to load this sucker: