Home
›
Fly Fishing
Bit windy yesterday...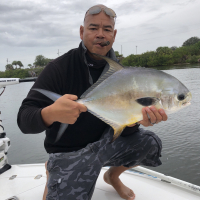 remo_5_0
Posts: 308
Deckhand
I knew the wind was going to be a little iffy heading out but it ended up being not terrible...plan was to fish the flats for some Reds and Trout that we got into last week. Buddy got a nice Red early in the morning and we thought it was going to be on, sadly no more Reds after that one.
Made a move and found a school of Jacks that we fished for a few hours, it was a lot of fun...took a quick video of a few of the ones we caught. My buddy is new to fly fishing and still learning the ropes, he hooked and landed about 4, I think he is "hooked".
https://youtu.be/YATv8xLZdH0