Home
›
Northeast General Fishing & The Outdoors
Offshore 11/26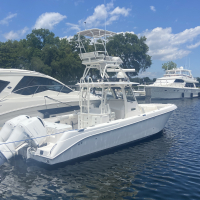 cftsmoke
Jacksonville
Posts: 378
Deckhand
Due to work and family, I haven't been out in 8 weeks so this was guesswork all the way. Left the dock in the cold (46 degree!) and dark and cleared mayport by 0615. We ran straight East past Elton until we hit 75 degrees.  When we saw plenty of life, I remembered one of the guys on here said a lot of guys run past the fish so we decided to drop the lines in and keep going East hoping for wahoo.  I dropped in a daisy chain Cedar plug (blue/white) and sent it way back before starting to drop in yozuris (2) and 2 Rapala divers. As I was starting to put in the second yozuri, the cedar plug got smashed by a black fin. After a good fight on the one vintage outfit we keep on the boat, my son managed his first gaff shot...with only one miss. 
Big mistake of the day, we continued East hoping for warmer water.  In 10 miles it never gained more than .3 degrees. After a few hours, We turned around at 140 and ran back in to Elton to see if we could find another black fin and hit the bottom bite.  Although far from killing it, we managed 6 Beeliners to round out the trip.   Long and short, don't leave fish to find fish and 78 is not the preferred temperature apparently.  
It was like glass out there.  Beautiful day offshore.   The run in was one of the calmest ever. Great day even without a 'hoo.  
Tomorrow I may stay close and take some visiting family members out to wet a line.  
2016 Everglades 325.