Home
›
Tropics
Bahamas Recovery Effort & Customs Clearance Rqts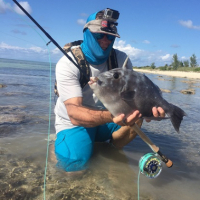 Docked Wages
Posts: 3,167
Moderator
Dear OBB Family and Friends,
Hurricane Dorian is here. OBB is as secure as she has ever been and our family of Staff are hunkered down, however, the storm surge has already completely submerged the marina and resort grounds. Sadly, we expect Dorian to be far worse than Matthew was in 2016. We already know there is major damage and devastation in the Abacos and Eastern Grand Bahamas.
As with Matthew, OBB will once again be the "Command Center" for all donated supplies. Our staff is well versed in this effort, as are our volunteers. We will work in close cooperation with the Bahamas Government, Local Authorities and
NEMA-Bahamas (National Emergency Management Agency).
While we know everyone will be anxious to help, we need to keep our efforts organized as Dorian will have caused enough chaos. Below is the information needed to make any humanitarian goods donations and/or financial donations.
FINANCIAL DONATIONS: Yes we need money to aid in rebuilding. Our goal is $1Million Dollars. We exceeded our goal during Matthew which greatly helped rebuild the West End and we are hopeful we will exceed Hurricane Dorian's goal as well since we now must aid not just West End, but all of Grand Bahama and Abaco as well.
Tax Deductible Financial Donations must be sent to: 
Payable to: Waterfront Way Foundation
In the memo Please put: Hurricane Dorian Bahamas Relief
Please mail the checks to: ​Waterfront Way Foundation
​​​​c/o Vicki Derrico
​​​​825 Parkway Street Suite 8
​​​​Jupiter, Florida 33458
Waterfront Way Foundation is a 501c3 Non Profit and is the ONLY foundation approved by Old Bahama Bay's effort to accept Tax Deductible donations.
Go Fund Me:
Our GoFundMe will also accept Tax Deductible donations on behalf of Waterfront Way Foundation donations and can be found at
https://www.gofundme.com/west-end-recovery
You may also go to Vicki Derrico's personal page at VickiGoldDerrico and click the DONATE BUTTON
Other Facebook's pages Supporting our efforts are: West End Bahamas Relief by Rob Thompson and Winner Circles Charities Gala and Tournaments.
While it saddens me to even have to say this, PLEASE do not be fooled or drawn into Fradulent or Misguided relief efforts or GoFundMe accounts. If you are unsure, ASK.

HUMANITARIAN DONATIONS: At this time we are asking for the following goods.
Bottled Water, Juice Boxes for the Children, Boxed Milk such as Parmalat, and infant formula.
Canned food goods of all varities
Boxed food goods of all varities
Bread
Peanut Butter and Jelly
Baby Food and related Supplies
Sanitary goods such as Tampons, Sanitary Pads, and Infant Diapers in all sizes
Band-Aids and Antiseptic type creams
Charcoal and Lighter fluid
New clothing, infant, child, and adult
Portable Generators and gas cans
Tarps and straps
Flashlights, Batteries of all sizes for Flashlights
Wipes, any brand for personal hygiene
Kindly we ask that all donated goods be neatly boxed and a list of goods and quantities provided when items are dropped off as we must provide the same to Bahamas Customs.
FLORIDA DROP OFF LOCATIONS FROM NORTH TO SOUTH:
Boaters Exchange-Rockledge Florida
Contact- Paulo Berube
321-638-0090
2145 US-1
Rockledge, Florida 32955
Forklift Available
EMS (Environmental Manufacturing Solutions)
Note: EMS is closed Friday-Sunday
Contact-John MacDonald (John Jr)
321-837-0050
7705 Progress Circle
Melbourne, Florida 329404
Forklift Available
Four Fish Marina
Contact-John Fels
772-334-0936
2225 NE Indian River Drive
Jensen Beach Florida 34957
Forklift Available
Waterfront Way Foundation Warehouse
Contact Vicki Derrico
561-262-4130
825 Parkway Street
Jupiter, Florida 33458
Forklift Available
Pompano Beach Marine Center
Contact Jon Burkert
954-956-1450
701 South Federal Highway (US-1)
Pompano Beach, Florida 33062
Forklift Available
Ways Boatyard – Palm Beach Gardens
Contact on site Gregg Hemingway – 561-389-4831
Alternate Lacey Hagler 561-267-2674
2180 Idlewild Road
Palm Beach Gardens, FL 33410
Forklift Available
Stop Less Blasting – near Boynton Inlet
Contact John Grimm 561-777-4649
817C N. Railroad Ave
Boynton Beach, Fl 33435
Forklift Available
Please share this post will all your friends
Please keep in mind that Old Bahama Bay is a privately owned resort
To Fly into West End Airport with goods you must contact
Sergio Nativi at 703-395-6273 Prior to arrival with the date of arrival, Aircraft Tail Number, Pilots name, and list of goods. Sergio will grant you permission to land. You cannot land without permission. Our airport manager Ashley Smith and/or his assistant Cliffy.
Arriving by Boat with goods you must contact Vicki Derrico at 561-262-4130 Prior to arrival with the date of arrival, Boat Name, Captains name, and list of goods. Vicki will grant you permission to bring goods into our docks. All Boaters Must contact Vicki. Our Dock Master Kyle Wilchombe will bet at the marine to assist in checking you in and securing the donations.
Ministry of Finance has ordered No Duty or Vat will be assessed. All aircraft bringing in goods will not be charged the Bahamas Landing and Takeoff fees and All Vessels (Boats) bringing in goods will not be charged the Bahamas Customs Entry Fee.
Pilots and Boat Captains, Please do not forget your passports.

Once again, Be Safe, Think Smart and Thank you for all you support and Love.
John MacDonald
President
[email protected]
Please share this post will all your friends
Mark Wilson
USCG 100t Master, Assist Tow, 200nm Coastal
Marine Surveyor, SAMS, ABYC, IAMI, FMIU
Wilson Yacht Survey, Inc.