Home
›
Classifieds: General
Torium PG 20's and 30's....REDUCED!
triumphrick
Senior Member
Masaryktown, Fl.
Posts: 578
Officer
Right now I have two Torium PG 20's and two PG30's for sale. All have been modified with a positive anti-reverse and spooled with Power Pro. The 20's have some mono backing and about 300 yds of 65 and the 30 has mono and about the same yardage of 80 Power Pro..
These are the newer Toriums...PG stands for Power Gear. It is a lower 4.6:1 gearset vs the 6.2:1 of the HG's or high gear reels. These reels have an impressive 33 lbs of drag using factory carbon-tex drag washers. The molded T-bar is a nice fit and very light weight...
The finish on these reels is much better than the original grey ones. The latest reels also use an enlarged anti-reverse roller bearing. That along with the modification I make insures these reels will not become the knucklebusters that many of the older ones were. All of these reels have had the main and pinion gears greased as well
Pricing...$255 each for the 20's and $265 each for the 30's. One of the 30's has been modified and not spooled...that reel is $235.
These reels have replaced the Toriums, Saltists and Trinidads that we have been using the past six-eight years or so. I have fished them since their inception and they are a delight to fish with...strong and lightweight...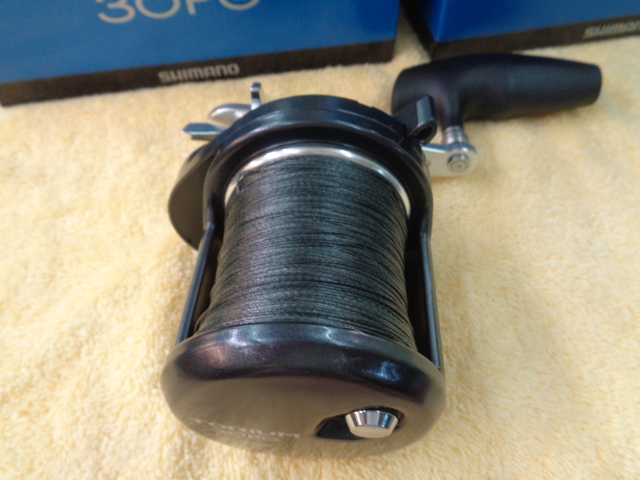 I am bringing these in here from time to time and will have them available, just have to bear with me depending upon the demand.
This is the perfect bottom digging reel, and paired with a Trevala 80-200 jigging rod makes a great lightweight and powerful combination.
Please PM me if I have not gotten back to you on this thread. 
Thanks!