Home
›
General Paddle Craft
Fort Lauderdale/Dania Beach - 26 March 2019
John McKroid
Posts: 4,211
Captain
Ft Lauderdale/Dania report.  Launched out of Ft Lauderdale at 0445am in flat calm conditions.  Goggle eye fishing was slow, so did the power peddle down to Dania pier for bait.  I got there to find 5 kayakeros fishing for bait, and nobody catching. It was a long peddle for nothing.  Started the day with 1 gog and a few grunts in the livewell.  There was a good amount of King Mackerel rocketing in shallow, probably could have had a limit if I had live bait.  I did not want to spend my 1 gog on a king.  Current ran weak Sth, and it was a hard peddle back to Ft. Lauderdale against the current. Before leaving Dania, looked for blue runners with no luck, then did some deep vertical jigging.  Fishing was slow, but the few were good quality. A fish that initially felt like a shark, turned out to be my PB for Gag Grouper, 36", shame it was out of season.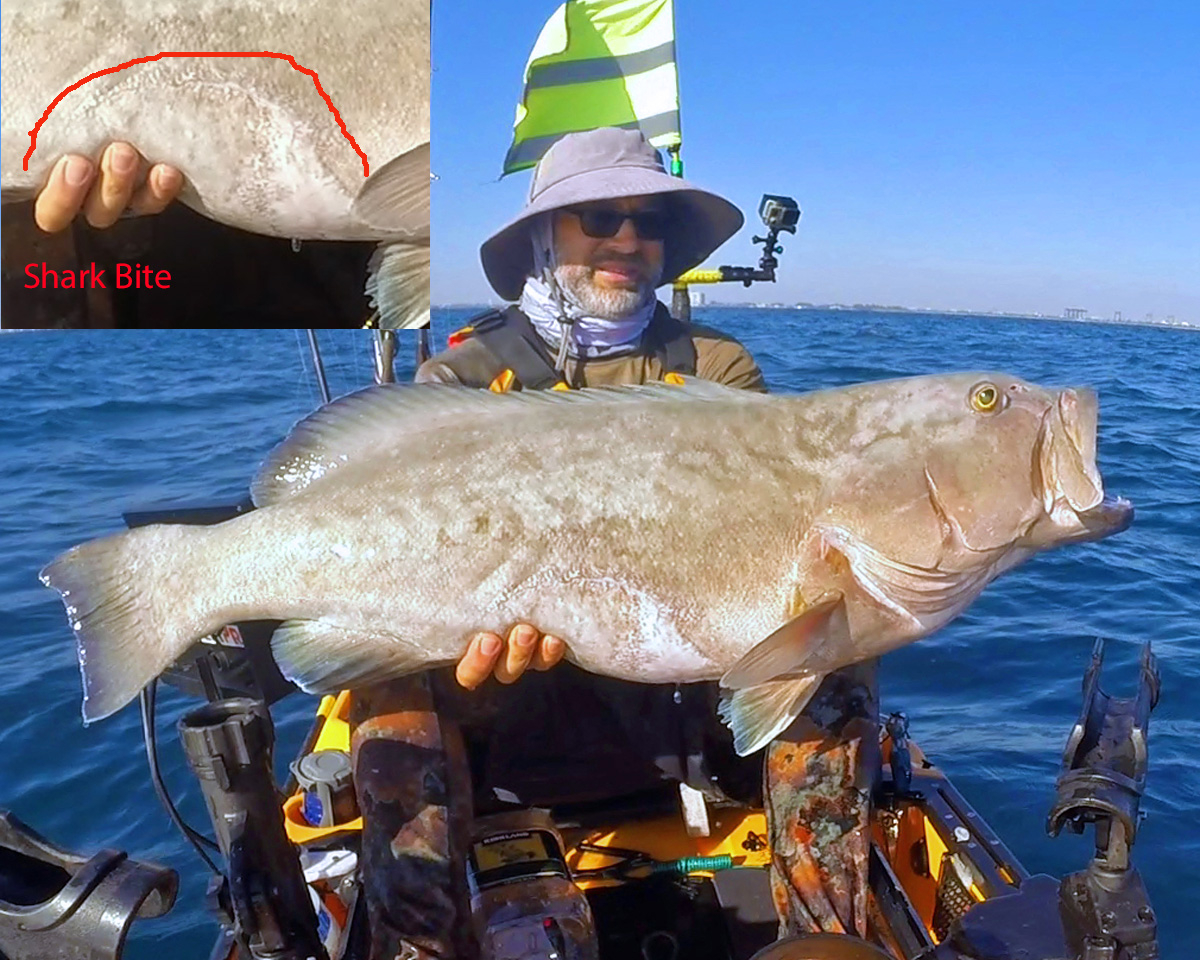 When I first brought the fish up, I noticed the scar on the belly and assumed it was an unsuccessful spear gun shot.  Later when I examined the video, I noted the half round mark indicative of a shark.  These fish have amazing resilience.
It took a long time to revive the fish.  I weakly attached the grouper to a heavy vertical jig, and added an additional 12 ounces of lead to my line -- thinking I could sink the Grouper down on this rig, then jerk it off once back down on the bottom.  It was not enough weight, and the grouper was still floating due to barotrauma. The task was successful after attaching the fish to my downrigger weight.
A few drops later, I tied into a fish that initially felt like a big Amberjack.  Five minutes later I was stoked to see a nice Cobia alongside my kayak. I tried to play the Cobia out alongside the kayak for a while, but he was still not happy to come aboard.
I had to use my legs to hold him in the kayak and suppress the havoc.
About 30 minutes later, I had a solid hit mid-depth in 250ft alongside a weedline.  Fish fought super hard -- though I had a nice blackfin. It turned out to be a big **** canal tuna -- Jack Cravelle.
Vertical jigging off Ft Lauderdale was slow.  A billfish swam by my kayak, as close as 10ft away.  It's tail was a vibrant blue/purple. It was much more colorful than any sailfish I have ever seen....maybe a sword or a blue marlin?  It was in 400ft of water.

Total count for the whole day: (1) 36" Gag Grouper, Released, 1 Cobia, 1 Jack Crevalle, 2 Little Tunny, 2 Football Blackfin and an Almaco.  Lost a king next to the kayak on my 1 goggle eye.

 Even though it was an out of season - release fish, the PB Gag made the day, and the rest was icing