Home
›
Southeast General Fishing & The Outdoors
Punta Gorda Father and Son Trip. 6/16/11
NoSlack
Posts: 13
Greenhorn
Hey Everyone! I know this is out of place but I will be sharing it with the SW guys as well. It's been a long time since I've made any posts on the forum but I thought I would share this story. Nothing much, but it made for some good father-son bonding time.
Original plans for the week included taking a trip down to Boca Chica channel in Key West for some tarpon. We had gone the weekend of my birthday a couple weeks back and absolutely nailed the poons' there. It was a ladyfish frenzy and the tarpon were hungry. Looking for an opportunity to gather some story material and photo's this go round, I made arrangements. Well, my dad called me Tuesday and told me that he had a couple good-ol' boys that wanted to take us fishing on the West coast, where his jobsite was currently located. They claimed the tarpon were going off around the bridges and the pass, so with that, my plans quickly changed.
As soon as I got out the office on Wednesday, I hoped on the road. Didn't do too bad for my first time driving across the state. Was a fun trip, and arrived in Ft. Myers in what seemed like no time at all. I checked in at the La Quinta Inn where my dad was slouched out on the bed. It was time to get ready. First stop however was a little diner next door, where we both ate a full rack of ribs with fries and slaw for under $10. Best ribs I have ever had too.
When we arrived at the marina, the weather took a turn for the worst. I had sworn they didn't predict a hurricane! The winds tore up the harbor, flags ****, and the rain came down fierce. The radar was all ketchup and mustard. We just had to wait it out. During the pouring rain we met out crew, and enjoyed a drink at the Crabhouse at Smugglers Cove. What a cool place and atmosphere; wood columns with fish of all sorts hand carved in them, a classic truck as the bar center outside, and just so many things to turn the eye. The time spent taking it all was just enough to glance outside and see what seemed to be light. The rains had subsided and the wind came to a halt. It was go time.
(Dad in white shirt)
The rig was an old 18' Action Craft with a 200 Yamaha and a really neat platform tower in place of a console. I noticed a lot of rigs had this same set up over there. It was great for sighting rolling tarpon, that is if you didn't fly by them doing 60 plus miles per hour. The first stop was for whitebait, and our guides knew exactly where to go. Well, sort of, we found bait but it was silver mullet. Not satisfied with the mullet in the well, we continued to search for threadfin's all around the harbor, to no avail. The sun began to set and we headed back to the bridge closest to the boat ramp- as the winds began to pick up once again. Making the run to the pass was out of the question, and seeing a rolling fish in the harbor deemed impossible. Night bridge fishing was our final hope. We set up with a couple hardy mullet off the stern and a dead crab on the wooden bridge pilings. They had promised a drum bite, if nothing else. A stinky dead blue crab holding tight on the bottom was the ticket.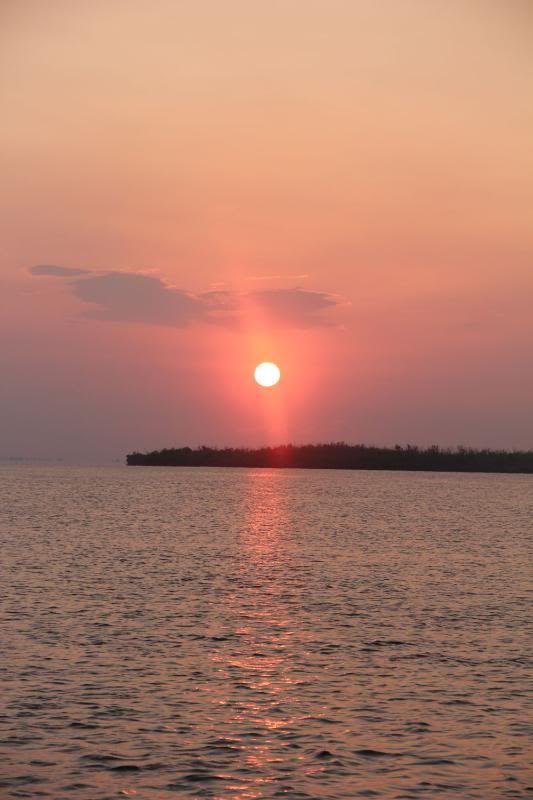 Not before long was a schooled, earning the nickname "rook". Well, they didn't know me too well, so I took it with ease. That drum pulled kicked my butt, but if I was given another chance I now knew what I was up against. I went for a while with no bites on the crab, as they kept hollowing out, so I switched to Berkley Gulp (as suggested by Tim), and sure enough, I felt a small thump shortly afterwards. I came tight and the fight was on. Now mind you, I was using a Stella 8000, with 30lb braid, and a 80lb Trevalla rod. This was no small set up, I had some pulling power! Right when I thought I had enough drag on the fish, I had to lock it down even more. That big, ugly drum was not going to get in those pilings! Drum- 1, Chris- (now 1). No doubt the biggest drum I have boated to date. The rest of the guys let out a cheer and claim it's the biggest one that they have boated as well, looks like the skunk was off.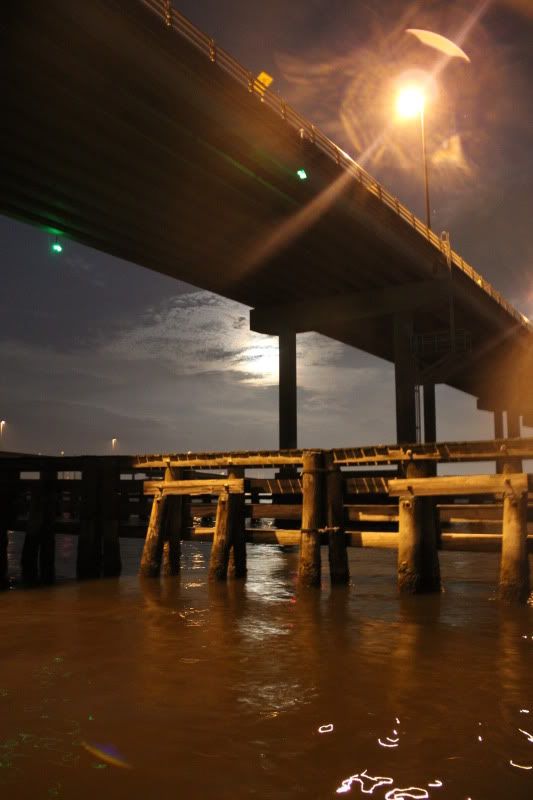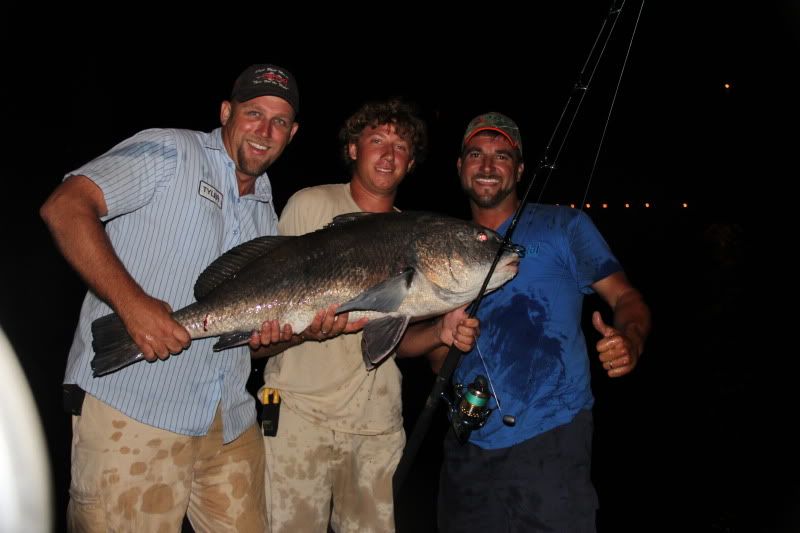 Time went by, and the live baits remained untouched. It was about 10:30 when it was decided to head back in for the night. Now, of course my dad and I were not in agreement with this decision, but we just had to oblige. It was an awesome time, and we did manage a very quality fish. Once again, tarpon, you allude me.