Home
›
Southeast General Fishing & The Outdoors
BBI 11/9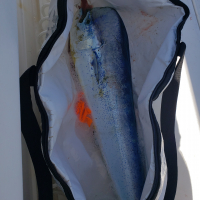 JWPB
West Palm Beach
Posts: 248
Deckhand
Current back.  2-3 north.   E-W weed lines with gulls pecking and some bait in close by LW pier. 

Tried planers, large islanders with mullet and some large lures 6:45 to 9:30.   nothing, as always for me when I target kings. 

Pulled in planers and went to surface lures and boated skipjack almost immediately,     threw back and headed east    found weed line patches in 850 off WPB and hooked 10 mahi,  boated 8 and kept 3.   lots of almaco jacks hitting rattle jets and chiggers at 8-9 mph getting in the way.    a few doubles tired me out and I headed back in. 

Bird with silver mylar was most popular till I lost it.  purple and green did well also.  

Jupiter 29FS