Home
›
Classifieds: Marine
Triple 275 Mercury Verados for Sale
probate-r
Senior Member
Plantation, FL
Posts: 419
Deckhand
I repowered my boat early this Fall and for sale are the three 2007 275 Mercury Verado engines that came off my boat. They are 1 25"regular rotation shaft, 1 25"counter rotating shaft, and a 30" regular rotation shaft (I believe they are a 25cxl, 25xl, and 30xxl models). The engines are original to the boat and I am the second owner of the boat, having owned and maintained them for the last 3 years and approximately 250 hours. The engines have approximately 1,000 hours on them. The engines have been well maintained and taken care of by a personal friend who is a certified verado tech. No expense has been spared to keep these engines in good working and reliable order. I have the Mercury Computer screen shots from the last time it was hooked up to the computer which shows the engines have never been run hard. With one exception, mechanically the engines are in very good conditions. The only mechanical issue is the stbd engine needs a new/ rebuilt lower unit which is reflected in the selling price of these engines. Cosmetically, they engines are OK, but show their age (from the hot Florida sun) as the paint and decals are original to the engines and have begun to fade and there is some wear on the paint where covers rested on the cowlings. However, the engines and cowlings have no dings, scratches, or any other blemishes other than the cosmetic paint/ decal fade.
The engines are strapped to crates/ pallets and are ready to be picked up from the marina that did my repower. I have the triple engine rigging harness with a basically new (put into service in January 2018) two lever DTS throttle/ binnacle. I will be selling the harness and throttle separately although they are currently available to go as a package if you need the harness for these engines. Asking $12,000 for the set. For the right offer I will split them and sell them as a pair (the 25"shafts) or as singles.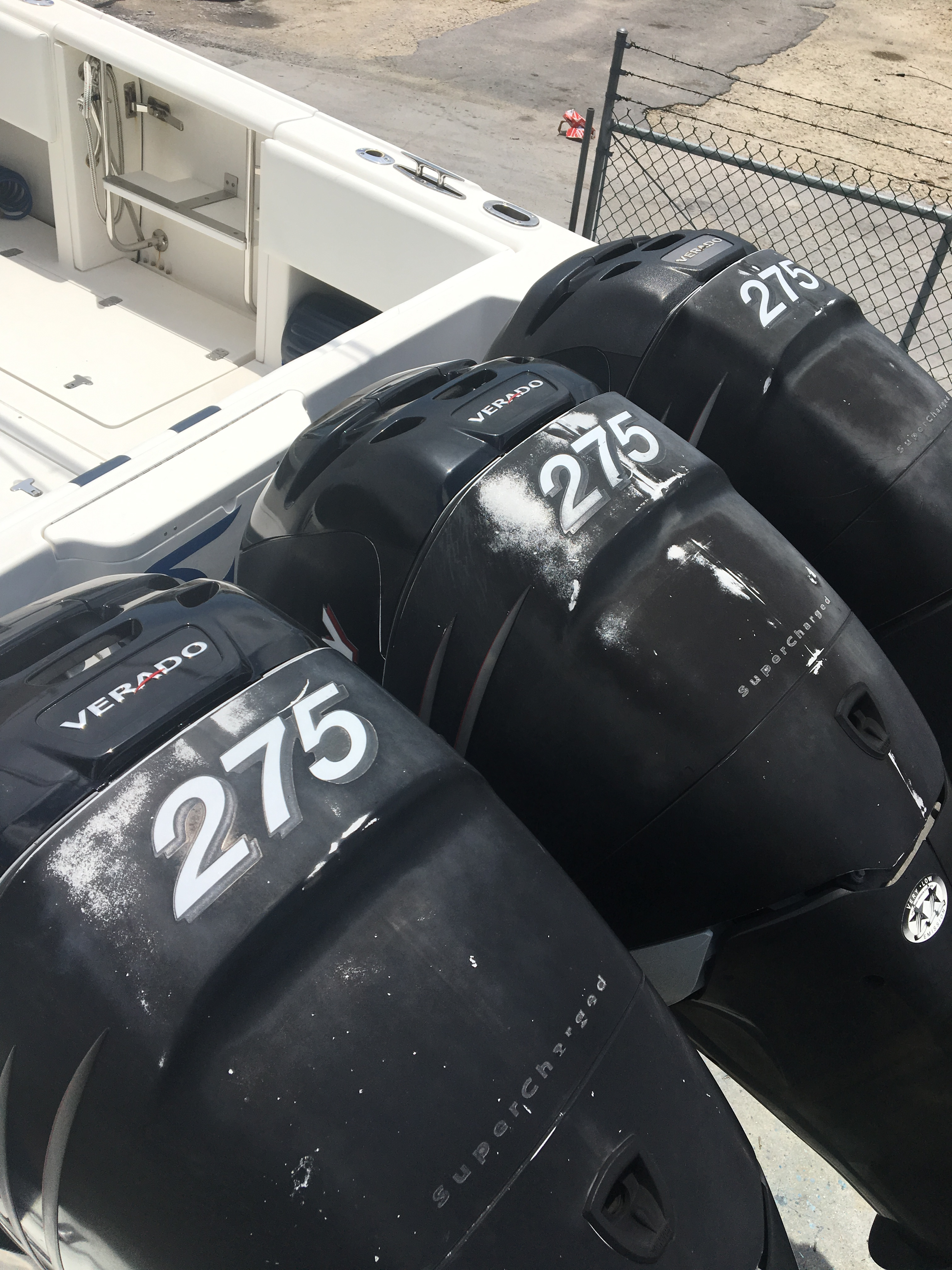 Intrepid 370 - "My Favorite"