Home
›
Tropics
OBB Aug 2-5 Trip Report (lots of Pics)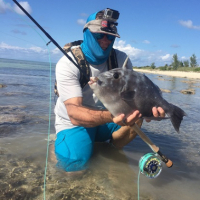 Docked Wages
Posts: 2,897
Admin
My better half Kristine joined the Fabulous 50 club on Aug 2 so we took the family to our favorite Bahamian island. With all the kids with us the little rubber duck (ribcraft) was not going to be the right choice so we flew Bahamas Air nonstop from Orlando to Freeporrt. This also overlapped with opening week of lobster season so we made this a water trip. I do keep a 16' skiff over there so we were not boatless. Here are some pics to tell the rest of the story.
This pic was taken Sunday as our plane flew over the resort
Freeport Arrival
Lunch at Shabos in the Village. BTW there is a medical fund raiser going on for Shabo, so if you visit the village you probably know him Stop by to say hello.
Mark P. Wilson
Marine Surveyor, SAMS, ABYC
Wilson Yacht Survey