Home
›
Keys General Fishing & The Outdoors
Report: Yankee Capts Pulley Ridge Ironman July 18 - 22

benwah22
Posts: 268
Deckhand
I wasn't planning on going on the four-day Pulley Ridge Ironman trip because it was sold out long in advance (as expected), but I got the call Monday morning that a last minute spot opened up. I quickly booked and jumped on because I had not yet had the opportunity to do some deep jigging in Pulley.  I got together an assortment of jigs, packed my bag, and headed south. 
The forecast looked awesome - flat calm seas, and very low wind.  I got to the boat about three hours early for a 10 PM departure.  Here we are loading up before shoving off:
I brought my Temple Reef Levitate slow pitch jigging rods with me paired with Accurate DFS Slammer 500n reels.  During the day, I primarily used the Levitate 68-4, which is the most capable in the series for heavy jigs and deep water.  I was using 400g jigs from Sea Falcon and SeaFloor Control for the majority of the trip as we fished from 600-900ft during the day.  At night I was using my Levitate 68-2, focusing on jigs between 200g and 300g as we moved up onto the bank targeting mutton and grouper in about 250ft of water.  The comparison of hand cranking 250ft versus 600ft was, pardon the pun, night and day:
Most of the other passengers had already arrived and were loading up massive amounts of gear.  If anyone needed a jump because their car battery died, this was the place to be.  Car batteries for days.  Multiple electric reels, and the usual "bring ten rods and fish two" was the norm.  While on one hand I can understand that folks want the security of knowing that literally any base is covered while they are offshore, I think a little dose of realism wouldn't hurt.  Remember those Penn Spinfishers you've had in the garage for six years that are half full of old braid?   Yeah, you're not going to be needing those.   Before loading up the truck, maybe stop for a sec and ask, "Do I really need three coolers per person?"  I think I saw more stuff coming off the boat unused than I ever had.  So, when packing for these trips, please keep that in mind.  There's limited space on the boat.  By all means take what you need, but I think being reasonable is important. There was little space to even sit in the cabin because there was just so much stuff.  At this rate, the Yankee Capts is going to have to start charging baggage fees like an airline to keep things in check.  Anywho, enough of my two-cents, let's get on to the good stuff.
So, I've said this many times, and I'll reiterate here, GET THE MEAL PLAN with Chef Chad.  Not only do you not have to bring coolers so you can eat crappy cold cut sandwiches three days in, but everything is included, including drinks.  It's a no brainer if you like to have delicious food and all the drinks you want or need.  I ate better on this trip than I do at home, and found myself asking Chef Chad for recipes because the stuff was so darned good.  As an example, the first night we had flillet mignon with coconut bok choy and portobello mushrooms over a cheese risotto.  Yes, I'm serious.  Other choices included pork tenderloin, buffalo chicken wraps, and a couple of the best breakfast sandwiches I've ever had - in a restaurant or otherwise.  Here's a little taste of that fillet: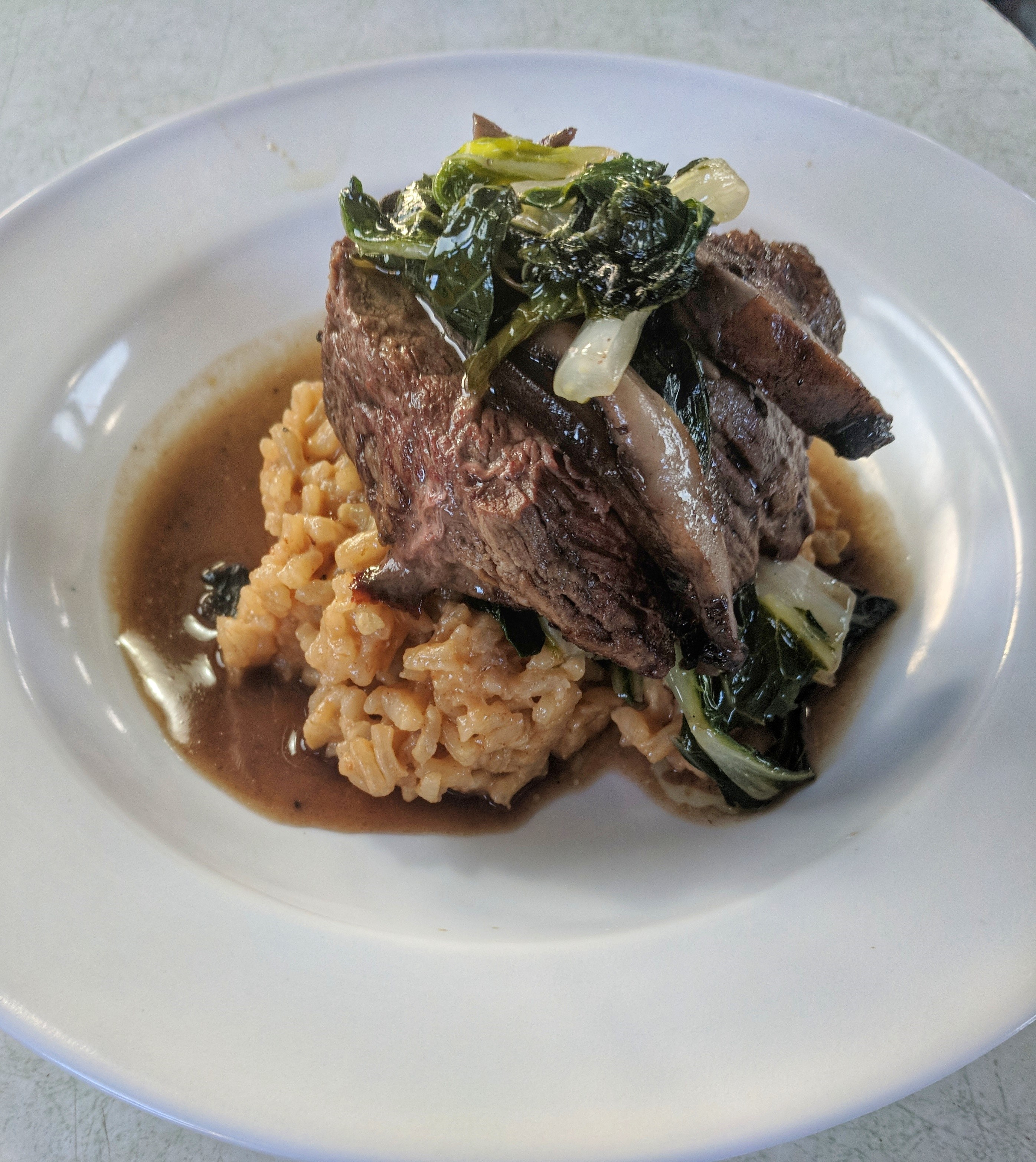 As the sun came up on the first morning, it revealed that the forecast was spot on. Flat calm.  Virtually no wind, although there were some very strong current rips.  I saw some of the largest mats of sargassum that I've ever seen. Some stretched for what looked like over a mile. Those rips were a bit concerning . . .
Now, despite having near ideal deep drop conditions superficially, what you can't see is that pesky loop current under the surface.  The sea anchor was really a God-send for Thursday and Friday, which really helped slow down the drift.  Otherwise, we were boogieing.  It was very challenging to stay vertical with slow pitch jigs, even with all of the right gear.  I dropped down to 14lb Fireline to help cut through the water better.  The few times I could get straight up and down in a current shift were instant hook ups, which produced some cool fish, including a long tail bass, snowy grouper, grey tile, short bigeye, blackfin tuna, almaco jack, and an unknown species that absolutely crushed me in about 800ft on the bottom, ran upwards, then ran back down and pulled the hooks.  My gut says it was a barrelfish, but I'll never know.  Here's a couple of cool fish that came up on the jig:
For the rest of the folks fishing bait, if you had a reasonable level of skill and could find bottom, it was as many tilefish as you wanted with a smattering of groupers mixed in.  It was like a deepwater version of chicken-rigging for yellowtail in the Tortugas, except noticeably better quality.  A couple of larger snowy grouper in the 25lb range came up, along with an assortment of golden tile, barrelfish, yellowedge grouper, rosies, african pompano, and the other usual suspects. Tuna bite went off Friday night on the bank. While the grey tiles were probably the largest amount of fish caught by numbers, there was still excellent quality in many of the fish caught. With a virtually unfishable current Saturday afternoon, we called it a trip and headed back to Stock Island.  The totes told the tale of a group of people that fished hard for three days in brutally hot, tough conditions.  As usual, if you spent time at the rail, and adapted, you were rewarded.  Here is the scene from the dock at about 2am Sunday morning:
Now, while getting back to the dock at 2am may sound rough, I actually quite liked it.  We were able to get on the road before the typical Sunday traffic picked up, and after a quick nap at home, I was able to clean my catch and get everything processed/vacuum sealed, and stocked away:
Instagram: 
@mrbennyortiz
Shimano
AFTCO
Slow Pitch Jigger
Occasional Fish Catcher